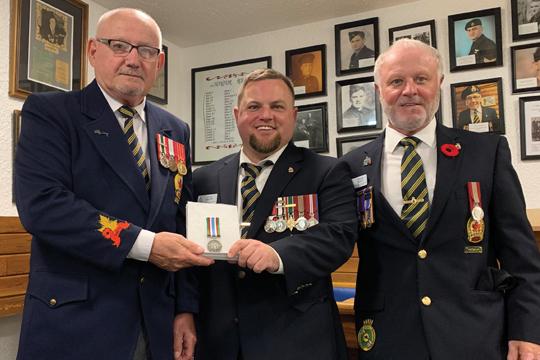 Kyle Scott, centre, presents the Canadian Peacekeeping Service Medal and a NATO Bar to veteran Wayne Inkpen. On the right, is Kyle's father, Brian, who is a navy veteran and branch president of the Whitecourt, Alta., branch of the Royal Canadian Legion. 
 
If soldiers are going to serve, then armies and nations must surely recognize their sacrifices in defence of land and liberty. But that recognition often fails to happen. Medals are sometimes created after a soldier's time in service has ended — and the soldier never hears of the honour to which they're entitled. In many cases, soldiers still in service don't care about the medals for which they may be eligible, but years later, those medals, as a reminder of their service and of a nation's gratitude, take on a new allure.
Jeff Rainey of Edmonton is a veteran with two tours of service in Afghanistan. He retired after being wounded on the second tour. As a veteran, he knew he was probably eligible for a medal or other form of recognition.
"But you know, soldiers want to serve. That's the exact opposite of asking for stuff," Rainey said in an interview. "So we may not bother finding out about the medals and bars we are owed. That's just the way most soldiers think."
Rainey found he was less blasé once he became a civilian again. "Once you're out, all that recognition stuff becomes of greater import. You start to think it would be really satisfying to have the medals you're owed pinned to your chest on Remembrance Day."
Fortunately, Rainey learned that another veteran, Kyle Scott of Whitecourt, Alta., had learned all the ropes of military recognition and had been helping hundreds of veterans across the country get the medals and bars they've earned.
Rainey submitted his military record to Scott, who told him he was eligible for a medal for logistical work in Turkey and a bar for his service in Afghanistan. The paperwork was duly submitted and Rainey now has accolades he otherwise wouldn't even have known about.
This is all in a day's work for Scott, a service officer at the Royal Canadian Legion in Whitecourt who has helped roughly 750 veterans get their medals.
"Military life can involve a lot of blood, sweat and tears — and of course it's very important that we give soldiers recognition for the important work they do for Canada," Scott says. But medals are important for the families of veterans, too, he adds. "They are something to be respected and cherished and handed down the line to continue telling a particular veteran's story."
One of the first soldiers he helped was a 103-year-old navy veteran who learned he was eligible for campaign stars for his service in the Second World War. "He ended up wearing them only one time before he died, but they were a real source of pride for him," Scott says.
Many veterans come to Scott through his Facebook page, titled Canadian Veterans: Owed or Missing Medals, a good source for anyone seeking information on this topic.
"Through Facebook, I get a chance to chat with a lot of veterans and hear about their service. For me, it's amazing how many are owed medals, or got them and lost them, had them stolen, maybe lost them in the fog of divorce."
Scott's process is simple. He has an initial conversation with veterans who think they may be owed a medal or two. He then takes details about the veterans' deployments and, after figuring out what the veteran is eligible for, sends off application forms. It normally takes about six weeks to receive the medals, though a large backlog caused by COVID means waiting times are currently far longer.
New Brunswick's Gary Campbell, the Royal Canadian Legion's national medal adviser, has only praise for Scott's work. "What he's doing is wonderful. No one does as much for these veterans as Kyle."
The biggest reason veterans fail to get their medals is that they're often authorized after a soldier is no longer in service, Campbell says. The Special Service Medal, for example, was authorized in the early 1990s, but applicable for service dating back to the 1950s. The Canadian Voluntary Service Medal for Korea was only authorized years after the Korean War of the early 1950s had ended. The Arctic Star, a medal created only recently, recognizes Second World War service above the Arctic Circle, mainly on convoys to Russia.
"These are only some of them," Campbell says. "A full list might include another half dozen."
Veterans Affairs Canada is squarely behind all efforts to ensure veterans receive the medals they have earned. As senior communications officer Marc Lescoutre says, "Canadian veterans have a legacy of service and sacrifice we should all remember."
For honours pertaining to the Second World War and the Korean War, forms go to Veterans Affairs Canada. For honours issued for actions after the Korean War, the request goes to the Canadian Armed Forces Directorate of Honours and Recognition.
Some honours come from other governments. South Korea, for example, has recently created a medal for soldiers who served in the Korean War and France offers Canadian veterans the Légion d'honneur.
For more information, see the Veterans Affairs Canada website, Kyle Scott's Facebook page or a service officer at your local Royal Canadian Legion.
This article appeared in the fall 2022 issue of our in-house magazine, Sage. While you're here, why not download the full issue and peruse our back issues too?