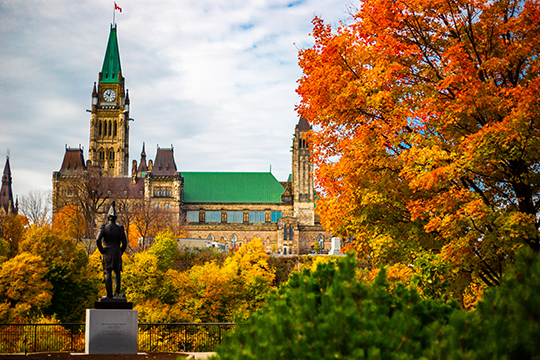 Canadians woke up this morning to Liberals returning to power with Canada's 13th minority government. 
The 2019 election was supposed to be a Liberal-Conservative race with four other parties and a couple of independents along for the ride as bit players. But two parties that had been written off are holding the balance of power.
But most importantly, a new generation — the millennials — have pushed past the baby boomers as the largest voting bloc, a development that likely will continue to influence political agendas from here on in.  
The Liberals won 157 seats in the next Parliament as of late Monday night compared to 121 for the Conservatives. The Bloc Quebecois was third with 32 seats while the NDP hung onto party status, winning 24 seats.
"As a non-partisan organization, we're always at the ready to work with governments of any stripe, and I am delighted to congratulate Prime Minister Trudeau and his team," says National Association of Federal Retirees president Jean-Guy Soulière. "We already have our sleeves rolled up, ready to continue the hard work of advocating for the needs and interests of federal retirees, veterans, their spouses and partners, and Canadian seniors." 
Given up for dead before the campaign started, the NDP and the Bloc were expected to surge to contender status. But only the Bloc, which lost party status in 2015 with just two seats below the required 12, lived up to late expectations. 
The NDP has been expected to recover with as many as 30 seats but could not sustain momentum.
The Greens, after a robust start, finished with a disappointing three seats — one over what the party had when the election writ dropped on September 11. The newly-hatched creation of Maxime Bernier, the People's Party of Canada, was shut out of the seat count entirely, with Bernier losing his own seat.
Former Liberal Jody Wilson-Raybould was able to hold on to her riding as the lone independent elected. Jane Philpott, the other former Liberal running as an independent, was unsuccessful.
Two big names — Ralph Goodale of the Liberals and Lisa Raitt of the Conservatives — both lost their seats.
While the Conservatives and Liberals were running neck and neck in the public opinion polls throughout the campaign, the Liberals were almost always in the lead in projected seat counts. The Conservatives were ahead only once — at Thanksgiving — in this metric.
In fact, at one point in projected seat counts early in the campaign, the Liberals were only one or two seats away from 170, the number needed for a majority victory. 
Liberals will have to be wondering whether they would have won that majority victory had it not been for the brownface incident at mid-campaign. 
Likewise, the Conservatives will be wondering if the outcome might have been different without a litany of embarrassments about their leader such as Andrew Scheer's surprise U.S. citizenship or embellished resume or a Globe and Mail report that the Conservatives hired a consulting firm to run a secret social media campaign against the PPC.
In addition, the Conservatives likely regret virtually ignoring the climate change issue — a decision that may have handed victory to the Liberals.
Regardless of outcome, there is also evidence voters had already passed judgment on the two main parties the day the campaign started.
Voter intention in the polls was virtually static throughout the campaign as far as the two major parties were concerned aside from a few days when the news carried stories like the Ethics Commissioners Report condemning Trudeau for his handling of SNC Lavalin, or an unearthed 2005 video featuring Conservative Leader Andrew Scheer decrying same-sex marriage or the brownface pictures. Polling impact of these stories, however shocking, was short-lived.
It was likely inevitable that Justin Trudeau would follow in the footsteps of Pierre Trudeau by winning only a minority in his first re-election bid just as his father was reduced to a minority in his second term in 1972.
The Liberals had been counting on Quebec voters to bail them out of trouble as they had in the Pierre Trudeau era several times. This time Quebec added another chapter in its volatile voting history and brought the Bloc back to life.
But in the end voters in Quebec and Ontario propelled the Liberals back to power.
Both Bloc Leader Yves-François Blanchet and NDP Leader Jagmeet Singh did well in the English and French TV debates, particularly Singh who was able to cash in on basement-level expectations and win a bump in the polls.
Singh's elegant response to Trudeau's brownface photos and his strong debate performances branded him as the most authentic leader to many voters, particularly among millennials who now form the largest voting demographic. He had been expected to attract millennial voters as Trudeau did in 2015.
This time Trudeau retained enough millennials to hold Singh below 30 seats.
Going forward, the millennials — all 9.7 million of them — will likely demand the attention of political parties and their agendas.
Just as there are winners and losers among candidates, this election has shown there are winners and losers among issues.
A top ballot-box issue this time was climate change after getting only minor attention in 2015. And a perpetual priority among voters — healthcare — appears to have received more attention last time than in this election.
It is all a matter of how issues fit political agendas.
An Ipsos poll in early October found that 35% of Canadians put healthcare among the top three election issues while 29% said climate change was  among their top three. But it was climate change that dominated in the TV debates and on the campaign trail.
The Ipsos poll also indicated two issues — affordability and cost of living as well as taxes — each had 26% of respondents putting them as top priorities. Yet the Conservatives had these two issues at their top of the election agenda while healthcare and climate change barely found room on the platform.
Immigration may have been Issue No. 1 for the PPC. But only 14% of Canadians found it to be among important issues, according to the same poll.
In the 2015 election, healthcare for seniors emerged as a sleeper issue. This time it got scant attention although the NDP is still calling for a national seniors strategy in its platform.
That prompted many seniors to complain they were the invisible demographic in this campaign as opposed to 2015 when Canada was beginning to wake up to the fact that by 2030 a quarter of the population will be over age 65.
"Our 176,000 members have been active during this election in every federal riding, making sure candidates knew about the issues most important to us – retirement security, better veteran well-being, a National Seniors Strategy and pharmacare" notes Soulière. "Our message has been heard loud-and-clear."
The Liberal Party platform this time included a plan to increase Old Age Security for seniors by 10 per cent once they turn 75. It would also boost the survivor's benefit for seniors by up to $2,080 each year.
The Conservatives promised more money for low- and middle-income seniors. They say they would boost the age amount tax credit for seniors earning less than $87,750 by $1,000. They're also promising to keep the qualifying age for Old Age Security at 65 years old.
The NDP pledged to create a National Seniors Strategy. It says it will work with all levels of government to focus on health care, reduce isolation and combat seniors' poverty.
The Green Party platform promised greater protection for Canadians' pensions when companies go bankrupt. It said it would also change the Canada Pension Plan by doubling the target income replacement rate to 50 per cent of income earned during working years.
"Clear commitments were made to Canadian seniors during this campaign, and the way to make sure those promises become policy is to have a dedicated voice for seniors at the cabinet table," says Soulière. "I expect an empowered, effective seniors minister from day one in Mr. Trudeau's second mandate."
Much of the lack of attention this time to seniors care was likely because pharmacare is sucking up most of the oxygen in the healthcare portfolio. The Liberals have pledged $6 billion as a down payment to the provinces over the next four years. But Trudeau acknowledges negotiations with the provinces will be necessary before anything happens.
The Liberals also intend to create the Canadian Drug Agency (and a Canadian Drug Agency Transition Office) to assess the effectiveness of new drugs and negotiate a process on behalf of Canada's drug plans to ultimately develop a national formulary. Canada currently pays the third highest prescription drug prices in the world behind Switzerland and the U.S.
Nobody should expect a quick installation of a national pharmacare system because several provinces, particularly Ontario, are opposed. When Canada introduced national medicare in 1968, just two provinces, British Columbia and Saskatchewan, were participants. It wasn't until 1972 when all provinces were on board.
Pharmacare likely will follow the same pattern.
Climate change was by far the most divisive issue in this election. And the Conservatives' decision not to appeal to climate change voters will be remembered as a huge mistake, and likely the main reason why they could not take down a Liberal party badly weakened by a year of scandal and setbacks.
The Liberals' pledge is focused on feasibility in the short-term and ambition in the long-term, promising to meet the 2030 target and legislate a 2050 carbon neutrality target with mandatory reductions every five years.
They also pledged to plant two billion trees by 2030, invest $720 million to support transit and transport electrification, cut the corporate tax of net-zero emissions tech companies by half, and invest all the tax revenues resulting from the Trans Mountain pipeline into green and clean technology initiatives. Liberals would also continue ongoing plans to introduce a clean fuel standard, a national offset system, and a revamp of regulations under the Canadian Environmental Protection Act.
The Liberal formula was too little for some and too much for others. But it was centrist enough to appeal to the widest section of the electorate, and likely will for years to come.
While this minority government lasts it will be the dominant political issue.