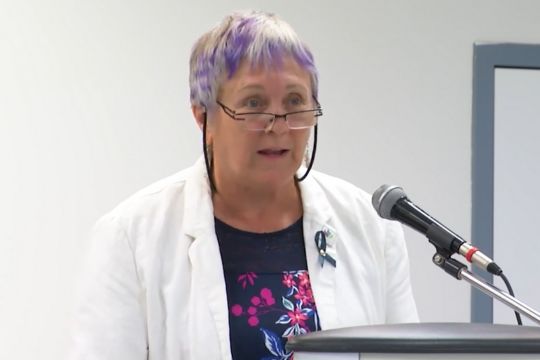 Federal Retirees advocacy program officer, Maria Fitzpatrick, acted as convener for the May 5 election candidates' forum for the Lethbridge-West riding.
 
The Southern Alberta branch of the National Association of Federal Retirees held their second candidates' forum on May 5, 2023, to help members hear from local candidates before voting in the provincial election.
Lethbridge-West candidates attended this forum to share their parties' positions and answered questions related to Federal Retirees' priorities and seniors issues:
Reinstate an independent seniors advocate.
Develop and implement a seniors strategy.
Support access to both primary care and specialists, home care, long term care and other health-care issues.
Protect Albertans' financial security in retirement.
Uphold the role of the RCMP in preserving public safety for Albertans.
All Lethbridge-West candidates who had declared they were running prior to the day of the event were invited to attend. New Democratic Party (NDP) candidate Shannon Phillips, United Conservative Party (UCP) candidate Cheryl Seaborn and Alberta Liberal Party candidate Patricia Chizek participated in the forum.
This forum was held at the Nord-Bridge Seniors Centre and was recorded by Shaw Media. (English only).
Southern Alberta branch also held a forum with Lethbridge-East candidates in April. 
Learn more about Federal Retirees' advocacy campaign for the 2023 Alberta election — including the easy ways you can get involved today! 
About Advocacy Spotlight
Advocacy Spotlight showcases successful initiatives and projects put forward by our dedicated volunteers and supporters.
The National Association of Federal Retirees has a proud history of advocacy on behalf of our members and all retirees. In collaboration with our volunteers and supporters from coast-to-coast, we continue this tradition of strong, smart advocacy campaigns focused on improvements to the financial security, health and well-being of our members and all Canadians. Our success is not only measured in policy changes and legislation. It grows with every meaningful discussion with parliamentarians, and with every email and letter written. Together, we are achieving and surpassing our strategic advocacy goals and targets every day.