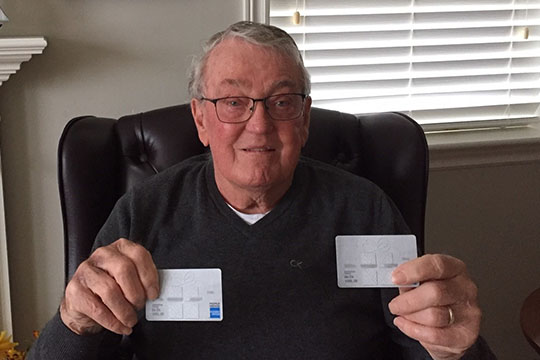 Gerry Leahy of the Avalon-Burin Peninsula Branch took home the survey's grand prize.


 
Thank you, survey-takers! More than 18,500 members completed our 2020 member-engagement survey conducted in collaboration with Abacus Data, which offered insights that will help guide our advocacy work while ensuring that we continue to improve our services to meet your needs.
Each and every response is valuable to us and helps us, as an Association, make the connection between our mission and your needs. In many ways, this survey seems to matter like it never has before as the current public health crisis has kept us from holding face-to-face events which are typically excellent sources of member input and feedback.
One member received an extra-special 'thank you' for participating; Gerry Leahy of our Avalon-Burin Peninsula branch took home the grand prize, $2020 in gift cards! Mr. Leahy, a retired member of the RCMP, will also be celebrating 25 years of membership with the Association later this year, so this prize couldn't have gone to a more deserving winner.
The upcoming issue of Sage magazine will share some key findings, but here's a taste: according to the survey, 99 per cent of you identify "advocacy work in areas such as pensions and benefits" as an important aspect of membership and 65 per cent of you have personally taken part in a Federal Retirees advocacy campaign.
Thank you once again for taking the time to respond, and for your incredible level of engagement with our work and our campaigns!
P.S. If you missed out on the grand prize this time around, don't worry! We'll be running our Mega Recruitment Drive later in 2020 with tons of amazing prizes up for grabs. Plus, you'll be helping to strengthen the Association and empowering our advocacy work.