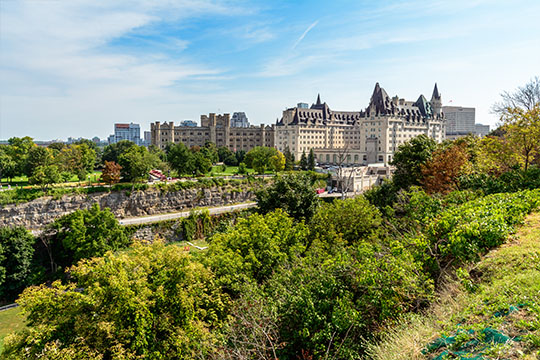 In our sixth installment of the budget round up series, we look at the spending plan released by the Ontario government on March 25, 2020. It is the first budget in Canada released after serious measures were implemented in response to COVID-19, including ordering the closure of non-essential services and businesses and urging people to stay home and to practise physical distancing. The spending plan is the first that deals entirely with the COVID-19 pandemic and outlines the province's financial response to the virus. Read on to learn more about the provincial budget and how it relates to Federal Retirees' priorities.
Eleven months ago, the Ford government was cutting Ontario public health units from 35 to 10, forcing the Ontario Telemedicine Network to lay off 15% of its staff and cutting $200 million from front-line health care. All this in a province that has witnessed E. coli in Walkerton, SARS, influenza, Ebola, Zika, and most recently, the opioid crisis.
But that was when the provincial government thought it was in a fiscal crisis. Now it knows it is in a health crisis.
While attention has been focused on its economic stimulus measures to address the COVID-19 pandemic, Ontario's fiscal update, or scaled-down mini budget, released on March 25, 2020, has $7 billion in new spending, $3.3 billion of which is on health, including $2.1 billion in pandemic response. The balance of this infusion goes to address existing gaps in the Ontario health-care system.
This fiscal update also includes the province's largest deficit ever at $20.5 billion, compared to $9.2 billion a year ago.
In presenting the spending plan, finance minister Rod Phillips noted, "as Finance Minister, my number one priority right now is ensuring that our front-line health-care professionals have the resources they need to fight the COVID-19 outbreak. The people of Ontario can have confidence that we will do whatever it takes to protect their health and well-being. These additional resources will enhance hospital capacity, protect our loved ones in long-term care, and support our public health officials' work to flatten the curve and slow the spread."
On the health-care front, the fiscal plan outlines $3.3 billion in additional health-care investments. $2.1 billion is earmarked for new initiatives to respond to COVID-19, and $1.2 billion is allocated to continue the government's long-term plan to improve the province's health-care system. This includes:
$935 million for hospitals, including $594 million to accelerate progress on the government's commitment to address capacity issues and $341 million for an additional 1,000 acute care and 500 critical care beds and 25 additional assessment centres.
$124 million to support the delivery of more than 90 transitional care projects, creating approximately 1,000 spaces where more than 20,000 patients can move from a hospital bed to a more appropriate transitional care setting. The transitional care model moves patients who no longer need the level of care provided in hospitals into transitional beds outside hospitals as they await permanent placement in home, community or long-term care.
$243 million investment for surge capacity in the long-term care sector, as well as funding for containment, including 24/7 screening, more staffing to support infection control, and supplies and equipment to help tackle the COVID-19 outbreak.
Approximately $80 million to improve and maintain the quality of care and overall resident experience in long-term care homes, as well as continued funding to increase long-term care capacity and access for residents.
Approximately $23 million for a minor capital program that will support the ongoing repair of homes and allow operators to maintain safe and modern facilities for their residents.
$160 million in increased funding to support COVID-19 monitoring, surveillance, laboratory and home testing, virtual care and Telehealth Ontario
$61 million for publicly funded vaccines to support the province's immunization program.
$62 million for health-care workers in assessment centres, hospitals and the community.
$75 million to supply personal protective equipment and critical medical supplies to front-line staff combatting COVID-19.
$120 million to increase home and community care capacity to allow hospitals to direct more resources to complex COVID‑19 patients.
$23.8 million to allow more physicians to conduct video, email or phone visits so patients can meet with their doctor from home.
$20 million on research and innovation to develop tools and resources to combat COVID-19 and related diseases.
$70 million for infection control and personal protective equipment in various facilities, including retirement homes.
Approximately $80 million for ambulance and paramedic services.
Approximately $70 million for infection control measures in retirement homes, residential facilities and emergency shelters.
$62 million to provide more physicians, particularly in rural and remote communities, nurses in hospitals and personal support workers.
Approximately $35 million to ensure patients have access to vital blood products, particularly plasma, and support Canadian Blood Services with the establishment of a new plasma centre in Sudbury.
In addition to the funding outlined for health care, the province is spending $3.7 billion to support people and jobs during the pandemic, including about $2 billion in targeted supports and $290 million in tax measures. Some of these measures include:
$75 million in urgent additional support for 194,000 low-income seniors by doubling the Guaranteed Annual Income System (GAINS) maximum payment to $166 per month for individuals and $332 per month for couples, for six months starting in April 2020.
Approximately $5.6 billion to support more affordable electricity bills for eligible residential, farm, and small business consumers.
Setting electricity prices for residential, farm, and small business time-of-use customers at the lowest rate, known as the off-peak price, 24 hours a day for 45 days.
$9 million in direct support to families for their energy bills by expanding eligibility for the Low-income Energy Assistance Program (LEAP) and ensuring that their electricity and natural gas services are not disconnected for nonpayment during the COVID-19 outbreak.
$200 million in new funding to provide temporary emergency supports for people in financial need as well as funding to municipalities and other service providers to respond to local needs, such as food banks, homeless shelters, churches and emergency services.
The province is also helping seniors with $5 million to support the coordination of subsidized deliveries of meals, medicines and other essentials, working with local businesses and charities in addition to existing health services.
The Ford government also earmarked a $1 billion COVID-19 contingency fund for any emerging needs. It also increased its contingency fund by $1.3 billion and has a reserve fund of $2.5 billion, which is the largest in the province's history. As Premier Doug Ford noted: "These are unprecedented times… We will spend whatever it takes."
While the opposition welcomed the spending, many noted more will be needed to properly respond to the pandemic and support Ontarians. NDP leader Andrea Horwath criticized the plan, saying it failed to offer financial support to individuals, as well as small and medium-sized businesses. The NDP has been calling on Ford's government to provide emergency, $2,000 cheques to households experiencing lost income or unemployment due to the virus.
John Fraser, who spoke for the Ontario Liberals during the session, since newly-elected party leader Steven Del Duca does not currently have a seat in the House, stated that the $75 million the government allocated for protective equipment would "likely not be enough…We all know there's more to do," Fraser said.
Leader of the Ontario Green party, Mike Schreiner, called in his remarks and highlighted the need for basic income support payments, as well as additional supports for small businesses and front-line workers during the pandemic.
It may be a while before an Ontario government is elected on the promise to balance the budget. What is clear is that health care will be on the minds of legislators now and for the foreseeable future.