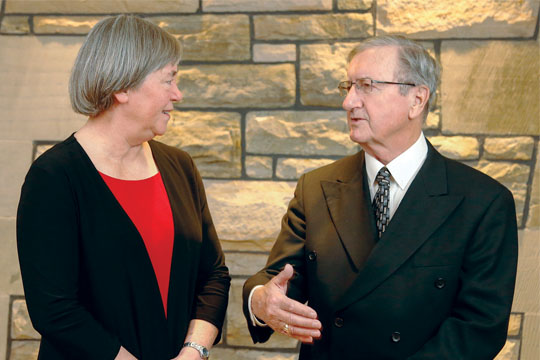 Association president Jean-Guy Soulière (right) is pictured here with Seniors Minister Deb Schulte for the spring 2020 issue of Sage magazine.
 
Practising sensible social distancing, on March 18, Federal Retirees president Jean-Guy Soulière, director of advocacy Sayward Montague, health advocacy and policy officer Bianca Carlone and chief executive officer Simon Coakeley met via webinar with the Honourable Deb Schulte, Minister for Seniors, to discuss the COVID-19 issues that are weighing on Federal Retirees members and Canadian seniors.
Minister Schulte noted her thanks for organizations like Federal Retirees and the vital role the organization plays in connecting with seniors during these unprecedented times. Older adults, persons with compromised immune systems and with underlying medical conditions are more likely to have higher risk factors for complications from COVID-19. Federal retirees and Canadian seniors have contributed a lot to the Canada we have today, and taking steps to ensure older adults remain connected and vibrant throughout this pandemic is essential to individuals and communities alike.
Federal Retirees shared some of the most pressing concerns for many members and older Canadians right now. Of particular note, Federal Retirees shared impacts to those who are abroad and working to return home as urged by the federal government but are encountering delays and confusion on whether their travel insurance will stay in place long enough to allow them to get home safely.
"We noted the need for accurate information to ensure seniors remain healthy, as well as federal leadership to ensure the older Canadians who are working hard to get home but absolutely cannot, for reasons beyond their control, don't face undue risk or penalties because their insurance clock ran out," said Federal Retirees president Jean-Guy Soulière. "We shared that even if insurance policies are normally strict on this, these are unprecedented times – flexibility, cooperation and consistency from the insurance industry is needed now, to ensure Canadians can return home safely."
Federal Retirees understands that these are challenging days. Members and older Canadians are worried about their physical and mental health as the realities of social isolation set in, and about their financial well-being as markets continue to take hits.
"Members can rest assured that we are doing all that we can to ensure they are supported," says Federal Retirees CEO Simon Coakeley. "Minister Schulte heard our concerns, and we will continue to work closely with the federal government to ensure our members and older Canadians get the policies, programs and supports they need right now. We're grateful for Minister Schulte's time and focus during what is likely a defining public health crisis of our time, and her commitment to ensuring older Canadians come through this as strong and vibrant as ever before."