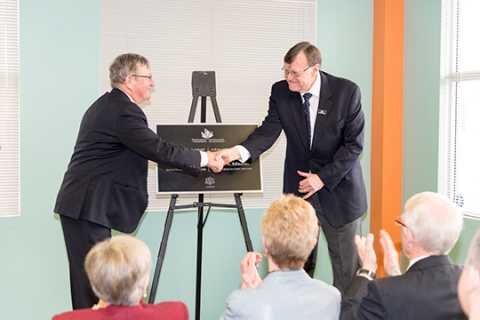 The Federal Retirees community came together on the morning of March 29th, 2017 to dedicate 865 Shefford Road in Ottawa as the Claude Edwards Building. The ceremony honoured the life of Claude A. Edwards, federal public servant, union leader, philanthropist and pensioners' advocate.  Attendees celebrated the achievements of this great Canadian alongside the Edwards family and heard heartfelt remarks from President Jean-Guy Soulière and Claude's son, Bob Edwards. 
After a long and distinguished career in the Public Service of Canada, Claude Edwards dedicated his life to philanthropy and fought tirelessly to defend the workplace rights of federal public sector workers. "As President of Federal Retirees, Claude is remembered for building bridges with the Coalition of Seniors for Social Equity and other coalitions," said Jean-Guy Soulière, "raising awareness of seniors' issues and calling for a federal department for seniors".  
Through his commitment and diligence, Claude Edwards laid the foundation for an influential and powerful organization. Now with 176,000 members in 79 Branches across Canada, representing retired public servants, members of the Canadian Armed Forces, RCMP and federally appointed judges and their spouses and partners, we can take great pride in the legacy he left for us.