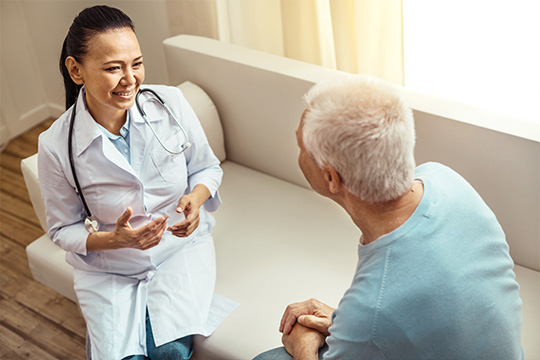 If you're wondering whether you still have to take certain medications, don't hesitate to bring it up with your doctor or health-care professional.

In "Deprescribing: A way forward to reduce harm and costs related to prescription drugs" from the latest issue of Sage, we introduced you to the concept of deprescribing: the planned and supervised process of reducing or stopping medications that may not be beneficial or may be causing harm.
As a complement to the magazine article, here is an overview of some of the deprescribing organizations and initiatives across Canada.
It is important to keep in mind that, as we mentioned in Sage, this information should not be taken as medical advice. Before making any changes to the medications you take or how you take them, always consult with your health-care provider.
 
Canadian Deprescribing Network
The Canadian Deprescribing Network is made up of health-care leaders, clinicians, academic researchers, patient advocates and decision-makers who work to spread knowledge and awareness about medication safety, deprescribing and safer alternatives to risky medications.
They have developed several resources and tools for both health-care professionals and members of the public to help us all better understand deprescribing and how to put it into practice.
For more information, please visit www.deprescribingnetwork.ca or contact 514-340-3540, ext. 4104.
Please note: The Canadian Deprescribing Network representatives can provide information about their network and deprescribing over the phone. However, they are not able to answer personal health questions.
 
deprescribing.org
The website deprescribing.org is a platform to share and exchange information about deprescribing research and approaches with the public, health-care providers and researchers.
The website offers tools to assist patients and health-care professionals participate in deprescribing, and information about deprescribing initiatives and research in Canada. The website also provides webinars, case reports and patient and caregiver testimonials on deprescribing for the public.
For more information, please visit deprescribing.org.
 
Canadian Foundation for Health Improvement - Appropriate Use of Antipsychotics Collaborative
The Canadian Foundation for Health Improvement (CFHI) is a not-for-profit organization funded by Health Canada that supports partners including hospitals, long-term care facilities, public health organizations and provincial health ministries and agencies with the identification, spread and scale of proven healthcare innovations.
Through the Appropriate use of Antipsychotics Collaborative, CFHI has partnered with long-term care organizations and governments across the country to improve dementia care through the appropriate use of antipsychotic medication. Antipsychotic medication is often used to treat the behavioural and psychological symptoms of dementia, usually as a default and before non-drug approaches have been tried. Antipsychotics can have serious side effects, affecting a person's quality of life. Studies as far back as 2009 show that people with dementia who do not need antipsychotics continue to have them prescribed to them.
Initiatives in New Brunswick, Quebec, Prince Edward Island and Newfoundland and Labrador focused on training staff at long-term care facilities to use data to recognize patients who could benefit from non-drug solutions to treat behaviours associated with dementia. Armed with this information, staff can work with residents and their families to create approaches to care specific to each individual (person-centred care). According to CFHI. these initiatives have resulted in over half of patients reducing or eliminating the use of prescribed antipsychotics. 
For more information, please visit www.cfhi-fcass.ca/WhatWeDo/appropriate-use-of-antipsychotics or contact 613-728-2238.
 
Deprescribing Clinics
The Pharmacists Clinic at the University of British Columbia
The Pharmacists Clinic is run by the University of British Columbia's Faculty of Pharmaceutical Sciences. It is Canada's first pharmacist-led patient care clinic, providing health consultation services to patients and offering learning opportunities for both health-care professionals and students.
Patients can book one-on-one appointments with a pharmacist to ask questions about their medications, learn about drug treatments and optimize the use of their medications to help treat their conditions. Many of the clinic's patients seek advice on deprescribing, specifically looking for expert guidance on which medications to continue taking, which to reduce or stop altogether and how to do this safely. Pharmacists provide advice on the use of prescription medications, non-prescription medications and natural health products.
Pharmacist services through the Pharmacists Clinic are publicly funded and provided at no charge to patients. Patients have the option to attend appointments in-person or by telephone.
For more information about the program, please visit pharmsci.ubc.ca/pharmacists-clinic.
Medication Therapy Services (MTS) Clinic at Memorial University
The Medication Therapy Services (MTS) Clinic, run by the School of Pharmacy at Memorial University, is Newfoundland and Labrador's sole pharmacist-led clinic.
Patients can make on-on-one appointments to meet with a pharmacist to discuss and review their medications. Pharmacists will help patients better understand the medications they are taking as well as work with them to ensure they are taking the appropriate medications and using them in the way that most benefits them. For patients who have concerns about the amount of medications they are taking, pharmacists can provide advice about safely reducing or eliminating certain medications.
The MTS Clinic also supports community pharmacists by providing education and mentorship opportunities and acts as a teaching centre for pharmacy students and other health-care professionals.
For more information about the program, please visit https://www.mun.ca/pharmacy/community/mtsclinic/.