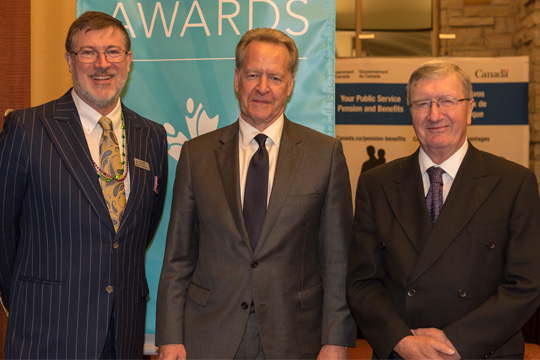 Federal Retirees' CEO Simon Coakeley (left) and President Jean-Guy Soulière (right) caught up with award recipient Steve Verheul (middle) at this year's Federal Retirees Volunteer Recognition Dinner on June 20.  
The National Association of Federal Retirees (Federal Retirees) proudly sponsored the Association of Public Service Executives' (APEX) 2018 Career Contribution Award. The award was presented by Federal Retirees CEO, and former Chair of APEX, Simon Coakeley at the APEX Awards banquet on May 29, 2018 during their 2018 Leadership Summit.

"It's a real honour for our Association to be sponsoring APEX's Career Contribution Award," said Federal Retirees President Jean-Guy Soulière. "It's really a good fit since our members have made such enormous contributions to Canada throughout their careers in all walks of public service, and this is a great way to recognize these contributions from one generation to another."

This year's recipient of the APEX Career Contribution Award is Mr. Steve Verheul, Assistant Deputy Minister, Trade Agreements and Negotiations at Global Affairs Canada. As Canada's Chief Negotiator on several international agreements, be it on agriculture, or trade with the European Union, or more recently on NAFTA, he has led and guided the Canadian negotiating team to advance and defend Canadian interests. Throughout his 30-year career, he has led by example and has inspired and taught hundreds of trade policy officers to be effective trade negotiators. Committed to NAFTA negotiations on the night of the ceremony, Jonathan Fried accepted the award on his behalf. 

Congratulations Mr. Verheul and thank you for your service to Canada on behalf of all Federal Retirees!


Editor's Note: This post originally appeared in May 2018 and has been updated for accuracy.