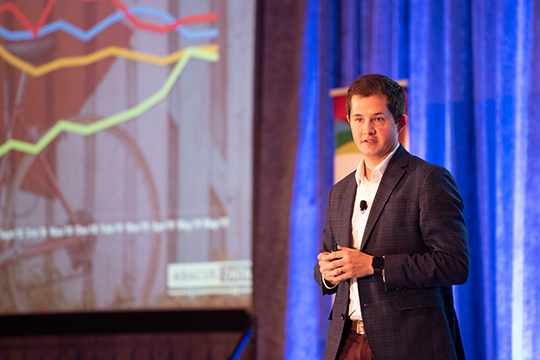 Gatineau, QC -- The National Association of Federal Retirees (Federal Retirees) welcomed Abacus CEO David Colletto as its keynote speaker today to address its annual meeting of members on recent research and insights on the Canadian electorate in the run-up to the federal election this fall. 
"Our recent polling has revealed that there is a common concern among people that life is increasingly unaffordable, that income and wages are not keeping pace with rising prices, leading to anxiety about whether the standard of living we have come to expect can be reached today or in the future,"  said Abacus Data CEO David Coletto. "This affordability anxiety exists across the country and among most demographic and socio-economic groups."
"Today's session was great background preparation for our branch volunteers' advocacy work in the coming federal election," said Federal Retirees president Jean-Guy Soulière. "Federal Retirees will be pushing for better retirement income security for all Canadians, a national seniors strategy, a national pharmacare program and better support for veterans and their families."
Founded in 1963, Federal Retirees is a non-partisan, not-for-profit, voluntary association of 176,000 retired federal public servants, Canadian Armed Forces and RCMP members and their partners and survivors. Its annual meeting of members includes a national board of directors, 79 branch presidents from across the country, along with other key volunteers.
Federal Retirees is an integral part of the Vibrant Voices Network of nine organizations who have come together to advocate on behalf of Canadian seniors and whose collective membership exceeds 2 million.
-30-
Media contact:           

Andrew McGillivary
Director, Communications, Marketing & Recruitment
National Association of Federal Retirees
613-745-2559 ext. 234
amcgillivary@federalretirees.ca