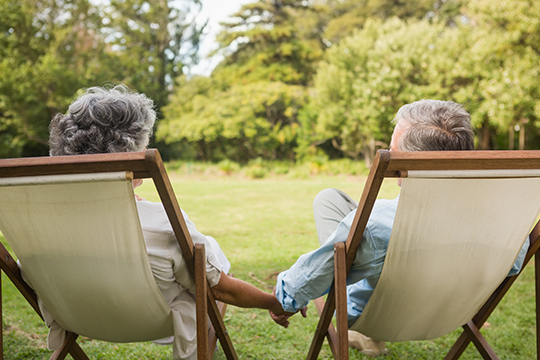 Federal Retirees memberships are better together! Extend all the perks of membership to your partner by turning your single membership into a double.
 
What's a double membership? We're so glad you asked!
Federal Retirees offers two types of memberships – single memberships for individuals and double memberships for couples. With a double membership, you can double your impact and share all the wonderful perks of membership with your partner for just for a few dollars more! Join or renew your membership for $51.36 per year for an individual or $66.60 for a couple. This translates to $4.28 per month for a single membership, or $5.55 per month for a double!
As a not-for-profit advocacy organization, there is strength in numbers. The larger our Association becomes, the more impact and influence we can have on decisions affecting you, your pension and your health-care benefits. Plus, making your membership a double allows your partner to share in all the benefits of membership, including savings through our Preferred Partner Program.
Give us a call today to turn your single membership into a double!
1-855-304-4700 (toll-free)
If you're joining as a member for the first time, simply select "double membership" when you pay at the checkout. If you'd like to change an existing single membership to a double, don't hesitate to give us a call at 1-855-304-4700 or email us at service@federalretirees.ca. At this time, this membership change must be processed by member of our member services team.
 
The answer to this one is simple. If you're eligible for membership, so is your partner! Partners can join whether they are retired or still working, and do not need to be eligible to collect a federal pension.
 
Yes, you can! Plus, for a limited time, any existing member who makes the switch to Dues Deduction at Source (DDS) will receive a one-time special offer of three free months of membership. That's a savings of 25 per cent! If you would like to make the switch to DDS, reach out to us by phone at 1-855-304-4700 or select the DDS option when renewing your membership online.
With the DDS option, your annual membership fees are deducted directly from your pension. It's the simplest and most convenient way to pay for your membership with Federal Retirees and to automatically renew it annually. Check our DDS article for more information.
Importantly, the DDS payment option is not available to current employees, non-pensioned veterans or to those in receipt of judges' pensions or judges' survivor allowances.
 
Yes, an active Federal Retirees membership in good standing is always required to be eligible for MEDOC travel insurance. For members with partners who would like to take advantage of MEDOC as well, an active double membership is required. An exception is made if your subscription to MEDOC began in 2017, or earlier, and has remained in good standing since.
At Federal Retirees, we couldn't be prouder of our helpful member services team. Send us an email at service@federalretirees.ca or give us a call at 1-855-304-4700 (toll-free) to talk to a real, live human!