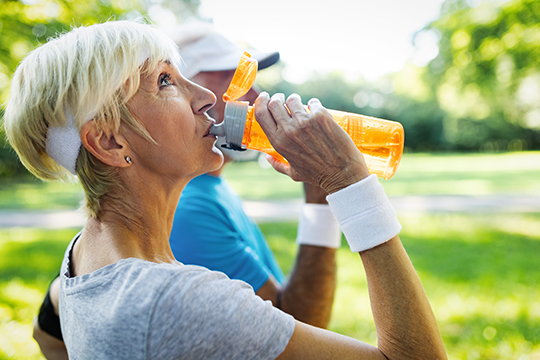 A recent webinar hosted by the Ottawa Branch and Dr. Glen P. Kenny explored an important health issue for older adults ⁠— heat stress.
 
The Ottawa Branch of Federal Retirees is proud to be working with Dr. Glen P. Kenny, director of the Human and Environmental Physiology Research Unit at the University of Ottawa, to help advance research on seniors' health and heat stress.
By 2030, adults aged 65 or older will make up 23 per cent of Canada's population and number over 9.5 million. Older adults represent the fastest growing segment of the population, but gaps in Canada's health-care and social policies are putting barriers in the way of their independence and undermining their role in maintaining vibrant, healthy communities and economies. Understanding how heat stress affects older adults provides clues about what triggers strokes, dizziness and general discomfort, and, in the long term, supports healthy ageing.
"We first met Dr. Kenny in 2020 when he advised us that COVID-19 has made heat stress an urgent health issue for long-term care residents who must isolate in their rooms. In addition, population ageing, and global warming are contributing to increasing heat event exposures in vulnerable populations such as older adults," says Robert Giroux, Ottawa branch president.
The Ottawa Branch shared a call for local research study participants on behalf of Dr. Kenny with its members. Both those with and without chronic health conditions were invited to apply.
As a thank you, Dr. Kenny provided a webinar on dealing with heat stress: Live, work and play safely in the summer heat (in English). Fifty people attended Dr. Kenny's heat stress webinar in May 2021 on a day when Ottawa temperatures hit 30 degrees Celsius, or the low 40s with the humidex.
"Hot summer days can put your health at risk, causing heat-related illnesses that can affect you quickly, and can lead to long-term health problems. They are mainly caused by being over-exposed to extreme heat especially if you are doing too much for your age and physical condition. It is important to take steps to protect yourself," says Dr. Kenny.
"While you may love the summer weather, you need to remember your body is not used to extreme heat at the beginning of the summer so you must let your body gradually adapt. Brief daily exposures to heat (e.g., resting in the heat, performing brief periods of exercise), will help you get acclimated. Over exposure to air-conditioning (home, vehicle, other) could limit improvements in your ability to lose heat so it is important to balance your exposure to the hot outdoor and cool indoor conditions," adds Dr. Kenny.
A recording of the webinar with Dr. Kenny is available for viewing online. (Please note that this was an English-language event.)
Since last summer, the Ottawa Branch has continued to send out calls for study participants and Dr. Kenny reports that 175 Federal Retirees members stepped forward to help last fall. Dr. Kenny's first major clinical paper with Health Canada (involving many of our members) was submitted to The Lancet, which is among the world's oldest and best-known general medical journals.
For more information on Dr. Kenny's study, visit the Human and Environmental Physiology Research Unit (HEPRU) online.
Ottawa Branch provides free webinars on financial literacy and healthy aging every week. In 2021, they offered 55 webinars to over 3,500 members and their guests. Dr. Kenny continues to provide excellent, informative webinars for the Ottawa branch, including Fitness, health and heat safety and Designing self-directed exercise programs: science, sustainability and safety. Please visit the Ottawa branch website to watch the webinar recordings.
About Advocacy Spotlight
Advocacy Spotlight showcases successful initiatives and projects put forward by our dedicated volunteers and supporters.
The National Association of Federal Retirees has a proud history of advocacy on behalf of our members and all retirees. In collaboration with our volunteers and supporters from coast-to-coast, we continue this tradition of strong, smart advocacy campaigns focused on improvements to the financial security, health and well-being of our members and all Canadians.
Our success is not only measured in policy changes and legislation, it grows with every meaningful discussion with parliamentarians, and with every email and letter written. Together, we are achieving and surpassing our strategic advocacy goals and targets every day.