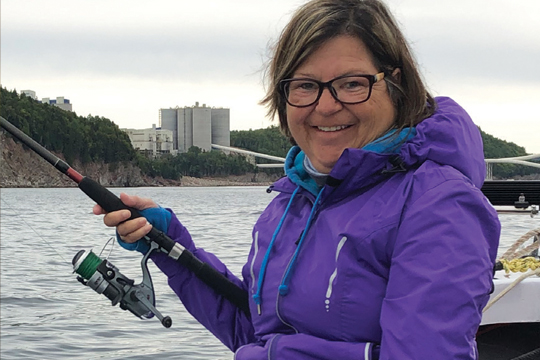 Josée Mayer volunteers for her branch of Federal Retirees, but she also volunteered for a COVID study when she had the virus in early 2020.
 
Josée Mayer was likely one of Canada's first COVID patients — and one of the lucky ones.
Mayer and her husband, Alain, were  in Puerto Vallarta, Mexico, when they contracted the virus. They were taking a short trip south and no sooner had they arrived when she developed symptoms. Two days later, her COVID test returned positive. 
It was late March 2020 and Canadian travellers abroad were being told to come home, so she and Alain got back on a plane and returned. They wore masks during travel, arranged to have their son leave a car for them at the airport and had a friend shop for and deliver their groceries before they arrived. All this to follow the rules and also ensure they would not infect any friends or family members.  
Her symptoms included no sense of taste or smell, a cough and a fever. Alain had initially tested negative, but when he, too, started to have symptoms, he was tested again and his test came back positive.  
Mayer immediately volunteered to take part in a study being conducted by the Montreal Institute of Cardiology that was investigating whether a cardiac medication would effectively treat COVID. She believes it did. Just once during the course of her illness she started to have some trouble breathing and her daughter-in-law, a respiratory therapist, endorsed her proposal of trying her husband's Ventolin inhaler. After that, she had no problems. Alain, by contrast, was sicker. He had muscle aches and pains everywhere and was having trouble getting up the stairs at home. He was never hospitalized, but his COVID symptoms turned into pneumonia that eventually cleared up with antibiotics. 
"He didn't have to go to the hospital, but the recuperation was hard because it was pneumonia," Mayer says. "He didn't take the pills I did." 
Because of her relatively easy experience with COVID, she believes she had the actual medication rather than the placebo in the study. She says she was motivated to take part  because she believes in science and because she was familiar with the drug as it's used for other conditions. 
"I knew it wasn't a new pill — it was known," she says. "I knew it could possibly give me a better chance of recovery. I think it saved me from pneumonia." 
When one looks at how she spends her time, it's no surprise that she volunteered for the COVID study. Volunteering appears to be in Mayer's DNA as she's an active volunteer with the Mauricie branch of Federal Retirees. 
"I'm the director of activities for the branch," she says. 
Every month before the pandemic, she and her team organized a breakfast, and she also organized day trips, the annual general meeting and the Christmas banquet. In 2019, back when travel was allowed, Mayer organized a day trip to Saint-Jean-Port-Joli, about three hours northeast of Mauricie. 
And lately, she's been organizing virtual events. The branch's annual general meeting was its first virtual event and she organized an online Christmas party that included Bingo and trivia. 
"We lifted our glasses and we toasted Christmas," she says. 
On Valentine's Day, they did another Zoom meeting and they're hoping to organize some outdoor activities as soon as the association allows in-person events to take place again. 
"If we can do it, it would be a walk in the park in Trois-Rivières," she says of the first tentatively planned activity. 
When she was working, Mayer spent her entire career at the Canada Revenue Agency, having started as a tax clerk in Shawinigan. She then moved to Montreal as an agent in a call centre, became a technical adviser, and, eventually a team leader. She also did a short stint as an agent in the "recovery" department, which was charged with collecting taxes that were in arrears. 
"At the end of my career, I was a team leader in Montreal and I was also a team leader in Trois-Rivières," she says. 
This article appeared in the summer 2021 issue of our in-house magazine, Sage. While you're here, why not download the full issue and peruse our back issues too?