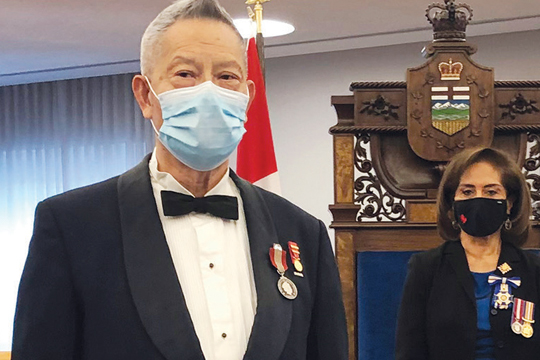 While holding a full-time job, member Tony Yee volunteered the equivalent hours of a part-time job with the Canadian Red Cross for more than 45 years.


 
At 83, Tony Yee looks back with satisfaction on more than seven decades of living in Canada and serving its people.
An immigrant who came from China at the age of 12, Yee chalked up many decades of service to his adopted homeland — as a member of the military, a school teacher in Edmonton and a volunteer who, over 45 years, has devoted 50,000 hours to the Canadian Red Cross.
Last November, Yee's volunteer work received rare recognition when he was given the Governor General's Sovereign's Medal for Volunteers. The citation explained that through his Red Cross service, Yee "has helped promote and instruct first aid and water safety, and has been actively involved in humanitarian disaster relief operations."
It's no surprise. His life has been all about service.
"My parents always emphasized education," he says. "They believed anyone who wanted to get ahead had to develop something on the ball. I tried to do that for myself, and I wanted to pass everything I learned on to others."
During his years in the military, Yee was most often an instructor and spent nine years teaching RCAF pilots-in-training how to fly aircraft — not in the air, but in the classroom, where he taught communication techniques and how to use radar.
His devotion to teaching deepened during his years of military service in Edmonton, where he served with the 437 Transport Squadron. His commanding officer, sensing promise in him, allowed Yee to enroll half-time in university. Over 7½ years, he earned three degrees — a bachelor of education, a graduate diploma in industrial and vocational education and a master's in vocational education.
When he retired from two decades of full-time military work (he continued in the reserves for nearly two decades more), Yee became a vocational teacher with the Edmonton Public School Board, where he taught for 23 years.
Life was busy, but Yee found time to put in more than 1,000 hours per year volunteering for the Canadian Red Cross, roughly half the yearly hours most people put into their careers. Why was he driven to this level of dedication?
"Well, I've had a hard life," Yee says. "When I was a small child, my father had left China and gone to Canada, and my mother and I, still back in China, were fleeing the Japanese military, which had invaded China. [They] bombed our village. There were moments when [we] hid in ditches to avoid being fired upon by Japanese aircraft.
"So I've known hardships and poverty and when people in Canada find themselves in disaster, I help, because I understand."
A love of adventure, of encountering new things, has always spiced up his life. When he and his mother came to Canada in 1949, he had no idea what to expect. "I would be entering an unknown place, but I've always loved that. A new place is always an eye-opener."
Busy though he was, there was time for family. In 1964, he married Kazue Kamada, an elementary school teacher with the Edmonton school board. They have four children and each child has two degrees, adds Yee, proud that his commitment to education made an impression on the next generation.
His hunger for new places has led him and his wife to take many cruises, 48 to date. "There's no better way to see the world," Yee says. "We've been around the world 2½ times — even to the North Pole." Though in his 80s, he still hopes to travel to the South Pole, a destination the couple settled on before COVID-19 upset travel plans.
He's not a volunteer with the Edmonton branch of Federal Retirees, but he approves of its work. "At my age, you hesitate to commit yourself," he says. In the post-pandemic world, when regular meetings resume, he will revisit the question.
This article appeared in the spring 2021 issue of our in-house magazine, Sage. While you're here, why not download the full issue and peruse our back issues too?