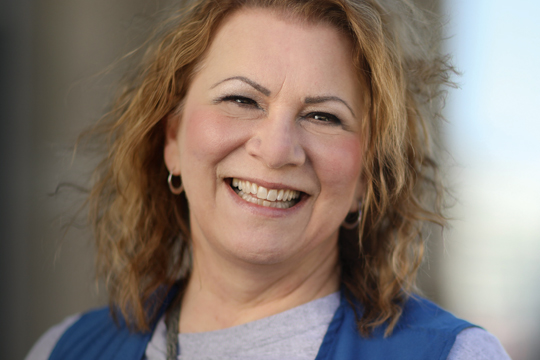 Rebecca Drain says volunteering can offer a sense of purpose and a vital connection to the community when one's career ends. Photo: Colin Corneau
 
It's good for my soul," Rebecca Drain says about her volunteer work at Winnipeg's Health Sciences Centre and the Siloam Mission. "I want to be out there doing good in the world."
For Drain, that includes guiding visitors and others around the sprawling hospital complex once a week and a monthly stint preparing and serving food for homeless and marginalized people at the mission.
Like many other retirees, Drain, who is of Métis descent and was responsible for staff training and development at Service Canada until a massive brain tumour permanently ended her work life a little more than a decade ago, knows that volunteering can offer a sense of purpose and a vital connection to the community when one's career ends.
And, like many other volunteers, she's joyful about returning to her passion after the pandemic restricted it.
Drain's work at the hospital has a particularly personal meaning: It's where she underwent treatment after her cancer diagnosis in 2011. She remembers saying to herself, "If I get better, when I feel well enough, I want to volunteer here."
When she woke after six hours of surgery, her first thought was, "'Oh my God, I am free.' I realized I had been trapped in my body and could not get out. I came to realize life is so very precious. Don't waste it. Get out there and do good in this world. I can't work, so volunteering makes me feel like I'm doing that."
According to Statistics Canada, in 2018 (the most recently available numbers) nearly 12.7 million Canadians spent approximately 1.7 billion hours doing good things through formal volunteering.
 
Why volunteer?
Social cohesion and inclusion are among the community benefits of volunteerism, claims Volunteer Canada on its website, while Dalhousie University's Karen Gallant, a professor of recreation and leisure with a special research interest in volunteering, notes the many personal benefits of giving back.
With retirement, Gallant says, "There are certainly mental health benefits associated with maintaining some structure and routine, which is some of what we get from our work." Social opportunities, an important part of work life, but which often decline as we age and lose spouses or friends, also motivate volunteers, she says.
Gallant says volunteering can promote a sense of "mastery — being good at something." It's often a benefit of paid work, and after retiring, people often look to volunteering to feel they're making a contribution and sharing their skills, especially if it's something about which they're passionate.
She adds that volunteers can exercise choice by deciding where to give their time, and there are significant mental health benefits to being able to make autonomous decisions.
Noting there's a "huge" amount of research on volunteerism, Gallant says volunteers tend to be happier, often because they feel more connected to others and to the community.
At the same time, she says volunteering isn't entirely about altruism. "To be honest, if people weren't enjoying themselves or finding it fulfilling or meaningful, most wouldn't continue to volunteer."
She says volunteering can become burdensome if too much work falls on one person. With younger people under so much pressure to build their careers, seniors can wind up doing more than their share.
 
Providing companionship
Nancy Carruthers, a retired Health Canada compensation adviser, doesn't view her weekly visit with a palliative patient from Dundas County Hospice, south of Ottawa, as a burden.
Instead, it's an opportunity to get out of the house and bring companionship to someone who might not otherwise have much.
"We talk about current events in the area, their family," says Carruthers, who also helps manage hospice equipment for patients. "If their family isn't in the area, it gives them someone to talk to, something to look forward to that day. If they're palliative, that's a big thing."
Inspired by her mother, who also volunteered post-retirement, Carruthers agrees she's grown through her involvement with the hospice. "I'm not usually a talker, so to go to a person's house you don't know is kind of intimidating at the beginning. But I found people like to visit and I've learned you don't have to be intimidated."
Volunteering with a hospice is just one way of giving back to our community and ourselves. One can teach piano, assist at fundraising bingos, support new immigrants and refugees — the opportunities, usually easy to find through an online search for volunteering in your own community, are almost endless. Like job vacancies, volunteer openings may well surge as the pandemic recedes and face-to-face contact resumes.
"Find a match between your motivations for wanting to volunteer and the opportunity itself," Gallant counsels. "If you're a book lover, volunteer at a library. If you always found libraries annoyingly quiet, it's probably not for you." And look for an organization where you'll get training and support, she adds.
 
A chance to use your skills
Vince Prasad has had no trouble finding appropriate volunteer opportunities after a 31-year career with the federal civil service.
Formerly with the Canada Border Services Agency where he created and implemented revenue recovery programs until retiring in 2002, Prasad has volunteered with a neighbourhood support service and now handles media relations and organizes lunch-and-learn sessions for the Vancouver branch of the National Association of Federal Retirees.
"As a retired public servant, I know experience matters," he says. Volunteering is "an opportunity to use valuable skills to give back to the community, to mentor others and to create and maintain a relationship."
He believes volunteering, which affords the chance to learn about other people and cultures, plays a vital role in society by nurturing empathy, instilling values of caring and giving and building community. Such outcomes are especially important in a time of growing polarization.
"I would encourage others to [volunteer as a way] to stay active in mind and body, to make connections and to continue to learn."
This article appeared in the summer 2022 issue of our in-house magazine, Sage. While you're here, why not download the full issue and peruse our back issues too?