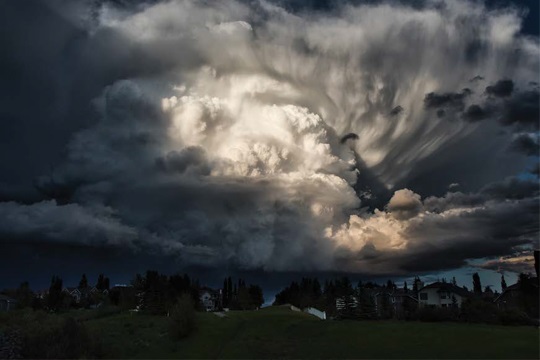 Climate change is causing increased risks for homeowners; make sure your insurance coverage is keeping up.
 
When Hurricane Hazel washed into and over parts of the Toronto area in 1954 as an extratropical storm that eventually claimed 81 lives, it was an extraordinary event. It was almost unheard of, as was its price tag, which exceeded $135 million, or the equivalent of $1.3 billion in 2018 dollars.
As the decades that followed unfolded, communities across the country experienced other natural disasters such as wildfires, floods and tornados. But now, firmly in the 21st Century, they're occurring with more frequency, even with regularity.
In a recent Insurance Institute of Canada study, Climate Risks: Implications for the Insurance Industry in Canada, senior researcher Paul Kovacs posited that "climate-related risks may displace auto coverage to become the leading coverage provided by the industry in Canada."
He pointed to more rainfall in urban areas, increasing the risk of water damage and sewers backing up to flood basements. The areas that will be burned by wildfires are projected to grow and rising sea levels will increase the risk of coastal flooding.
As more homeowners experience the reality of these disasters in their own backyards, they become increasingly reliant on their insurers to ensure they are prepared for what were once considered extraordinary events.
But not every household insurance policy covers all the possible contingencies. The offerings differ with each company, as well as the homeowner's own needs.
"Years ago tornadoes in Ontario weren't that common," says Pete Karageorgos, director of consumer and industry relations for the Insurance Board of Canada. "Nowadays, we have seen more and more of those events occurring. We're seeing these weather events occur with greater intensity, causing more severe damage— and more frequently."
Karageorgos points to the early summer flooding of the western part of the Greater Toronto Area in 2013, which saw more water come into the area over the course of two hours than Hurricane Hazel brought in two days.
In the National Capital Region, homeowners experienced two major floods and a tornado over the course of two years. Some had barely recovered from one when the next one struck.
Water has become the No. 1 concern, accounting for the majority of claims, according to Dave Dyer, chief operating officer at LowestRates.ca.
Dyer suggests that protecting your home begins before you even move in. Check out the lay of the land, how close it is to the water, how the house is situated on the property as well as the infrastructure.
---
"Climate-related risks may displace auto coverage to become the leading coverage provided by the industry in Canada."
---
If the area has been identified as one in which events such as flooding are known to occur, rates will reflect the increased risks to insurance companies.
And while basements are considered a great place for storage, they are also known to flood during water catastrophes. So the basement floor, he says, is no place to keep things of particular sentimental value. He points out that the average insurance claim for flooded basements is in the $40,000 to $50,000 range.
"Because of the amount of claims that have been occurring over the last 10, 12 years, the insurance companies are changing their policies or their coverage fairly regularly," Dyer says.
Property insurance, he adds, is not as regulated as auto insurance. So, what's included in some policies may not be included in another.
Sewer backup and overland water incursion, for instance, were once included in all policies, but they are now dealt with differently from company to company. They can be separated from the main policy or have very low limits.
"If a sewer backs up in your basement and you have $15,000 of sewer-backup coverage, it's probably not going to help you a lot, depending on what's going on in your basement. So you want to make sure you have the right coverage and the right amount of coverage," he says.
When shopping for insurance, representatives suggest figuring out the coverage you need and then pricing it out. Too many people, Dyer says, focus on the price first, so they may not get exactly what they need.
Renewing insurance every year should be accompanied by a review of the policy. An important element often overlooked is the increased value renovations add to a home.
"If they didn't adjust the value of your home to take into consideration the fact that you now have more expensive kitchen cabinets or counters, you may not have enough money within your policy to pay for the replacement of those items if there were to be a disaster at your house," Karageorgos says.
Consideration must also be given to the contents of the home, such as electronics, musical instruments, sporting goods and now, office equipment.
"If you're concerned about that type of event damaging your home, you're going to want to shop around and make sure you can get a policy with that additional coverage," Karageorgos says.
The cost of insurance premiums can be mitigated by the deductible, which is designed to minimize the likelihood of small claims. That means that if the homeowner chooses to accept the risk of having to pay the first $1,000, for example, he or she can still maintain high coverage amounts, but pay a lower annual premium.
 
What is not covered by basic home insurance
Overland flooding: Extra coverage is available, although for Canadians who live in flood plains it's limited and likely not enough to cover all of the damage caused by overland flooding.
Above-ground water damage: Ice causing water to back up under roof shingles; the weight of snow or ice collapsing the roof or creating a hole in it; sudden overflow or discharge of water from gutters and eaves.
Water damage from lack of maintenance: Part of the cost of repairing a damaged floor will probably be covered, but the cost of a new hot water tank will not.
Groundwater damage/seepage: If water leaks in through the foundation of the house, it will be considered a maintenance issue and will not be covered.
Water damage caused by structural issues
Sewer backup
— Western Financial Group
This article appeared in the spring 2021 issue of our in-house magazine, Sage. While you're here, why not download the full issue and peruse our back issues too?