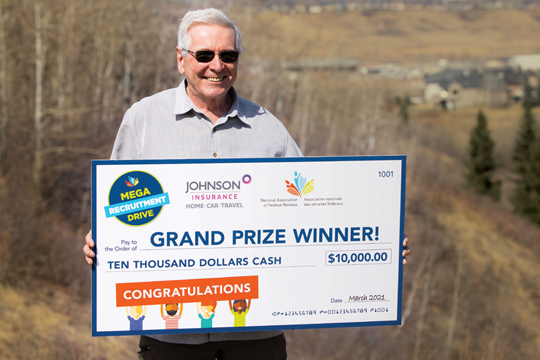 This year's mega-recruitment drive had many rewards for its hardest-working volunteers, including a draw for a $10,000 cash prize.
 
For Terry Davis, becoming a member of Federal Retirees is a no-brainer.
"As a traveller, my big thing is having the MEDOC travel insurance," says Davis, who retired from Transport Canada in 2013 after a long career as a civil aviation inspector. "So I talked to a few of my ex-Transport Canada folks because the regular amount [of travel insurance] you get with the Public Service Health-Care Plan when you retire from Transport Canada — the $500,000 — doesn't go very far if you get in trouble down in the U.S. I've always pushed that. Another friend who got MEDOC did a lot of investigation beforehand and determined it's a very good plan."
He says his recruitment drive was rather informal as he just told former colleagues about the benefits of MEDOC, as well as the membership bonuses such as Sage magazine and regular newsletters that keep members up to date.
"There are some good articles on health and that sort of stuff [in Sage]," he says.
"I'm happy to have access to National Association of Federal Retirees because it's a great organization. The membership pays for itself."
Davis also likes the fact that his wife, who happens to also be a federal retiree, could have joined even if she weren't.
Davis's casual recruitment efforts paid off as he won $10,000 cash — the grand prize courtesy of Johnson Insurance in the 2020 mega-recruitment drive.
"Ten thousand dollars is always a nice little bonus," Davis says. "Once we can travel again, we plan to use it to go to Great Britain — Scotland and Ireland. My wife was there when she was in high school; I've never been."
If they have anything left over from that trip, it may well go to a return to Africa. He loved their 2020 trip to Cape Town, South Africa, which included a couple of safaris. Next, he wants to hit Kenya's safari offerings on the Masai Mara.
"I can't wait till I get back," he says. "The people are friendly; the prices are right and the return airfare from Calgary was $1,350. We stayed in Airbnbs. South Africa is a beautiful country."
If he does get to travel abroad again, he'll know he's safe with MEDOC. His wife has multiple sclerosis and he has a heart condition that put him in hospital on a trip to Key Largo, Fla. He was in emergency for 13 hours and the bill was $18,500. An echocardiogram alone cost him $4,500, but it was all covered by MEDOC.
 
This year's approach
Although some members haven't renewed their memberships during the pandemic, all things considered, this year's recruitment drive was a success, says Jeff Wolfson, manager of recruitment and member services at Federal Retirees.
Wolfson said one of this year's highlights was a change in the grand prize, which is traditionally a trip, but was switched this year to a $10,000 cash prize, compliments of Johnson Insurance. Most prizes were randomly drawn from a pool of names — members were given one chance to win for every person they recruited — while a couple of others were awarded based on straight numbers. The latter two prizes went to Kelly McKeown for most new members ($500 pre-paid credit card courtesy of Arbor Memorial) and the other, for most new referrals, went to Joanne Morrissey ($250 pre-paid credit card courtesy of Arbor Memorial.)
"We added the other categories so people who clearly worked hard could have a chance to win in other ways than through pure luck," Wolfson says.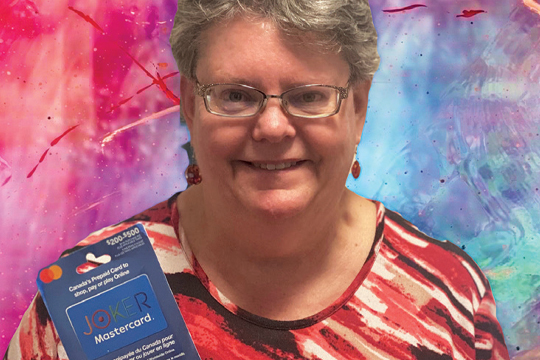 Kelly McKeown, from the Peel-Halton branch in Ontario, has been a member for more than 20 years.
 
An innovative approach
Kelly McKeown, from the Peel-Halton branch in Ontario, hasn't retired yet, but she likes to stay informed on issues that concern her now or will later, so she's a member of Federal Retirees. She also understands how important it is for the association to have strong membership and high numbers are one measure of strength.
To that end, the Canada Revenue Agency employee came up with a new approach to membership recruitment. She suggested to her union — the Union of Taxation Employees — that it give the gift of membership in Federal Retirees to every retiring employee. The union went for it and McKeown now processes all the names and sends them to the membership team at Federal Retirees.
This past year, that amounted to more than 10 new members.
"Federal Retirees is like my own union — they both fight for all our rights," McKeown says. "This might not be the best year to be involved because there are no in-person meetings, but they will also get Sage magazine and there's lots of useful information in it."
In letting her recruits know they would be receiving a membership, she also told them about other benefits, including the travel insurance. McKeown has been a member for more than 20 years, having joined when she started receiving a widow's pension after her first husband's death. She remembers there was an advertisement for membership in the same envelope as that first pension cheque.
 
The soft sell from rural Newfoundland
Joanne Morrissey, the mayor of North River, Nfld., is a super-recruiter once again this year. A member of the Avalon-Burin branch, she won a $250 pre-paid credit card, compliments of Arbor Memorial, for having forwarded the most referrals to head office.
Last year, her approach included talking about the great benefits of the MEDOC travel insurance program, but that was a harder sell this year since travel is next to impossible. Instead, she talked about what she anticipates will be a need for strong protection against pension cuts.
"I just said that the way the feds are spending money now, we will need all the protection we can get for our pensions," Morrissey says. "So, we just chatted about that. I don't know where all the money is coming from, but don't think I will live to see it repaid in my lifetime. I think our grandchildren and great-grandchildren will be paying it back."
Morrissey says she didn't feel deserving of a prize because she "only" recruited 20 people. She acknowledges that her pool of potential members is smaller than that of members who live in bigger centres, but she said that also has its advantages.
"Being in a small place might make it easier because people know one another and they're friendly to each other," she says.
"I remembered some of the people that I worked with from the Western part of Newfoundland — people who were in  the same position as me when I was working, and I'd meet them at conferences. I also knew some RCMP officers so I asked them if they knew anyone else who might be interested."
She says she's not sure what she'll do with her prize, but "I'll spend it," though spending is a little more challenging in a pandemic. She expects she might use it for a mini staycation.
 
Other winners
Caroline Christiaens – Fraser Valley West $5,000 tour anywhere in the world Collette travels (Courtesy of Collette)
Trudy Power – Avalon-Burin
Pietr Haarsma – Ottawa Lucky draw for Samsung tablet (Courtesy of SimplyConnect)
Ann Kolstad – Winnipeg & District $250 pre-paid credit card for new member lucky draw (Courtesy of Arbor Memorial)
Claudia Curri – Nova Scotia Central $250 pre-paid credit card for e-newsletter referral lucky draw
Karen Janke-Curliss – Saskatoon & Area John Myke – Ottawa
Charles Staples – Ottawa
Diane Fraser – Ottawa
Charles MacLennan – Ottawa Lucky draw for $100 pre-paid credit card
Ken Grimes – Red Deer $500 pre-paid credit card for early bird draw (Courtesy of SimplyConnect)
This article appeared in the summer 2021 issue of our in-house magazine, Sage. While you're here, why not download the full issue and peruse our back issues too?