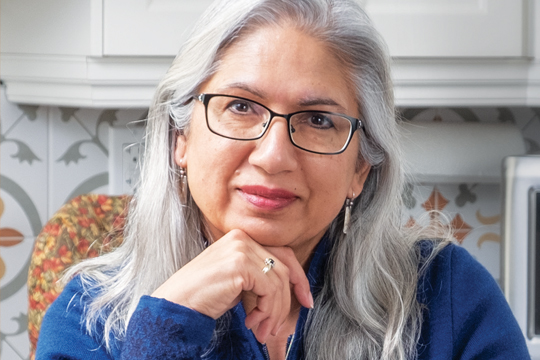 Nishika Jardine, the first woman to become veterans ombudsman, plans to help veterans, particularly Aboriginal veterans, be heard.
 
It was a fine, warm summer day in 2010 when Nishika Jardine, at the time a lieutenant-colonel, relinquished command of the Royal Canadian Electrical and Mechanical Engineers school.
She was, by her own later admission, in a reflective mood.
Looking out across the parade square at the assembled ranks of the school at Canadian Forces Base Borden, Jardine realized her tenure at the school was the accomplishment of which she would be proud in her decades-long military career.
A tumble of thoughts went through her mind. How did two years "disappear" so quickly? One moment she was assuming command; the next she was leaving.
Afghanistan beckoned — a deployment with the last task force headquarters in a mission that was rapidly winding down for Canada. How we leave things, in what sort of condition, is one of those urgent milestone questions we all ask ourselves.
For some, a change of command can be an indifferent career box-ticking exercise; one assignment over and now on to the next. Instead, Jardine felt the weight of trust that had been placed on her shoulders.
---
"To become a commanding officer, you have an incredible responsibility; [you're] not only responsible for the work that every unit does, but you're responsible for the lives of these men and women who have been entrusted to you," she says during an interview from her home in Alliston, Ont.
---
One of the most thoughtful pieces of advice she had received came from a chief warrant officer who told her the key to successful military leadership was: "My mission, my men, myself." (Men is the generic term for all other ranks.)
Jardine's interpretation was slightly different: People came first.
"I took care of my people because I knew that if I took care of them, they would take care of my mission."
It is a philosophy to which she still subscribes.
"The thing I'm most proud of is taking care of my people," she says. "I put my people first as much as I can."
This philosophy is perfectly suited for the post of veterans ombudsman. (The government is endeavouring to remove gender from such titles, but Jardine herself prefers ombudsman.)
Jardine retired from the military in 2019 as the deputy commandant of the Canadian Forces College and, at first, struggled to find purpose in her post-uniform life. She had gone "in one heartbeat" from a position of responsibility to a quiet, anonymous home life.
When the ombudsman's position opened up last year, she knew instantly she wanted the job.
Jardine takes the job with an appreciation of the burdens of being a transitioning veteran, and — unlike her predecessors — a broad understanding of the vagaries of the branches of the military.
 
Making the voiceless a priority
Giving voice to the voiceless, particularly Aboriginal veterans, is a priority and top-of-mind for Jardine.
There is, within the veterans community, a largely silent minority that is beginning to be recognized and heard, be it women or LGBTQ2, for which the veterans department recently set up an office.
Jardine says there is value in drawing out those who have served, but for a variety of reasons "have trouble saying: 'Yeah, I'm a veteran.'"
And it is more than just about benefits — it's about recognizing service.
"Aboriginal veterans are the No. 1 priority for me, personally; learning and understanding their voices," Jardine says.
Recognition by the ombudsman that there are underrepresented voices was the overriding concern of Marie-Claude Gagnon, founder of the group "Just 700" that spearheaded a class-action lawsuit against the federal government in response to decades of sexual violence and harassment in the ranks.
---
The challenge will be for the ombudsman to find a way to hear "people with concerns, deep concerns that haven't been looked at for years, [and] to be able to get those concerns heard," Gagnon said in an interview.
---
She expects Jardine will place emphasis on women who have served, not because she is the first female veterans ombudsman, but because it is an important policy issue.
There is a growing body of evidence that shows women, who make up roughly 12 per cent of the annual releases from the Armed Forces, have a harder time adjusting to life after service than men.
The veterans department's own research concluded, four years ago, that female veterans were at greater risk of living their post-military life with some form of injury or disability as a result of their service. They also more frequently reported a lower quality of life than men and had a higher prevalence of mental-health conditions.
Separate analyses — the 2017 and 2019 veteran suicide mortality studies — revealed that the ratio of female veterans who commit suicide compared with women in the general population is higher than for men.
The issues facing female veterans are well established, Gagnon says, and now "somebody has to dig into it and ask 'Why is the transition harder for women and why are women waiting longer?'"
Being a woman, Jardine will bring a different perspective to the job, but focus on gender can be a double-edged sword, Gagnon says. Being a woman "could be a good thing, but it really depends upon how willing she is to speak up and voice her opinion. Just because a woman is there, it doesn't necessarily mean a woman's lens will be applied more. It really depends on what she thinks her role should be."
She suspects the struggle for Jardine "will be the same as everyone else before her" because the ombudsman can only make recommendations, which the government can follow or choose to ignore.
 
Advice from others
The last person to hold the ombudsman post, retired colonel Craig Dalton, left early to take a new job. Months before his departure, he told CBC News that the office's mandate should be reviewed and that the notion of making the ombudsman an officer of Parliament, rather than a ministerial adviser, be considered. He based his assessment on dozens of meetings with veterans and veterans' advocates, many of whom said they had lost faith in the independence of the office.
At the time, Veterans Affairs Minister Lawrence MacAuley said he was open to a review, but nothing happened and now the conundrum lands in Jardine's lap. For her part, she says she's still learning, but doesn't see an inherent conflict between the roles.
---
"I don't see a conflict," she says. "I don't see a balancing. I don't see an issue; quite frankly I just do not. The thing that we need to be clear about is that the ombudsman is not an advocate. We are an advocate for fairness. And that nuance is really important."
---
As cases arise, she will ask herself whether the veteran was treated fairly by the department and if the outcome for the individual was fair.
The country's first veterans ombudsman, retired colonel Pat Stogran, said early in his tenure that he "stuck with the mandate," but as important policy issues and cases emerged, he found it difficult to reconcile the roles of advocate and adviser.
"Clearly, I didn't have the formula down," says Stogran, who served just one term.
His tenure ended following a series of high-profile clashes, late in his mandate, when he and his investigators began uncovering problems and inequities.
Stogran said regardless of what she believes, the contradiction at the very heart of the position is something Jardine and every ombudsman "absolutely, 100 per cent" have to face.
Another former watchdog said he found the experience, at times, just as frustrating.
 "As I was going along to get along, it was fine," says Gary Walbourne, who served as deputy veterans ombudsman and Canadian Forces ombudsman, 'but when challenged; when pushed with hard-based evidence reporting, that's when the policy difficulties will come in for the ombudsman."
Walbourne, who retired early after a falling-out with Defence Minister Harjit Sajjan, says he still believes it's possible to find the right balance.
"When I first joined the public service, I was told to speak truth to power and that is what was encouraged," he says.
But much depended upon the person receiving the advice or insight. Some ministers were open to hearing the facts and evidence; others weren't. There were some who "did not like advice if it did not align" with their view, or the perspective of the institution.
Finding balance will depend on the ombudsman building a relationship with the minister.
Walbourne encouraged Jardine to consider her post as being like the "canary in the coal mine," where the watchdog is exposed to the ground truth.
"If these ombudsman's offices are going to be effective, they're going to have to get out from under the departments," says Walbourne, noting the strength of the country's principal watchdog — the auditor general — and the power that office has to effect change.
Jardine said she's not shy about taking the fight to Veterans Affairs when necessary and that "there is purpose and there is honour" in the ombudsman's role as it is currently structured.
"I am immensely privileged to have been given this opportunity to serve; to continue to serve my community," she says.
Murray Brewster is senior defence writer for CBC News, based in Ottawa. He has covered the Canadian military and foreign policy from Parliament Hill for more than a decade.
This article appeared in the spring 2021 issue of our in-house magazine, Sage. While you're here, why not download the full issue and peruse our back issues too?