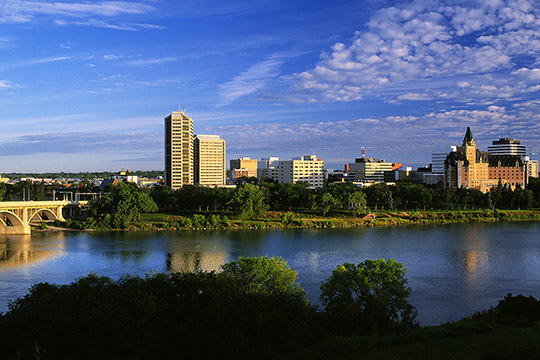 Federal Retirees first examined Saskatchewan's budget back in April after the province released its spending estimates.
On June 15, 2020, the Saskatchewan government tabled its 2020-2021 budget, almost three months after it was originally set to be released.
The Saskatchewan government previously released 2020-2021 estimates on March 18, 2020, making it the first province to release its spending plan after governments began taking action to limit the spread of COVID-19 and introducing measures to help people deal with the health, financial and other impacts of the global pandemic.
This year's budget forecasts a record-high $2.4 billion deficit, which Finance Minister Donna Harpauer is calling a "pandemic deficit." Revenue is projected to be $13.6 billion, down 8.3 per cent from last year, the result of domestic and global economic shutdowns to prevent the spread of COVID-19 combined with collapsing oil prices. Expenses are expected to be $16.1 billion, up 7.2 per cent from last year's budget, as the province funds various programs and services to support Saskatchewanians during the pandemic.
The budget earmarks $1 billion to support economic recovery in the fight against COVID-19, which is $700 million more than the province's March spending estimates. It also establishes a $200 million health and safety contingency.
In announcing the budget, Harpauer noted that the province had initially anticipated a surplus for 2020-2021, but that changed with COVID-19. "Every province, every jurisdiction in the world, has seen its economy and finances hit hard by the pandemic. Saskatchewan is not immune or alone," she said.
The minister asserted that Saskatchewan is well placed to get back to balance when compared to other provinces. She supported her claim by referencing the province's per capita COVID-19 case count and fatality rate, which were roughly 80 per cent and 90 per cent below the national average, respectively, as well as its low unemployment rate, the second lowest in the country. Harpauer also remarked that Saskatchewan experienced fewer business closures than other provinces and its agriculture exports were up more than 20 per cent in April.
"Saskatchewan is well-positioned to recover from the effects of the pandemic because of the strength of our people and because we produce what the world needs – food, fuel and fertilizer," Harpauer noted.
The budget assumes global measures to contain the virus and limit its impact on the economy will continue to be successful. Of course, considerable uncertainty remains when it comes to the virus' trajectory and the economic rebound, which is why Saskatchewan's government decided to only include a one-year outlook in the budget. Multi-year fiscal forecasts will be added when the situation becomes clearer.
In its March estimates, the province noted its debt sat at $22.2 billion, a $1 billion increase from last year. The debt is now projected to rise to $24.37 billion, an increase of $3 billion from last year. The government says $1.9 billion of this increase is due to COVID-19 spending. The remaining $1.1 billion is attributable to infrastructure programs that were developed prior to the pandemic.
Education, health and capital spending for ministries and Crown corporations received significant spending boosts this year. The education system is receiving $3.36 billion in funding, up $79.4 million from last year. Capital spending for ministries and Crown corporations is estimated at $3.1 billion, which includes the $2 billion announced in May to help stimulate the economy. It is part of a two-year $7.5 billion capital plan to invest in hospitals, schools, highways, municipal infrastructure, Crown utility projects, and other projects to help stimulate the economy and create jobs.
 
Health-care spending is set at $5.8 billion, a $255 million increase over last year. This includes $118 million for hospital equipment, testing equipment, personal protective equipment (PPE) and operating costs.
The Saskatchewan Party government is spending an additional $20 million to address surgical wait times and provide 3,700 more surgeries across the province.
A further $15.7 million will fund the construction of the previously announced long-term seniors care facility in Meadow Lake, which will add 72 beds to the province's total. Another $8 million will be spent to add 36 new acute care beds at Saskatoon's Royal University Hospital. Approximately $2.3 million will go toward creating 100 community-based long-term care beds in Regina and Emerald Park. An additional $15 million is outlined for the planning and preparation of the previously announced $300-million Prince Albert Victoria Hospital. The budget also indicates ongoing planning and scoping for hospitals in Wyburn and Yorkton.
The province is earmarking $4 million for diagnostic imaging equipment, including $2 million to fulfil the provincial government's commitment to provide Melfort with a new CT scanner. They are also allocating $3.6 million for improving eHealth infrastructure.
The provincial government is also tackling the mental health and addictions crisis, committing $435 million to mental health and addiction supports, a record for the province. This includes creating specialized crystal meth inpatient treatment services in Estevan, improving access to mental health and addiction treatment beds and supports, and offering intensive supports for children and youth.
The Saskatchewan Cancer Agency is receiving an additional $18.4 million this fiscal year, an increase of 10%, for a record total funding of $196.4 million.
Another $3.4 million is set aside for the launch of the new Saskatchewan Housing Benefit. The benefit will help make housing more affordable for individuals or families who require rental support.
The provincial government is also providing a $400,000 boost in funding to the Vaccine and Infectious Diseases Organization (VIDO) to support construction of a new vaccine manufacturing facility. In March, it was announced that a VIDO team was working with colleagues and organizations across Canada to develop and fast-track the testing of a COVID-19 vaccine.
 
The government also pointed to several measures it has implemented in response to the pandemic, to assist the province's most vulnerable populations, including one-time payments of $50 to all adults who receive income assistance, $100 monthly respite payments from June through September to approximately 2,800 individuals who care for people with intellectual disabilities, $171,000 for additional support to emergency shelters and one-time payments of $200 to foster and extended-family caregivers.
The budget includes more than $85 million for the Saskatchewan Public Safety Agency, which oversees the province's emergency management, fire safety, wildfire management and 911 emergency dispatching services. The agency is playing a crucial role in the province's pandemic response, especially in the north-west part of the province (La Loche and surrounding communities).
The budget contains more than $900 million in new supports to fight the pandemic, including $502 million in new spending announced since the estimates were released in March. This money is funding initiatives like shovel-ready infrastructure projects ($150 million), the Accelerated Site Closure Program for the reclamation of inactive oil and gas wells and facilities ($150 million), the Temporary Wage Supplement to assist support workers helping some of the province's most vulnerable during the pandemic ($56 million), the Saskatchewan Small Business Emergency Payment Program  ($50 million) and the Canada Emergency Commercial Rent Assistance  to provide forgivable loans to commercial property owners renting to small businesses experiencing hardship ($13 million).
 
Saskatchewan NDP opposition leader Ryan Meili criticized the government for a lack of transparency regarding its decision not to provide long-term projections beyond March 31, 2021."We have no idea what the plan is for after this year, when they plan to come back to balance or how they plan to do that," Meili said. He also brought attention to the budget's insufficient investment in seniors, long-term care, childcare and supports for struggling families.