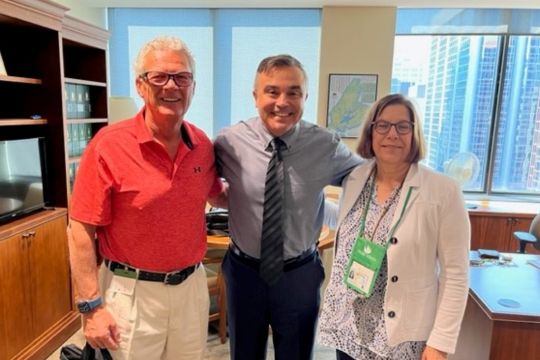 Cape Breton Branch president James Wheelhouse and Nova Scotia advocacy program officer Michelle Langille met with MP Mike Kelloway during a June visit to the National Capital Region.
 
While in Gatineau for Federal Retirees' 2023 Annual Meeting of Members (AMM), Cape Breton Branch president James Wheelhouse and Nova Scotia advocacy program officer Michelle Langille took the opportunity to meet with one of their local MPs on Parliament Hill.
"Michelle and I had a productive meeting with Mike Kelloway, MP for Cape Breton—Canso. We accomplished our goal of obtaining a commitment from the MP to reject legislation that would enable employers to walk away from their pension commitments. In addition, he committed to speak with the key cabinet ministers regarding income security and a seniors strategy," reports Wheelhouse.
Wheelhouse and Langille spoke about their experience — the planning steps, the successful meeting, and the outcomes — as part of the volunteer advocacy training session during the AMM. Wheelhouse also shared slides he had prepared for meeting with MPs.
Wheelhouse had also hoped to meet with Jaime Battiste, MP for Sydney—Victoria, while at the AMM. Unfortunately, Battiste was unavailable at that time, but his office offered a local meeting in his constituency the following week. The meeting was a resounding success and ended with Battiste accepting an invitation to the Cape Breton Branch BBQ next summer, an opportunity to connect with Association members - an event Kelloway has also agreed to attend.
"Securing Kelloway's and Battiste's attendance at a BBQ next summer is an important step in maintaining a relationship with our local MP and also in making sure we stay on his calendar and his radar as the next federal election approaches," explains Wheelhouse.
Interested in meeting your MP ⁠— on Parliament Hill or locally? Reach out to advocacyteam@federalretirees.ca for tools, including key messages and questions to ask, or for a copy of the slides used by Wheelhouse and Langille to meet with their MP.
Advocacy Spotlight showcases successful initiatives and projects put forward by our dedicated volunteers and supporters.
The National Association of Federal Retirees has a proud history of advocacy on behalf of our members and all retirees. In collaboration with our volunteers and supporters from coast-to-coast, we continue this tradition of strong, smart advocacy campaigns focused on improvements to the financial security, health and well-being of our members and all Canadians. Our success is not only measured in policy changes and legislation. It grows with every meaningful discussion with parliamentarians, and with every email and letter written. Together, we are achieving and surpassing our strategic advocacy goals and targets every day.