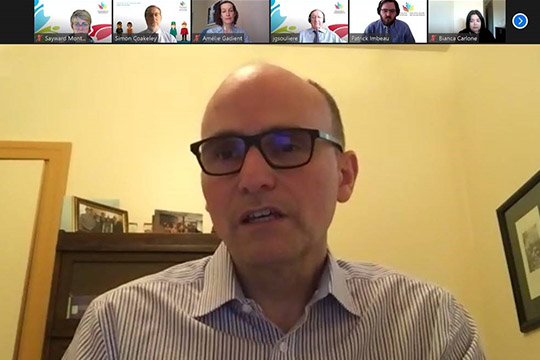 Our team has made the transition to virtual advocacy events in light of physical distancing measures and connected with Treasury Board President Jean-Yves Duclos through Zoom.


 
The National Association of Federal Retirees has settled into the "new normal" of virtual advocacy!
Earlier this year, the advocacy team had ambitious plans for hard-hitting, effective advocacy. The members of Federal Retirees' national board were ready to kick off our advocacy work with the new government, and at the end of March were about descend on Parliament Hill for "lobby days" – a series of meetings with ministers, key members of Parliament and committees to share our priorities and build relationships.
And then, around March 15, governments recognized that COVID-19 had officially come to Canada, changing our focus and how we do advocacy almost overnight.
Building on our successful webinars with Minister of Seniors Deb Schulte and her parliamentary secretary, Stephane Lauzon, earlier this summer, Federal Retirees president Jean-Guy Soulière, CEO Simon Coakeley, advocacy director Sayward Montague along with staff met virtually with several members of Parliament in June and early July.
The Association's advocacy team met with MPs Gabriel Ste-Marie and Andréanne Larouche (critics for finance and Treasury Board, and women and seniors, respectively, with the Bloc Quebecois); Peter Julian and Don Davies (critics for finance and health, respectively, with the NDP), Alice Wong (Conservative seniors critic) and with Treasury Board President Jean-Yves Duclos.
Across all meetings, Coakeley encouraged the federal government to take the pandemic as an opportunity for federal leadership and to set national standards on long-term care – an issue that's hit older adults hard, and which Federal Retirees has advocated on for years.
Soulière focused on the importance of retirement security, and recognition of the important role Canada's public sector employees have played in rolling out Canada's COVID-19 response.  
"Canada's response to COVID-19 has set our country apart from its global counterparts," Soulière noted. "Much of that has been made possible by Canada's public servants."
Treasury Board president Duclos noted Federal Retirees' empathetic, targeted advocacy for members and older adults during COVID-19.
"Federal Retirees members should feel secure in the knowledge that the organization's advocacy team is still hard at work, representing members' needs even during the pandemic," said Coakeley. "Our government outreach continues, and we're looking forward to building on the relationships we've established so far – particularly with Treasury Board president Duclos and his team."