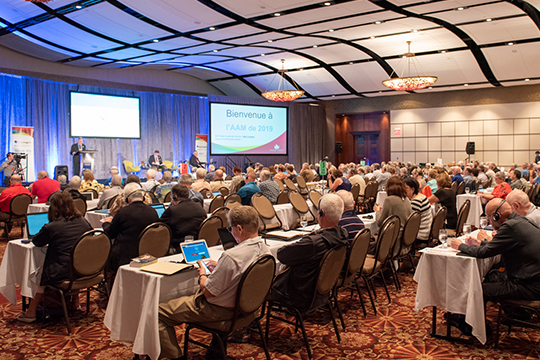 The 2019 Annual Meeting of Members (AMM) took place at the Hotel Lac Leamy in Gatineau, Quebec from June 18-20. Among the resolutions voted on and adopted by the delegates was the 5-year Strategic Plan which covers the period of June 2019-2024. The Strategic Plan has three broad goals: advocate in the best interest of our members and seek to be recognized as a respected national voice supporting secure, healthy and dignified retirement for federal retirees and all Canadians; promote membership retention and growth; and pursue organizational excellence at all levels of the organization. The Strategic plan resolution was unanimously supported by all the AMM voting delegates!
There was a tremendous amount of work and consultations with volunteers and members beginning in the fall of 2017 with the "Moving Forward" position paper developed by national President Jean-Guy Soulière, a membership survey, several meetings with an advisory group of branch presidents and volunteers and extensive discussions among the Board of Directors and at the 2018 AMM.
"The strategic plan is the gateway to our future, the direction that the Association will take to meet its full potential and will ensure that the Association takes its place amongst the most influential seniors organization in the country, "said Jean-Guy Soulière.
The AMM also approved a membership fees resolution that would, subject to approval by the Board of Directors each year during implementation of the 5-year Strategic Plan, see annual membership fees rise with the pension indexation rate that came into effect on January 1st of the previous year. So, for January 1, 2020 for example, membership fees would rise by 2.2 %, which was the pension indexation rate on January 1, 2019, and this amount would be rounded to the nearest amount divisible by 12 to accommodate monthly pension deductions through direct deduction at source.
Feedback at the event was overwhelmingly positive with many delegates describing it as one of the best annual meetings ever.