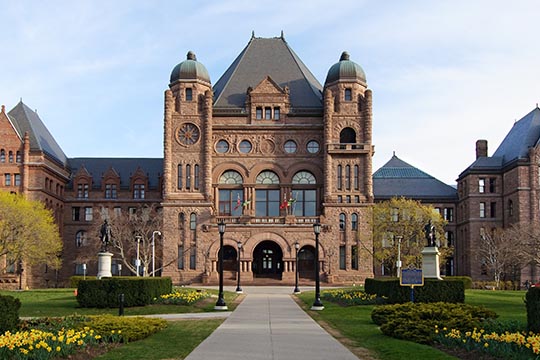 Ontario's Ford government has tabled a $187-billion budget in response to the COVID-19 pandemic.
 
On Nov. 5, 2020, the Ontario government released its provincial budget and focused on three themes: protection, support and recovery. In the 2020 budget, Ontario announced several patchwork measures relevant to older adult care to take aim at both long-standing systemic issues within the long-term care sector and to mitigate issues related to the COVID-19 pandemic.
Ontario's long-term care sector has come under heavy scrutiny during the COVID-19 pandemic due to devastating outbreaks in long-term care facilities as well as the province's need for support from the Canadian Armed Forces to see some facilities through the worst of the pandemic's first wave in spring 2020.
Unfortunately, the bottom line is simple; the provincial government did not present a comprehensive strategy to reshape and address the systemic issues and flaws in older adult care in Ontario.
Though the province will continue its patchwork approach to older adult care, Doug Ford's government announced a handful of significant measures with older Ontarians in mind.
 
Long-term care homes
The Ford government will introduce a series of measures in long-term care homes to support safety and better health outcomes during COVID-19, including:
$405 million for the prevention and containment of COVID-19.
$61.4 million for minor repairs and renovations.
$40 million as facilities transition to lower occupancy rooms.
$30 million to hire more infection prevention and control staff, and to provide training.
$2.8 million to extend the High Wage Transition Fund.
In addition to these funds, following the publication of the first interim recommendations of Ontario's independent Long-Term Care COVID-19 Commission on Oct. 23, the Ford government announced its plan to increase direct care to residents in long-term care to four hours a day within the next five years.
Temporary wage increases of $2 to $3 an hour will be provided to over 147,000 workers in the publicly funded health-care system, including in long-term care settings, this measure has been effective since Oct. 1. It will be reviewed on a regular basis and could extend through March 31, 2021.
The government also committed to investing $1.75 billion to build 30,000 long-term care beds. However, at this point, we don't have a timeline or an indication of whether these beds will fall within the public system.
 
Home care and hospitals
Ontario's finance minister also announced a new program that will provide 24/7 access to non-emergency support, through home visits and remote monitoring, to individuals eligible for long-term care. The program will be piloted in five regions (Renfrew, York, Ottawa, Cochrane and Brant) with province-wide rollout to be explored.
Ontario's hospitals will see $18 billion in capital grants over 10 years for hospital infrastructure and urgent upgrades, repairs and maintenance. In 2020-21, $594 million has been earmarked for longstanding operational challenges.
 
Seniors
To help seniors age in place, the Ontario government has proposed a temporary home improvement tax credit (for the 2021 tax year). The Seniors' Home Safety Tax Credit will cover 25 per cent of up to $10,000 in eligible expenses for accessibility renovations in a senior's principal residence in Ontario. While this kind of measure helps some seniors to age in place and remain at home, tax credits like these favour those who own their residence and have the disposable income to renovate it.
The Ontario Community Support Program will also be extended until March 2021. The Community Support Program, announced in April 2020, will continue to deliver meals, medications and other essentials to people with disabilities, including older adults and others with underlying medical conditions who are self-isolating.
For more information, visit the Ontario budget website.