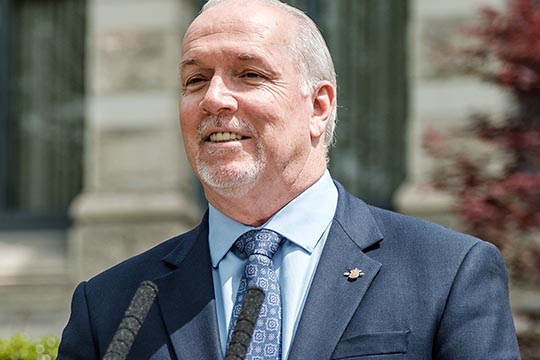 On Sept. 24, voters in British Columbia headed to the polls as the second province in Canada to hold an election during the global coronavirus pandemic. Though votes are still being tallied with final results expected by mid-November, election night results show a majority government for Horgan's New Democratic Party. This would be the first NDP majority government in British Columbia since 1996.
A total of 44 seats is required to form a majority government in the province. Though thousands of mail-in ballots remain to be counted, election night tallies show the New Democratic Party ahead in 55 ridings, with the Liberals leading in 29 ridings and the Green Party leading in three.  
Prior to this election, the New Democratic Party and Liberal Party each held 41 seats, the Green Party held two seats, two seats were held by Independents and one seat was empty.
Thanks to the hard work and dedication of our members and volunteers, Federal Retirees ensured that the political parties understood the priorities of our members and seniors in the province and that our members had the tools they needed to make an informed decision at the ballot box. In addition to our British Columbia Seniors Strategy brief, members also submitted letters to the editor to generate public discussions about important election issues affecting older adults.
Federal Retirees also partnered with the Council of Senior Citizens' Organizations of BC on a live webinar townhall with candidates from the New Democratic Party, the Green Party and the Liberal Party.
The Association is hoping that with a majority, Premier Horgan will continue on the path set out by the 2020 budget, which focused on new investments  in primary care, home care, long-term care, assisted living and respite services.
Brian Strongman and Randy Wilson, directors for the district of British Columbia and Yukon, were heavily involved in the roll out of the election campaign.
"We look forward to the official election results coming in November," said Brian Strongman, district director for British Columbia and Yukon. "The provincial government has an important role to play in shaping public policies and systems to meet the needs of older adults in British Columbia."
"Advocacy with and for older adults has never been more critical, especially considering the pressures on our social systems that have been brought on by COVID-19," notes Randy Wilson, district director for British Columbia and Yukon. "We'll be continuing to advocate on behalf of our members and all Canadian seniors to ensure that their needs are carefully considered by British Columbia's government."