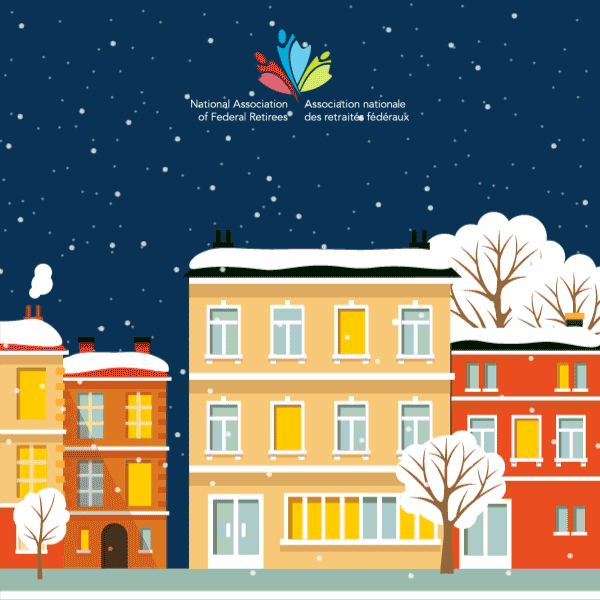 On behalf of the National Association of Federal Retirees, we wish you and yours a happy and healthy holiday season!
 
It's no secret that 2020 has been an extremely challenging and painful year. From scary health crises to unforeseen financial burdens, Canadians have tried their best to roll with the punches and make it through.
To each and every one of our members, thank you for choosing to support Federal Retirees during this difficult year and for allowing us to continue our important work to fight for federal pensions, and to improve the state of retirement and older adult care in this country. This pandemic has shown how vital that fight is.
Our president, Jean-Guy Soulière, and our CEO, Simon Coakeley, have penned their own heartfelt holiday messages for you, and we hope they leave you with the same warm glow that your support spreads to the volunteers and staff of Federal Retirees.
 
A holiday message from the president
This year's Christmas and holiday season will be a memorable one; one that you will remember for the rest of your life. It is one that all the people you know will also remember, and years from now, we will all be talking about 2020: a memorable year, indeed. There are so many negatives associated with the end of the year of COVID-19 that it's possible for the memories to likewise be negative. However, there is one thing that the pandemic cannot take away, and that it is our "Christmas spirit." We have an opportunity to make this holiday season one of the best of our lives. We have an opportunity to return to the real meaning of Christmas and the real meaning of celebrating all religions and groups that make up our society. For one, by participating in the safety protocols advised by our local health authorities, retirees have shown all Canadians that the goal is to control the virus rather than let ourselves be controlled by it.
The true meaning of this time of year is family and community. It will probably be impossible for many families to celebrate together, as public health officials warn us more and more not to gather in large numbers. Many may need to get creative and find virtual ways to connect with loved ones to celebrate Christmas this year. Whether together in-person or online, we should all try and make it special by thinking about the importance of family as the foundation of this country. Many fellow Canadians are facing incredible challenges trying to survive these difficult times. The memory of getting through the pandemic by pulling together as a community, helping those less fortunate, is one that we will all cherish. There are so many safe ways to do this. And, as Canadians, we should all be in this together, as the saying goes. We have one of the best countries, if not the best, in the world. Our strength is our respect for one another, our diversity and our social conscience. We do not have to look too far to see the effects of divisiveness and disunity. So, let's make this holiday season as merry as we can by ensuring that all Canadians have peace, safety and joy.
Personally, I am proud to be the president of an association whose mission and objectives reflect the values of its members and volunteers, who have contributed to making Canada what it is today and continue to contribute to this great country. A very special salute to our public servants, our members of the Canadian Armed Forces and the RCMP who are there, each and every day, on the front lines, helping us to navigate this pandemic successfully. We retirees know what you are going through and understand the culture of service to the public. We were there!
Let's hope that 2021 will be a safer, healthier year. Let's see our current difficulties as learning opportunities and let's do our part to ensure a safe and healthy holiday season.
 
Jean-Guy Soulière
A holiday message from the CEO
When I wrote my holiday message last year, I commented that Ottawa looked anything but Christmas-like because there was no snow on the ground. Well, what a difference a year makes. Today, Ottawa looks Christmas-like because it's snowing just the way I like it: light and fluffy. On the other hand, Ottawa, like many places in Canada and, indeed, around the world, doesn't feel very Christmas-like.
Yes, the decorations are starting to go up and at least one of our radio stations is now playing Christmas music 24 hours a day, but the CBC news this morning is focused on what we all will and won't be allowed to do over Christmas.
My partner and I don't think we'll be able to visit the in-laws this year, and it's going to be touch and go whether we can attend Christmas services. I'm going to decorate, for certain, but I'm not sure whether I will do any baking because none of us is sure what Christmas will "feel" like.
So, for all of us, the holidays this year are going to be different. This doesn't mean, though, that we shouldn't all take the time to pause, as we usually do, to reflect on everything that has happened to us in 2020 and to look forward to a better 2021. If you can do so safely, I hope you are able to spend time with family or others close to you, even if maybe your "bubble" is smaller this year than it usually is. If you aren't able to celebrate safely with others, may you still – just like the sprightly physically-distanced members in our holiday animation – take the time to pause and find some joy in knowing that you are helping keep others safe.
Under the circumstances, I can think of no better way to close this seasonal message than to simply say "peace on Earth and good will to all".
 
Simon Coakeley