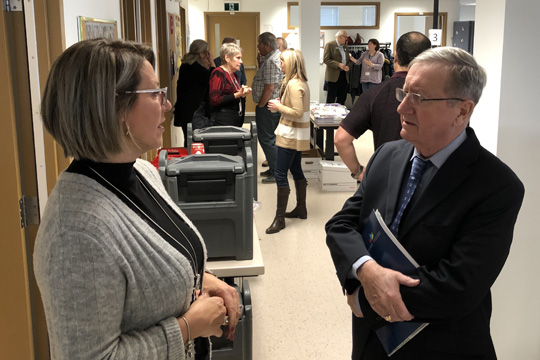 Federal Retirees president Jean-Guy Soulière (rignt) is pictured here thanking the director of the Moncton Pay Centre, Renée Leger, for her hard work and that of her team.
 
The Federal Retirees board of directors recently travelled to the East Coast for a flurry of Association-related activities. The quarterly board meeting was held in Moncton, N.B., and the board members took the opportunity to participate in the Atlantic regional volunteer meeting as well as a board retreat.
Following these meetings, on Dec. 6, local branch volunteers, board members and national office staff, along with the Association president, teamed up to host four staff appreciation events for federal employees in the region. They wanted to share their heartfelt gratitude, not to mention coffee and desserts, with the hardworking employees of the Miramichi Pay Centre, the Charlottetown Veterans Affairs Canada office, the Moncton Pay Centre and the Shediac Pension Centre. In addition to offering the board a chance to shake hands with the dedicated public servants whose pensions and benefits it works to protect, the visit also allowed staff and volunteers to spread awareness of the Association and discuss its current advocacy campaigns and priorities.
Association president Jean-Guy Soulière was thrilled to have the opportunity to thank the employees of the Shediac Pension Centre in person. "You have really been doing a tremendous job. We receive very positive feedback from our membership in relation to the quality of service you provide to them," Soulière said. "We are also grateful for the work you have been doing in co-operation with your colleagues at the Miramichi Pay Centre to prevent issues with the pay system from bleeding over into the pension system."