Ottawa's Xavier McGillivary, who grew up in Glace Bay, N.S., has been a genealogy buff for 65 of his 86 years. He's also a member of Federal Retirees. Photo: Dave Chan
 
Babe Ruth may never have played baseball were it not for a distant cousin of Xavier McGillivary. McGillivary, a retired major with the Royal Canadian Air Force, member of Federal Retirees and a genealogy buff for the past 65 years, discovered while researching his family tree that the Nova Scotia-born Brother Matthias, a formidable slugger himself, introduced the Babe to baseball while working at young Ruth's Baltimore school.
In later life, "Babe Ruth bought him two Cadillacs in appreciation," says McGillivary, who lives in Ottawa.
Like countless other genealogy enthusiasts across the country and around the world, McGillivary is endlessly fascinated by family history, delighted to share his strategies and findings, and grateful for the ongoing digitization of far-flung records that has made ancestral sleuthing — once a pursuit involving endless hours poring over mouldy church records or slogging through unkempt cemeteries — so much faster, easier and generally reliable.
Using sites such as familysearch.org, a free source with billions of records that is operated by The Church of Jesus Christ of Latter-day Saints, censuses, military records and others, he has traced his lineage back 10 generations to the 1500s. His discoveries include not only Brother Matthias, but a soldier of the Black Watch, the Royal Highland Regiment, who settled in Cape Breton and was his first ancestor to arrive in North America after having fought in the U.S. War of Independence.
McGillivary, who cautions family tree detectives to verify any information they gather via other sources, was inspired to start digging when his father couldn't definitively answer a question about their forebears. "I was part of this genealogy. I wanted to find out why I am what I am today."
In Surrey, B.C., Bob Dunlop's decades-long devotion to genealogy, like that of many enthusiasts, was piqued by watching the television miniseries Roots, based on Alex Haley's book, Roots: The Saga of an American Family.
"I [thought], 'Holy smokes! I wonder how far I could go'," he says.
All the way back to the 900s on his father's side and the 1700s on his mother's, if the documentation he's assembled is accurate.
What's not always so accurate, he says, are family stories. His grandmother had told him she and his grandfather, the latter apparently born out of wedlock in Iceland, were the first family members to arrive in North America, but he discovered neither legend was true, his grandfather having been legitimate and his predecessors arriving in North America four centuries ago.
"Don't believe family lore" has since become one of Dunlop's cardinal rules when researching his family.
He uses familysearch.org and other sources, including Library and Archives Canada and Ancestry (Ancestry is a paid service, but you can usually access it for free at the public library). 
Before setting out to trace your family tree, which he admits is an addictive hobby, Dunlop recommends taking advantage of others' experiences by joining a club or attending a talk on the subject.
Al Bromling, president of the 600-member, 10-branch Alberta Genealogical Society, one of many such societies across the country, agrees. He says there's not only mutual support in joining a group, but research advantages as well, including access to databases of local newspapers with their obituaries, community histories and other information.
"Readers mine that stuff for [family histories]."
He says genealogical societies may also create special interest groups focusing, for example, on a geographic region. 
Bromling isn't surprised at genealogy's popularity, which has been supplemented with the introduction of ancestry DNA testing.
"I think there was a period in the middle of the last century where we wanted to ignore the past and build the future. We were swept down river and wondered, 'Where's the solid footing here?' Maybe check your ancestors to figure out how you wound up here."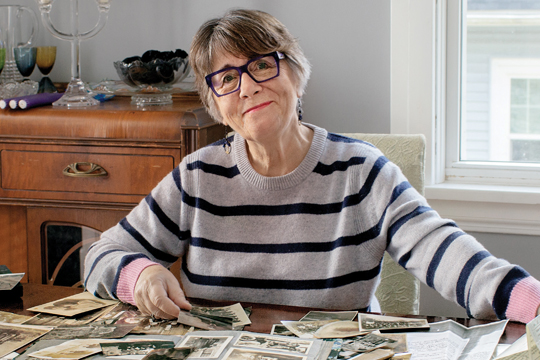 Pat MacKinnon, who lives in Dartmouth, N.S., says genealogy is a "frustrating and fun challenge." Photo: Jamie Kronick
 
Regardless of your motivation, researching family history doesn't yield overnight success, according to Pat MacKinnon.
"You have to have patience. It's going to take time," says the Halifax resident, a spousal member of the National Association of Federal Retirees and a 20-year veteran of DIY genealogy. "It's a frustrating and fun challenge."
The frustration appears when misinformation crops up. For instance, incorrect names or dates on a genealogical site or other document (yes, they happen) can lead to a wild goose chase. The fun happens when you finally track down an ancestor or connect with a living relative whose existence you hadn't known about, a common occurrence for genealogical devotees.
MacKinnon's accomplishments include finding the correct surname of an ancestor wrongly identified in a family Bible, a discovery that led to a visit to the Irish farm where family members still live.
"I got to walk on that property. It was so emotional. We discovered the family grew potatoes and oats, so they had crops to sell (during the Great Famine)."
When frustration yields to such success, "It's absolutely exciting," she admits. "There's a great feeling of accomplishment."
 
Some genealogical resources
Familysearch.org, an acclaimed free site operated by The Church of Jesus Christ of Latter-day Saints
Ancestry has a paywall, but is often accessible for free via a public library
WikiTree, free, shared social-networking genealogy
National Archives of Canada, free census, marriage, military and other records
Provincial and territorial genealogical societies
This article appeared in the winter 2022 issue of our in-house magazine, Sage. While you're here, why not download the full issue and peruse our back issues too?