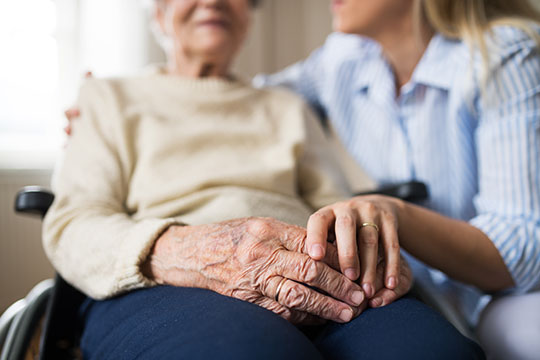 COVID-19 has shown us we can no longer afford to ignore the problems with long-term and home care.


 
Improving the health and well-being of Canadians is fundamental to Federal Retirees' mission. For years, we have been calling on governments to implement policies and dedicate funding to improve our health care system, especially when it comes to long-term and home care – the health services that are crucial in helping older Canadians remain active and engaged, and live with dignity.
Tell your local representatives we need to improve long-term and home care now!
Strong home care and long-term care systems are the foundation of our advocacy work calling for the implementation of a national seniors strategy, which would allow for a comprehensive and coordinated national approach, with dedicated funding and accountable goals, to ensure we meet the evolving needs of older Canadians.
As the COVID-19 pandemic has shown, we can no longer afford to ignore the issues that have long existed in long-term and home care. Federal Retirees recognizes this and has a vision for reform in these areas of care.
But this is just a start. The next step is getting governments to commit to truly transforming older adult care. And for that, we need your help.
Over the coming months, Federal Retirees will advocate for governments at all levels to work together to reform older adult care and implement national standards for long-term and home care.
This advocacy work will only be successful with the support and involvement of our members – like you.
As a first step, send a letter to your member of Parliament and your representative in your provincial/territorial legislature to let them know that this issue is important to you, that governments must address the problems in long-term and home care once and for all, and that we need national standards for long-term and home care to ensure equitable and quality care for all Canadians.
Use the form below to contact your representatives today! We have already put together a message for you, but feel free to add to it or write your own. 
Note: This letter will be sent to the federal seniors and health ministers, your local MP and the local representative in your provincial legislature. A copy will also be sent to all federal seniors and health critics.
For members in the three territories, please note that the tool we are using does not yet allow us to target representatives at the territorial level. Individuals who want to send the letter to their local territorial representative are encouraged to copy the letter below and send it directly to their representative via email or regular mail. The tool below can be used to send a letter to federal representatives in the territories and the other individuals listed above.