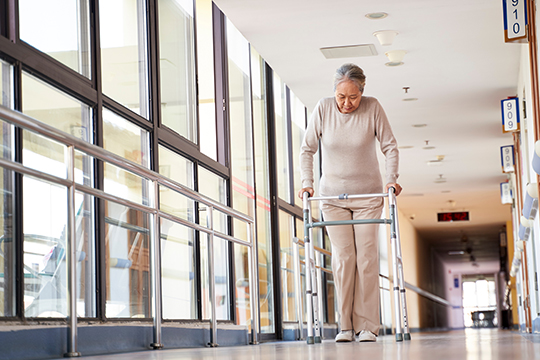 If you missed our webinar on national standards in long-term care, check out the video recording.  
 
The number of tragic deaths in long-term care facilities during the COVID-19 pandemic have shamefully stressed the overdue need for urgent action and policy change in older adult care.
Federal Retirees is advocating for national standards in long-term care, tied to funding, to support higher-quality, safer and more consistent care for older people across the country.
Association branches, volunteers and staff have been meeting with MPs to discuss moving national standards forward. There is support, including from the federal government, but we also hear about challenges and potential roadblocks for implementation – most of them centred on Canada's unique federalism and jurisdictions of federal and provincial/territorial governments.
To answer some of these questions, Federal Retirees hosted Colleen Flood, an academic in health law, ethics, and policy, to join in a conversation with advocacy director Sayward Montague about how governments can move toward national standards in Canada. This webinar was presented in English, with French offered through simultaneous interpretation.
Colleen Flood is the University of Ottawa research chair in health law and policy as well as the director of the University of Ottawa Centre of Health Law, Policy and Ethics.
During this 75-minute conversation, Flood spoke about why long-term care in Canada fared so much worse than in other, usually comparable countries, what national standards should look like, and how to work with the provinces and territories. Flood explained her proposed model to make meaningful national standards happen. 
Flood also answered audience questions about how home and community care fits into the picture of older adult care, and what Associations like Federal Retirees can do to demand action.
"This webinar received positive participant feedback almost immediately. I would encourage everyone to take some time to watch and hear from Colleen about a path toward national standards in Canada," says Sayward Montague, Federal Retirees' director of advocacy. "And now is the time for action – all members should be sure to sign on to our campaign for national long-term care standards."
Tell your local representative we need to improve long-term care and home care now!
There is a window of opportunity to galvanize change. Half measures will not cut it to see the enduring, meaningful change that is needed for the safe, quality care that all Canadians deserve later in life.
Federal Retirees is advocating to reform older adult care by implementing a national seniors strategy, which includes national standard tied to funding for long-term, home and community care, investments to expand home and community care and to address the social determinants of health. For more information or to get involved in this campaign and our advocacy work with the Association, consider joining Reach 338 – Federal Retirees network of advocates working to advance our goals.