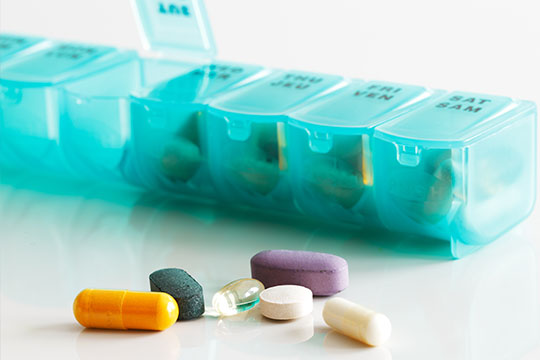 On March 24, 2020, the Government of Canada implemented temporary changes to the Public Service Health Care Plan (PSHCP) in response to the COVID-19 pandemic. One of these temporary measures was a relaxing of the 100-day dispensing limit for maintenance medications, which are taken to manage a chronic or ongoing condition. This adjustment allows pharmacists to exercise professional discretion to dispense maintenance medication sooner.
This temporary change was implemented to help PSHCP members and their dependants maintain physical distancing by reducing the number of trips they make to the pharmacy to fill their prescriptions. For Federal Retirees members and older Canadians, limiting possible exposure to the virus is even more important because, as we age our immune system tends to weaken and we are more likely to have chronic and underlying conditions, all of which can make us more susceptible to COVID-19 and complications from the virus.
When the Treasury Board Secretariat proposed the above temporary measure, Federal Retirees noted the Canadian Pharmacists Association (CPhA) had issued guidance to their members to use their discretion in dispensing, with a recommendation to consider dispensing only a 30-day supply at a time unless it is clinically justifiable for the individual to receive more.
The CPhA's goal in making this recommendation was to pre-empt the possibility of drug shortages. However, the partner organizations involved in administering the PSHCP felt it made sense to proceed with the change as it could encourage plan members, particularly those who are older, to obtain a three-month supply, which would assist members with physical distancing and isolation, and limit their risk of exposure to the virus.
Since that time, most provinces and territories, in collaboration with provincial and territorial pharmacists' associations and regulators, have recommended or mandated that pharmacists limit the amount of prescription medication they dispense to a month's supply, except where, at the pharmacist's discretion, it is necessary.
In relaxing the dispensing limit for prescriptions under the PSHCP, Treasury Board's aim was to protect and support plan members. Pharmacists and health ministries across the country are considering the needs of the larger population they serve and are taking a forward-looking approach in the hope of curbing possible drug shortages. While there are no reported drug shortages resulting from COVID-19, Canada's drug supply management can be problematic in normal times. Furthermore, the CPhA noted a surge in demand for prescriptions in recent weeks. A rush on filling prescriptions for three months or more could, in and of itself, create a shortage in drug supply for some medications. For example, a 100-day supply of medication could be dispensed to one person, or that same amount could be dispensed to three people, all of whom have an equal need for the medication.
Federal Retirees members have noted that filling prescriptions for shorter periods of time drives dispensing-fee frequency, which may result in more out-of-pocket costs. We agree that pharmacists need dispensing fees to get paid, so we are continuing to discuss how to address this with Treasury Board officials. Federal Retirees will also be reaching out to pharmacy associations and the federal, provincial and territorial governments to encourage relief measures that could help individuals who will face higher dispensing-fee costs as a result of these limits.
Some provinces have already identified that these measures will increase dispensing-fee frequency and have taken action to address this issue. New Brunswick offers a good example for individuals who are on the province's public drug plan. The provincial government announced that New Brunswickers on the public drug plan who have a 90-day prescription will only pay a co-payment for the first 30-day fill. Alberta has adopted similar measures.
In the meantime, we recommend that members discuss their concerns with their doctor and pharmacist to see what can realistically be done to ensure continued access to essential medications. For example, there may be an opportunity to arrange prescriptions so that they can all be refilled on the same day to limit the number of trips to the pharmacy.
We also encourage members to check pharmacy dispensing fees and consider working with a pharmacy that keeps dispensing fees low. It is always a good idea to shop around for the best dispensing fees as these costs are partially absorbed by the PSHCP, so everyone doing their part to keep those fees low is helpful in managing plan costs. It is also a good idea to explore whether the pharmacy can provide delivery, or if a family member, friend or neighbour can pick up your prescription for you — all while practising physical distancing, of course.
The National Association of Federal Retirees is the largest national advocacy organization representing active and retired members of the federal public service, Canadian Armed Forces, Royal Canadian Mounted Police (RCMP) and retired federally appointed judges, as well as their partners and survivors. With your support, we can make retirement better for federal retirees and all Canadians. Join now, even if you aren't retired.