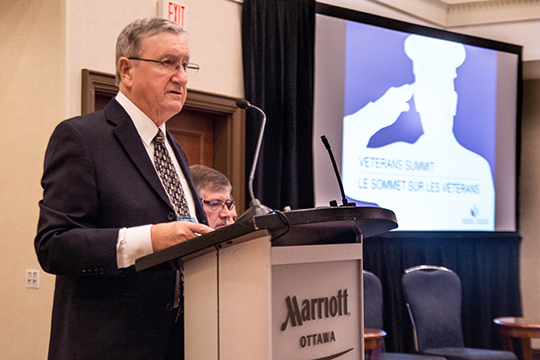 Association president, Jean-Guy Soulière, speaks at the Veterans Summit.
On April 9 in Ottawa, Federal Retirees hosted the Veterans Summit, an opportunity to collaborate with the government departments and other NGOs that serve veterans. During the summit, we presented our reports, Listening to Veterans and Veterans Speak, which outline our findings from the 12 town halls that we held across Canada last fall as part of our Veterans Outreach Initiative.
As an organization whose members include close to 60,000 veterans of the Canadian Armed Forces and Royal Canadian Mounted Police, we are eager to understand how governmental and non-government agencies can best serve the needs of veterans and their families. And, while we are now more certain than ever that we have a long way to go to fully address those needs, we couldn't be more pleased with the important presentations and conversations that took place over the course of this day-long summit.
Stay tuned for updates about this initiative as we examine the results of this productive event and continue working with veterans-focused agencies to establish our next steps.