What is National Public Service Week?
National Public Service Week (NPSW) was created in 1992, following the passage of the National Public Service Week: Serving Canadians Better Act, to recognize the importance of federal public service employees and to honour their service to Canadians. In accordance with the Act, the third week of the month of June is known as National Public Service Week in Canada. 
NPSW 2020 will take place from June 14 to 20.
 
Getting Involved
For the Federal Retirees community, participating in NPSW is especially important. It is not only an excellent opportunity to strengthen the image of Canada's federal public service but, in showing ourselves to be active and engaged, we also raise awareness of the Association and increase its impact.
Check out the community event calendars and bulletins in your area and talk to your local Federal Retirees branch about NPSW events near you.
 
Local Public Service Superheroes
Public servants make a difference in the lives of Canadians every day. From keeping us safe to improving health care and inventing new life-changing products and technologies, Canadian public servants truly serve the public.
Chances are that you know outstanding public servants who have gone above and beyond for Canada and for Canadians. Why not take this opportunity to shine a light on local public service superheroes and celebrate their contributions to society?
Your stories bring life to our advocacy work and drive our campaigns. If you have a story to share, or you know a Federal Retirees member who does, send a message to yourstory@federalretirees.ca so we can follow up.  
 
Share on Social Media
Show your love for Canada's public service on social media! Use our sample posts to spark positive conversations about meaningful interactions with Canadian public servants and share the NPSW graphics on your Facebook and Twitter accounts to thank the public service superheroes in your life.
 
Facebook
We can all think of public servants who have made a difference in our lives. Thank you for your service to Canada!
Thank you for your service to Canada, from one generation to another!
Download the shareable Facebook image.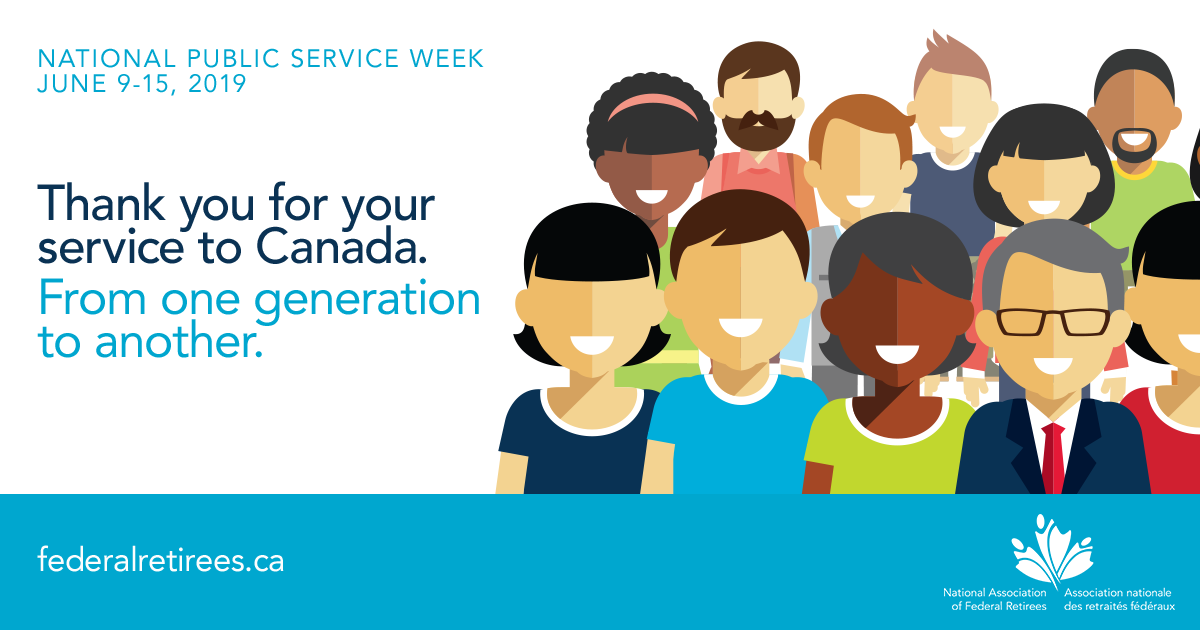 Twitter
During #NPSW, we celebrate outstanding Canadian public servants. [Name] is my public service superhero!
Thank you for your service to Canada, from one generation to another! #NPSW2019
You can also join the conversation on Twitter using the following hashtags: #ServCDNs, #NPSW, #NPSW2019
Download the shareable Twitter image.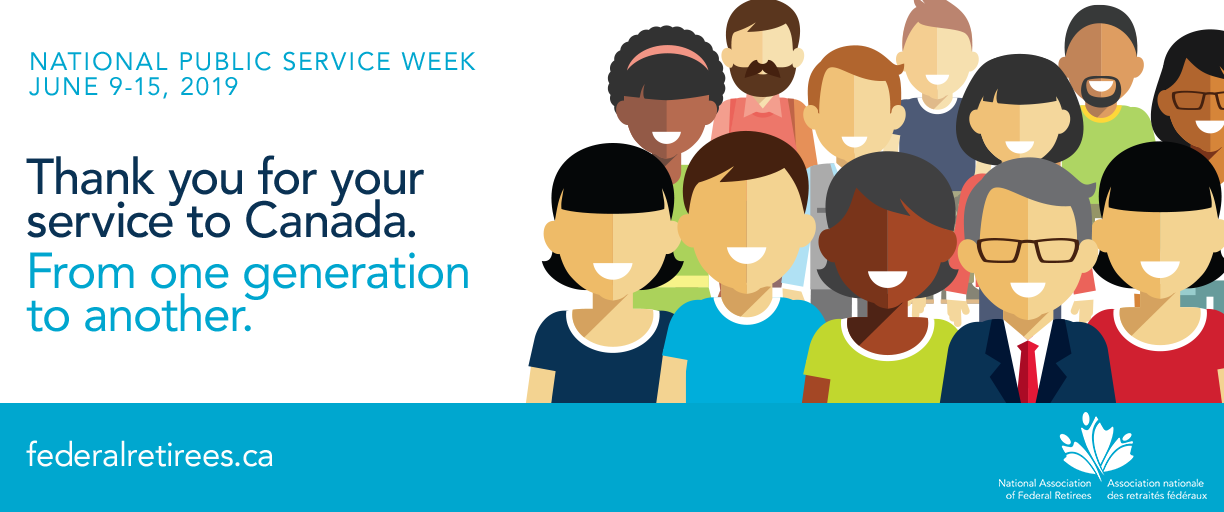 Your Membership Matters
We are proud to advocate on behalf of Canada's excellent public servants. Your membership supports our work to protect pensions and benefits for federal employees and retirees and gives you access to useful information and savings to help you make the most of your retirement. If you aren't yet a member, join today to begin enjoying the benefits!
Follow us on Facebook and Twitter for essential news and must-read information just for you.