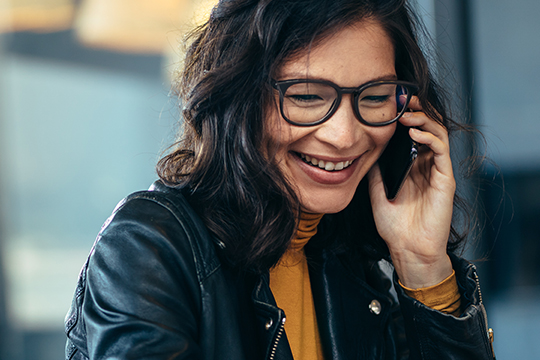 Federal Retirees' preferred partners have provided COVID-19 update messages to keep members informed.
 
Not only is the current pandemic completely unprecedented but the situation also seems to be changing daily, even hourly! If you're wondering how the pandemic is impacting Federal Retirees' preferred partners, you've come to the right place. These updates have been provided to us by our partners to help keep members informed about service changes but, if you have further questions, don't hesitate to contact the partner for more information.
Given the travel restrictions announced by the federal government on Jan. 29, 2021, Federal Retirees' travel partner Collette has rescheduled two of its spring 2021 group tours for later this year. Guests affected by this change have been notified by Collette representatives.
Exploring Scotland and Ireland: Rescheduled for Oct. 10-22, 2021
Western Canada's Rockies, Lakes and Wine Country: Rescheduled for Sept. 4-12, 2021
Collette will be making decisions to either operate or cancel tours 30-45 days in advance of departure. At that time, Collette will reach out to guests to notify them of the status of their tour.
If you have any questions regarding upcoming travel, don't hesitate to call Collette at 1.844.269.4583 or contact your travel professional.
Collette is providing regular updates on additional changes and cancellations to its tours as the COVID-19 pandemic continues. For further information including specific tour cancellations, visit Collette's travel advisory web page.

Last updated: Feb. 11, 2021
 
On Oct. 21, we published a letter from our CEO, Simon Coakeley, detailing the benefits of MEDOC and the work the MEDOC team has done to continue its excellent support of Federal Retirees members. We encourage you to read that article in our newsfeed as well as the letter below from Robert G. Dowden, vice-president of affinity client relations at Johnson Insurance, providing important updates about MEDOC travel insurance.

For more information, please refer to Johnson Insurance's COVID-19 updates page or contact the MEDOC team at 1-855-772-6675 (toll-free).

June 11, 2020

Dear MEDOC Customer,

These are different times and while the globe continues to confront the pandemic and travel uncertainty, we wanted to share with you a quick update.

At Johnson Insurance, our core objective is to protect our customers. We are proud that MEDOC travel insurance has already supported a record number of customers who have had to cancel a future trip or whose trip was interrupted and needed help returning to Canada.

MEDOC is an annual travel insurance policy designed to cover multiple trips, allowing customer's flexibility to take advantage of the Trip Cancellation, Trip Interruption and Medical coverage throughout the year while still being priced competitively.

We understand how this pandemic has impacted your plans following the Government of Canada issued travel advisory and we have heard your concerns. MEDOC continues to provide medical coverage for many Canadians who have as yet been unable to return to their homes in Canada. Trip Cancellation coverage also continues for trips booked prior to the travel advisory. Travel within Canada is also still covered as our provincial borders gradually begin to open, and your policy is still in force.

While there continues to be many unknowns as to what the travel world will look like in the coming months, we have been working diligently with our stakeholders and with Federal Retirees to provide some additional value to our policyholders. Your Travel insurance policy, which would normally be reissued on September 1st of each year, has been extended for an additional 60 days for current policyholders. This means you will have travel insurance coverage up to October 31 2020 at no additional cost. Our hope is that with more time we will have more certainty and stability within the Travel industry and that we will all be able to enjoy our industry-leading travel insurance in the future.

We value your patronage and hope that you and your family are staying safe and well and that you and all Canadians will be travelling again soon.

 

Johnson Insurance
Johnson Insurance is a tradename of Johnson Inc. ("JI"), a licensed insurance intermediary, and operates as Johnson Insurance Services in British Columbia and Johnson Inc. in Manitoba.
Last updated: October 21, 2020
Past letters from Johnson Insurance
Please read the following message from Federal Retirees preferred partner HearingLife about recent changes to its programs and services.
Our clinics have reopened
In accordance with public health directives we are happy to announce that we are resuming our activities in our clinics on a by-appointment basis. Drop-off and pick-up services are also available by appointment. We are not accepting walk-ins for the time being.
Clients with existing appointments that were postponed due to COVID-19 will be contacted to reschedule their appointments. 
Our clinics are serving customers while taking the safety precautions necessary to ensure a comfortable and safe visit.
For further updates, be sure to visit HearingLife's website for members of Federal Retirees.
Last updated: August 18, 2020
 
To support the ongoing efforts to limit the spread of COVID-19, Federal Retirees preferred partner VIA Rail has introduced some service changes including modifications to its onboard services, additional cleaning and disinfecting measures, as well as train cancellations.
Starting June 23, all passengers are required to wear a face mask on VIA RAIL trains and in all stations.
On May 6, 2020, VIA Rail extended the suspension of the Canadian and the Ocean services, its long-distance routes, and the suspension of the Sleeper class on the Winnipeg-Churchill route until November 1, 2020. Visit VIA Rail's online media centre to read the full press release.
For more information about how VIA Rail is addressing the COVID-19 outbreak, visit VIA Rail's COVID-19 FAQ page
For our latest information about the coronavirus disease (COVID-19) outbreak including news from Federal Retirees preferred partners, please visit our COVID-19 Information Hub.
Last updated: June 29, 2020
 
Effective March 1, Goodlife members may register online at any GoodLife Fitness location, even if the chosen club is temporarily closed due to provincial restrictions.  If a member pays in full for an annual membership, their anniversary date will be extended by the amount of time of the club closure. If a member pays bi-weekly, their membership will be placed on an automatic freeze until the club re-opens. Members can check their club's schedule by logging into the member website, and selecting 'Book' on the left-hand navigation.
Goodlife has now reactivated its membership system for all clubs and will be moving ahead with its updated membership rate effective April 1, 2021. The new rate is $549.00 plus tax per member, paid in full (one-year commitment) or $24 plus tax, per member, bi-weekly (non-commitment). This rate is valid until April 4, 2022.
For more information, visit GoodLife online.
Last updated: March 1, 2021
 
The Quebec government announed as of April 8, 2021, gyms will be closed until further notice in the regions of Montreal, Laval, Laurentides, Lanaudière, Montérégie, Capitale-Nationale, Outaouais, Chaudière-Appalaches and Bas-Saint-Laurent. Énergie Cardio will continue our main mission, which is to accompany members in an active and healthy lifestyle. Visit their virtual platform to continue your training and good habits and do not hesitate to contact your gym for any questions regarding your membership or to learn about the many training options currently available to you. For more information, visit Énergie Cardio website.
Last updated: April 7, 2021
 
Federal Retirees preferred partner SimplyConnect has made some changes in light of the COVID-19 pandemic. Please read this message for customers from SimplyConnect and, because the situation is rapidly changing, be sure to check back for any updates and consult the SimplyConnect COVID-19 page.

In this time of uncertainty, we don't want you to worry about staying connected to the information you need and the people who matter most to you. We are doing everything we can to support our customers and our communities during these difficult times:
 

Connecting you with friends and family

Between March 16 and April 30, to help you stay connected with people across the country and around the world, we will be automatically:
Waiving all long-distance charges for Wireless and Wireless Home Phone customers for calls to anywhere in Canada.
Waiving Travel Pack fees and all pay-per-use roaming fees for customers in all available destinations.
We will also ensure that services will not be suspended or disconnected for any customers experiencing financial difficulties over the next 90 days. In addition, we will support our customers facing financial uncertainty because of COVID-19 with more flexible payment options.
 
Continuing to keep you connected
We know you rely on our services and networks, and keeping you connected is critical now more than ever. We are actively monitoring our network performance and are ready to manage capacity quickly if we see greater consumer demand. 
 
Keeping our employees and employees safe
The safety and comfort of our customers and our employees is our top priority. We are following best practices recommended by local and international public-health authorities across our operations. This includes increased safety tools and sanitizing procedures for all customer-facing activities. 
As the COVID-19 situation continues to unfold, information on how we are continuing to support our customers and our communities can be found here.
We also provide online options so you can easily manage your services online on My Account.
Thank you for being a valued customer.
Last updated: April 7, 2020