When asked how he viewed his role as a leader, supporting our volunteers with the Association, Yves (recipient of the Claude Edwards Leadership Award) responded:
 

"The permanent driving force behind volunteering is this feeling we have of making ourselves useful by doing something for others. When a situation convinces us of this impression, it becomes easier for us to influence our colleagues by using promotion by example. In this state of catalyst, we thus help to create a fulfilling and stimulating environment, conducive to encouraging our collaborators to innovate and to become fully involved in the mission and achievement of our objectives. Our success is based on the premise that "unity is strength".

— Yves Bouchard, Québec Branch
 
The Volunteer Recognition Committee is pleased to announce the recipients of the 2019 Volunteer Awards, who were honoured at the Volunteer Recognition Dinner on June 19th in Gatineau Québec.
Individual Awards Recipients
Claude Edwards Leadership Award
This year the Claude Edwards Leadership award category attracted a number of excellent nominations and the Selection Committee identified two candidates who were equally deserving of the award: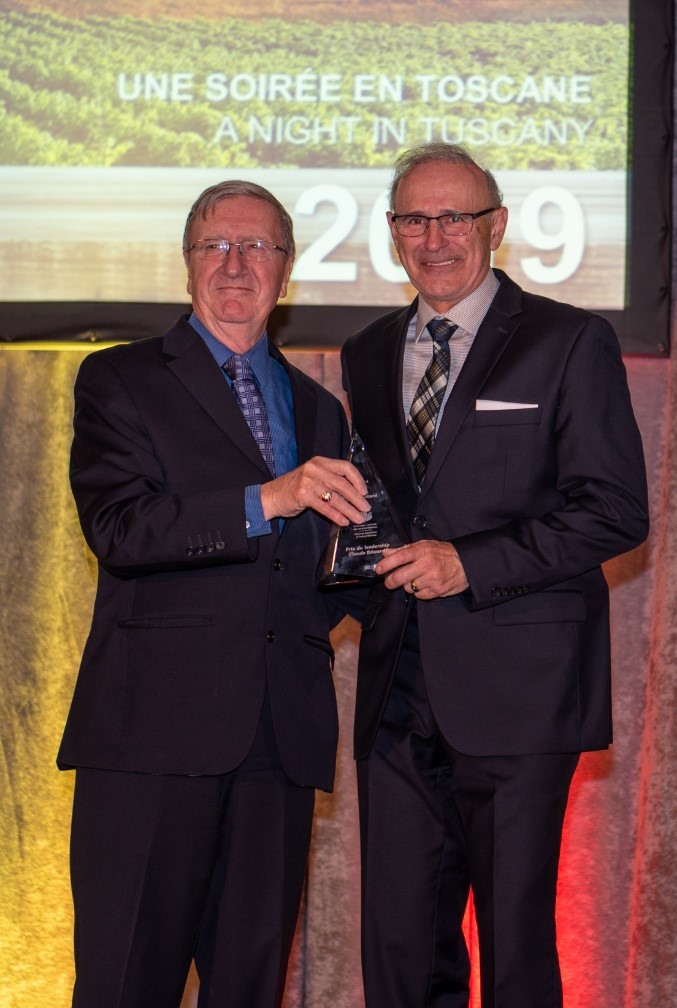 Association president Jean-Guy
Soulière, left, and Yves  Bouchard.
Yves Bouchard, First Vice President, Québec Branch. Yves joined the Association in 2009 and began volunteering in 2011. In addition to his elected role as First Vice President, Yves was appointed as the branch's Communications Champion. Yves' first order of business was to establish a team to rebuild the branch's website. He then developed a comprehensive survey questionnaire designed to identify the interests of the Branch's members. Yves also revamped the President's Letter into a newsletter style publication for members. Today, this newsletter is published in both official languages, has six issues per year, and covers a variety of topics such as travel, genealogy, seniors' interests and key announcements. Approximately 4000 readers enjoy the newsletter annually.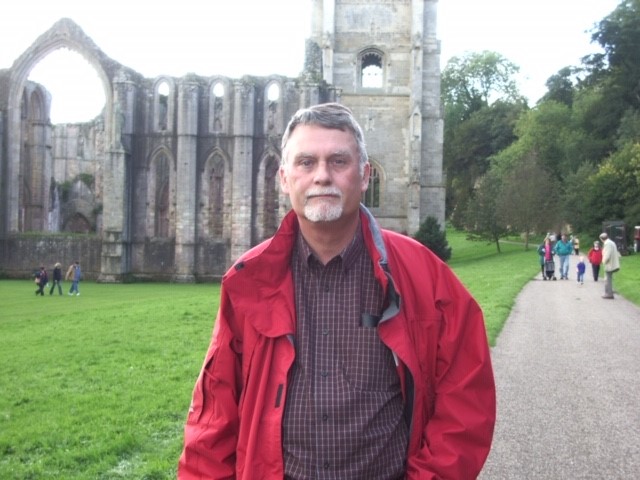 Stephen Troy, (posthumous) Former President of the Ottawa Branch and Branch Services Coordinator. Stephen joined the Association in 2009 and volunteered in various leadership roles at the Ottawa Branch from 2011 to 2017, including Chair of the Policy and Governance Committee, Vice President and President. During his tenure, Stephen led the Branch through a complex disincorporation process and helped foster membership recruitment and engagement by championing an "Investing for Retirees" seminar series. He also launched a successful local branch advocacy campaign which earned the branch an Advocacy Award in 2017. In 2018, shortly after he stepped down from his Branch President role, Stephen was appointed as Branch Services Coordinator for the Ottawa/St. Lawrence/Nunavut region, but continued to serve the Ottawa Branch as a Senior Advisor despite health issues. Sadly, on November 29th, 2018, Stephen passed away.
Collaboration Award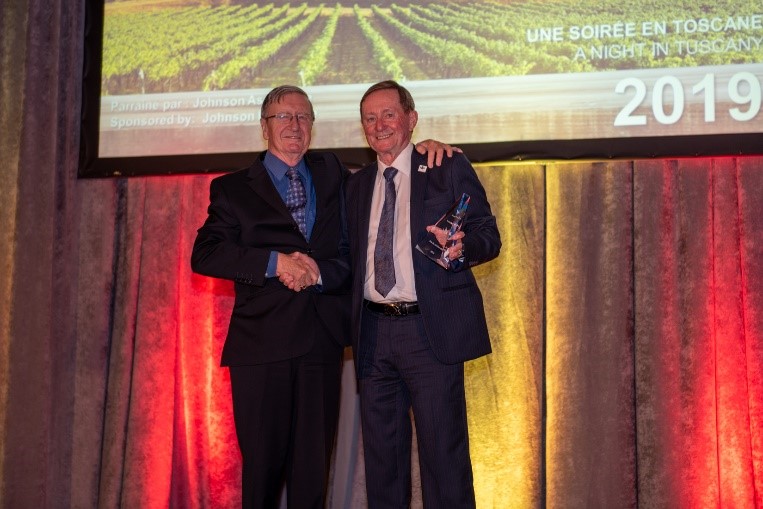 Association president Jean-Guy Soulière, left, 
and Daniel Morin.
Daniel Morin, President of the Montreal Branch. In 2011, Daniel became a member of the Montreal Branch's board of directors and has been Branch President since 2014. Daniel is the branch's representative as an associated member of the FADOQ (Fédération de l'Âge d'Or du Québec).  In this role, he works with like-minded seniors' advocates to pursue common goals for seniors' health and home care, for the benefit of the Association's members. As well, for several years, Daniel has championed and co-chaired the President's Forum at the Annual Members Meeting. The forum provides presidents with a voice and opportunity to collaborate with each other and to share best practices. Association of Federal Retirees is also a member.
Volunteerism Award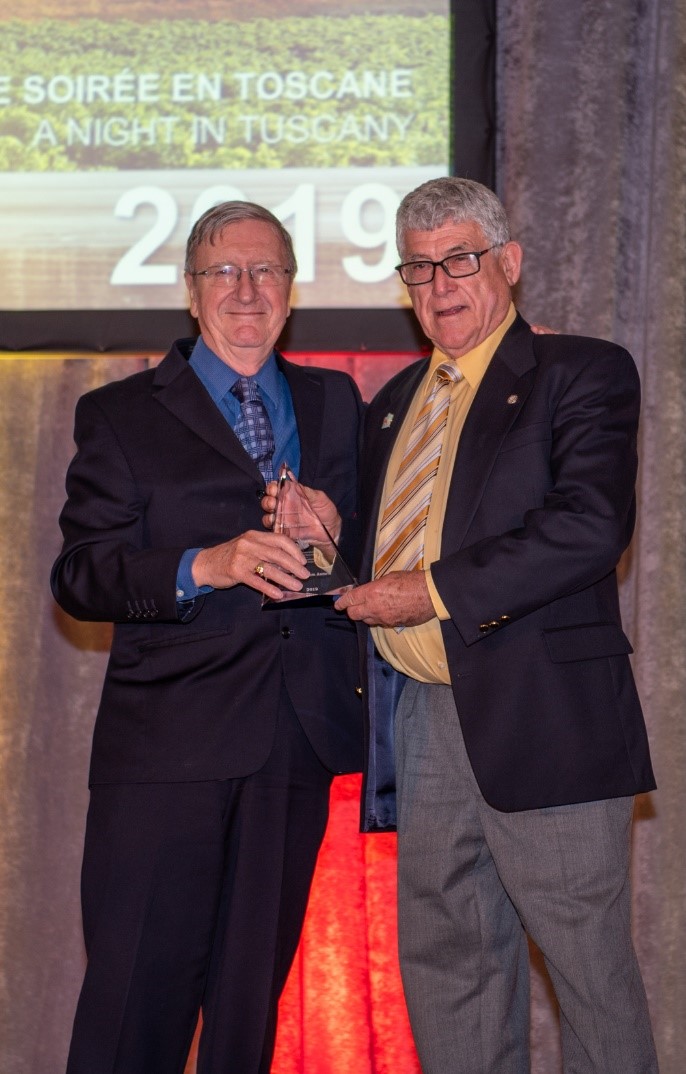 Association president Jean-Guy
Soulière, left, and Clifford Poirier.
Clifford Poirier, President of the Summerside Branch. Cliff has been a member of the Association since his retirement from the Public Service in 1995 and has been volunteering with the Association since 2011, first as Membership Director, then, in 2014, as President of the Summerside Branch. Cliff volunteers for numerous organizations, such as the PEI Curling Club, the Credit Union Place and Harbourfront Theatre. Cliff also took the lead role at the Community Volunteer Income Tax Summerside Clinic, establishing a system for reviewing and e-filing tax returns. This process was so successful that his model was adapted for use in Volunteer Income Tax Programs across the country. Cliff believes that to make a difference, it takes hard work and commitment. His true passion is helping others and he has found ways to do that by employing his exceptional leadership skills, and his amazing ability to connect with others.
Branch Awards Recipients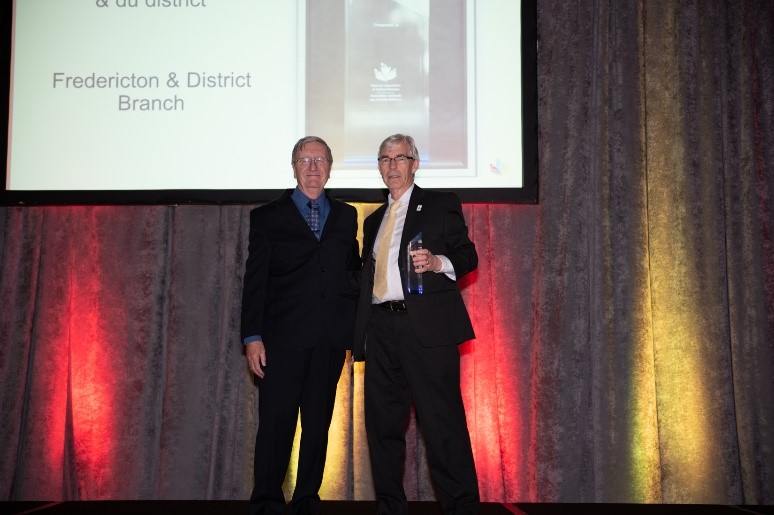 Association president Jean-Guy Soulière, left,
and 
Elliott Keizer

.
The Fredericton & District Branch received the Advocacy Award. In 2018, the Fredericton & District Branch held an All Candidates Q&A Session for the New Brunswick Provincial election, focusing on health and seniors' issues. The major outcome for the branch was an improvement to branch image/recognition for both local politicians and prospective members. A second important accomplishment is that by planning and delivering this successful event, the branch now has a volunteer core who can provide leadership for future public events, such as the federal town hall in the Fall of 2019.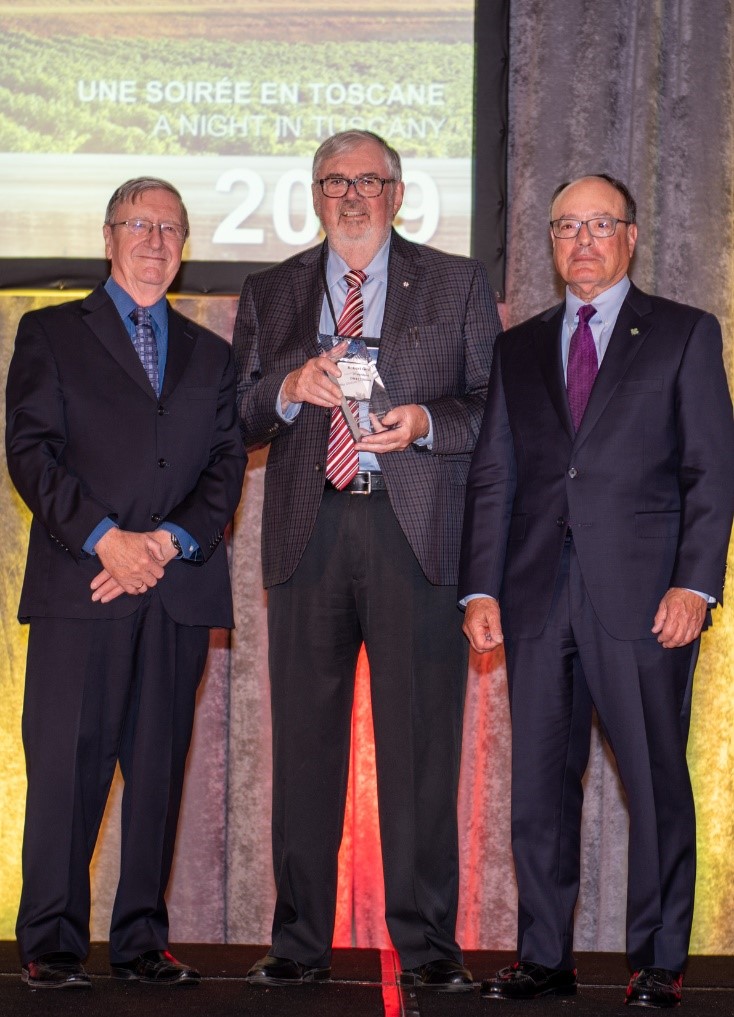 From left to right:  Association
president Jean-Guy Soulière, 
Robert Giroux and Michael Fine.
 
The Ottawa Branch was the recipient of the Membership Recruitment and Engagement Award. The Ottawa Branch mounted its largest, most professional and successful members' meeting on October 15, 2018. What made this meeting unique is that it was a combined financial literacy event for members and a recruitment initiative. The event was sold out. The Branch promoted the concept of inviting non-member guests rigorously via email and at other events as well as the Branch phone answering service.  The Branch is "pushing" the recruitment message at all of their events, including their many financial literacy workshops, as well as the Association's Pre-retirement seminars and the SCAN seminars that the Branch attends.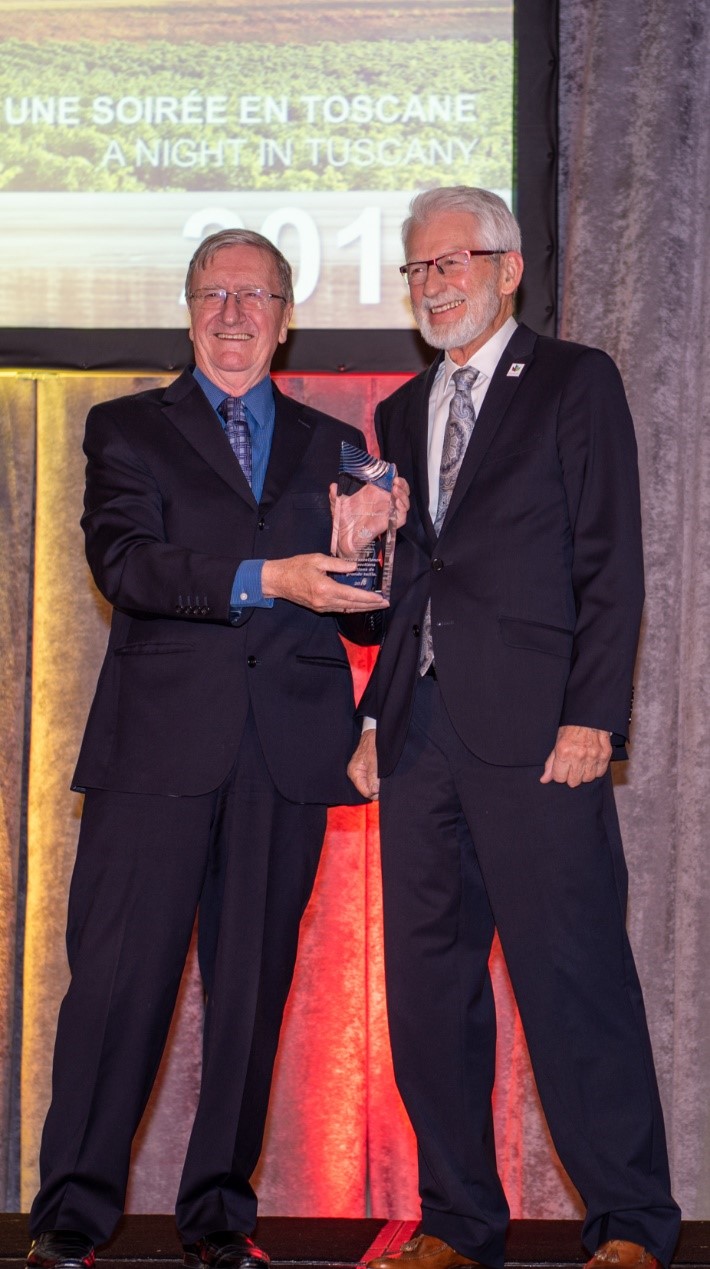 Association president Jean-Guy
Soulière, left, and Jean-Marc
Demers.
There was a tie this year for the Branch Excellence, Large Branch, Québec Branch and the Hamilton & Area Branch. In the summer of 2018, the Québec Branch President assigned a Vice President as the Champion of Excellence and a second Vice President as the Champion of Recruitment/Retention & Recognition. Each of these leaders and their team of volunteers took on programs and activities to promote recruitment/retention, recognition and advocate on behalf of their members. Those initiatives included sponsoring social and cultural activities, having booths at pre-retirement sessions, establishing selection criteria to recognize and honour volunteers, and attending public hearings of the House of Commons Standing Committee on Finance.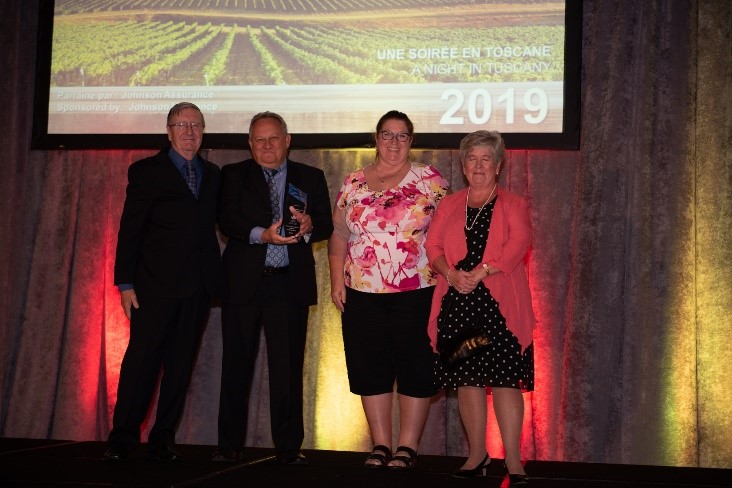 From left to right: Association president
Jean-Guy Soulière, Mike Walters, Catherine
Tarves and Brenda Walters.       
In 2018, the Hamilton & Area Branch conducted a successful "Members Recruiting New Members" campaign to engage current members in recruiting new members for the Branch. Through all the extensive outreach efforts to prospective members, the Branch has succeeded in maintaining a strong membership base, and more importantly, the Branch is recognized as a strong supporter of seniors' rights and provider of seniors benefits by the local community well beyond the federal public service institutions.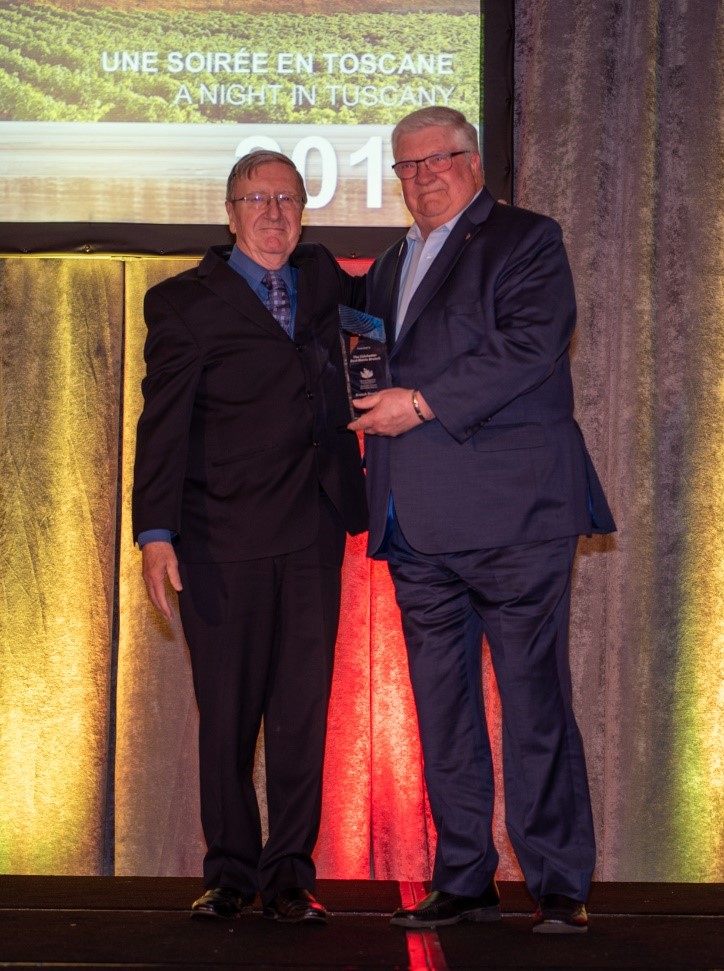 Association president Jean-Guy
Soulière, left, and Gene Bell.
The Colchester East-Hants Branch took home the Branch Excellence Award, Small Branch. In March 2018, the branch developed a strategy to reengage their members. Several activities were put in place, such as ensuring CRM was up to date; providing training opportunities focusing on retention and recruitment/ communications & marketing; developing a membership engagement survey that was sent to their members; elevating the Branch's visibility at key venues and creating a Facebook page for members to keep up to date on Branch activities.
A heartfelt thank you to Léonard LeBlanc, director of the Atlantic district who served as chair of the 2019 Volunteer Recognition Awards Committee, and chair of the 2019 Volunteer Recognition Selection Committee, along with Shawn McCord, a senior consultant with Johnson Inc., Serge Boisseau, First Vice President, Québec Branch, and Anna-Rita Lunghi, HR Director and Volunteer Engagement, Retired Teachers of Ontario.
On behalf of our volunteers, a sincere thank you goes out to one of our most valued preferred partners —  insurance provider Johnson Inc. An evening this special would not have been possible without the generous sponsorship and participation of the Johnson team.
Please join us in congratulating the 2019 Volunteer Recognition Awards recipients and nominees! Thank you for all that you do for our fellow volunteers, our branches, our Association, our communities and our members!