Fellow members of NS72
I thank the members who attended our Branch Annual Meeting and for the show of support and confidence in the current Branch Executive. We believe the changes that have been made over the past year were beneficial for the Branch and will assist us as we move forward. We are striving to make this Branch informative and enjoyable for you; your participation and ideas will help us achieve this. I encourage you to check our webpage for updates and join us on Facebook at Colchester East-Hants Federal Retirees. Join our Branch NS72 group to keep up with our events and news. I am looking forward to meeting more of our members on May 29th at our "Welcome Summer BBQ".
Thank You,
Gene Bell CD
President
Colchester-East Hants Branch NS72
National Association of Federal Retirees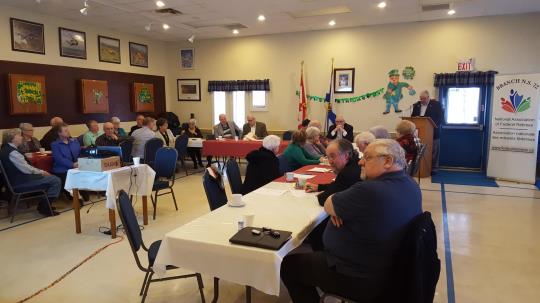 2019 Colchester East-Hants Branch NS72 Annual Meeting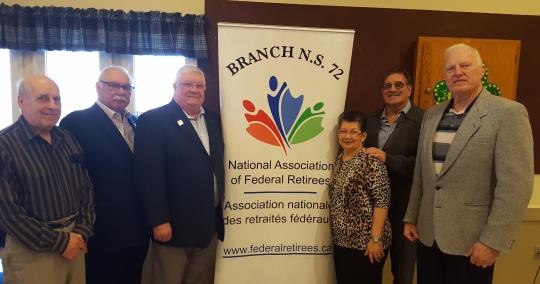 2019-2020 Colchester East-Hants Branch NS72 Executive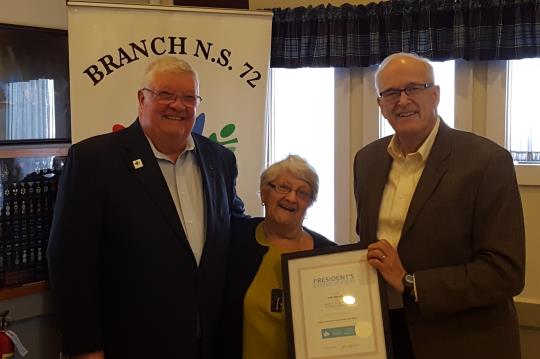 National President's Commendation and 15 Year Pin presented to Joan Barnhill by Branch President Gene Bell and Leonard LeBlanc NBOD for her Dedicated Service.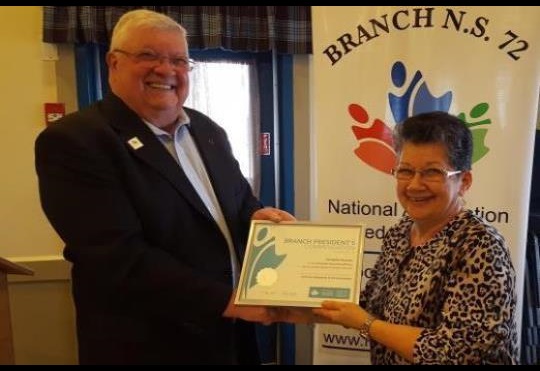 Georgette Beaulieu received a President's Commendation from Branch President Gene Bell
Michel Beaulieu received a President's Commendation from Branch President Gene Bell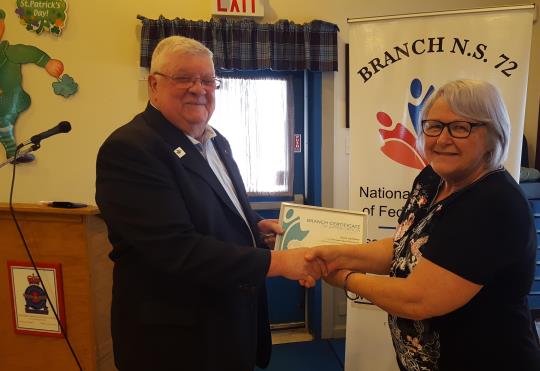 Myrna Hambleton received a Certificate of Appreciation and a 5 Year Pin from Branch President Gene Bell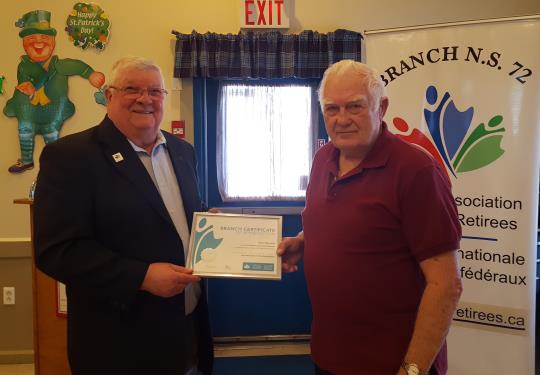 Ross MacLeod received a Certificate of Appreciation and 15 Year Pin from Branch President Gene Bell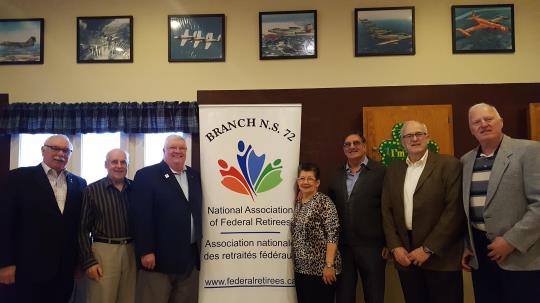 2019-2020 Colchester East-Hants Branch NS72 Branch Executive with Leonard LeBlanc, NBOD
Branch president Gene Bell also presented to: Wayne Smith (absent) a certificate of appreciation and a 10 year pin, and Fred Weatherbee (absent) a certificate of appreciation and 10 year pin. Mr. William Bradbury will be presented with a certificate of appreciation and five year pin and Mr. Charles Borden will as well be presented a certificate of appreciation and 20 year pin from branch president Gene Bell at The Cedar Stone Long Term Care on the 18th of April 2019