At the Association's 2015 Annual Members Meeting Volunteer Recognition Dinner in June, stories were shared honouring our exceptional volunteers for their commitment and dedication to the Association, its members and its overall mission and vision, as well as to their communities. And the award goes to ....
National Awards for Individual Excellence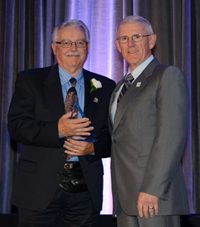 Francis Bowkett has been awarded the Claude Edwards Leadership Award for his extraordinary contribution to the Association for close to twenty years.  He was the founding father and first Branch President of the York Branch (1999) and also held several volunteer leadership roles at the regional and national levels, culminating in his appointment as First National Vice President for a three year term in 2004. He also served as Executive Director of the Association from 2007 to 2009. In 2012, he was recruited to lead the By-Law Review Committee through an extensive consultation process and revision process, ensuring the Association was in compliance with the Canada Not-for-Profit Corporations Act by the October 2014 deadline.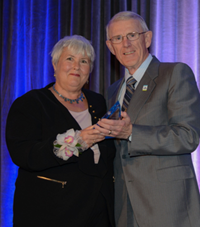 Leslie Gaudette has been awarded the Collaboration Award for her tireless efforts and advocacy work, working in partnership with the Council of Senior Citizens Organization (COSCO) in promoting and educating issues pertinent to seniors and to members of our Association. With Leslie's knowledge of COSCO initiatives and the collaborative relationship she built with COSCO in her leading role, she has enabled our Association to have more influence at the provincial level and has expanded the Association's ability to influence federal MPs.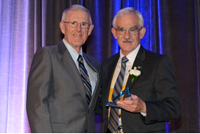 Roy Goodall has been awarded the Volunteerism Award for his commitment and dedication to not only our Association, but to other major organizations as well! Roy has held several leadership roles with the Kerby Centre in Calgary, the Canadian Club, Calgary Seniors' Resource Society, the Calgary Association of Life Long Learners and the Calgary Co-Operative Memorial Society. Roy worked tirelessly to encourage, to guide and to lead not only the Calgary Branch of our Association, but outside agencies to success.
Awards for Branch Excellence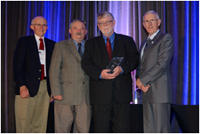 The Algonquin Valley Branch was the recipient of the Membership Recruitment and Engagement Award. The Branch Executive developed a series of presentations focussed on health, wealth and lifestyle issues to help retirees make well informed and have a better understanding when making life decisions. They created a "Tool Box" of presentations that are offered not only to members at Branch meetings, as a retention strategy, but also to other senior groups in their areas. Through their outreach to a wide variety of seniors in their local community, the Algonquin Branch effectively markets the benefits of Branch membership to a wide audience and has been successful in attracting new members as a result. Leo Buckley, Michael Stephens and Paul Ballantyne accepted the award on the Branch's behalf.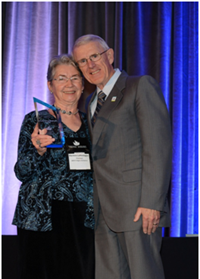 The Calgary and District Branch was awarded the Member Support Award. The Branch used statistical analysis to customize messaging and services, and delivering these through multiple communications channels, such as their branch website, newsletter, meetings, personal contact and outreach initiatives. The successful establishment of two satellite branches has expanded the Branch's reach and support to its members living outside of Calgary. The Branch has established and maintained high customer service standards, and operates a service-focussed office staffed with highly engaged and informed volunteers who provide personal support to branch members. Marlene LaMontagne accepted the award on the Branch's behalf.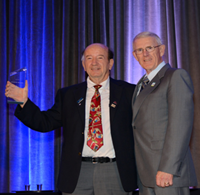 The Mauricie Branch was the recipient of the Innovation Award. In order to keep their volunteers and members up to date on relevant topics that matter to the community, the Mauricie Branch developed and publishes a high quality newsletter called "L'Entre Nous". "L'Entre Nous" covers a variety of topics of interest including health and lifestyle articles and volunteer and member accomplishments. In addition, the Branch has developed website links that offer their members quick and easy access to the Association's website, the Branch's facebook page, as well as reference websites that provide current information on federal retirees' rights, benefits and pensions. Roger Bergeron accepted the award on the Branch's behalf.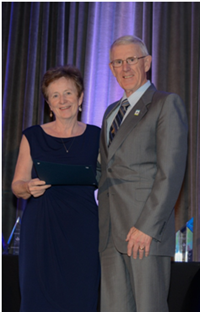 Shirley Pierce and the Charlottetown Branch were recognized with a President's Commendation for their extraordinary leadership and commitment in advancing the Association's strategic priorities. Shirley, with the support of the Charlottetown Branch, organized the Association's first Advocacy Town Hall in Charlottetown PEI. The session focussed on health care and retirement security for all Canadians and was the first of its kind for the Association, and indeed, for seniors in Charlottetown and PEI. The Charlottetown Town Hall was an event that stands today as an example to all Association branches, and a model that is being replicated in other advocacy initiatives, including the advocacy plan for the 2015 federal election.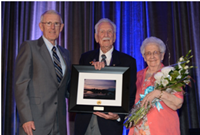 Mr. Ken Davis of the Cornwall and District Branch was recognized for his 45 years of volunteering with the Association! Mr. Davis was one of the founding fathers of the Cornwall and District Branch where he has held many roles - from Branch President, Executive Director and several other volunteer roles. Mr. Davis continues to sit on the Board of Directors where his experience and knowledge are well respected. Mr. Davis is a veteran, retiring as an Aircraft Maintenance Superintendent in 1970. Mr. Davis was recently asked why he is still active in the National Association of Federal Retirees and he replied "When people retire, they need protection to ensure that their rights are protected. The Association is an organization that I believe in wand want to help as much as possible".