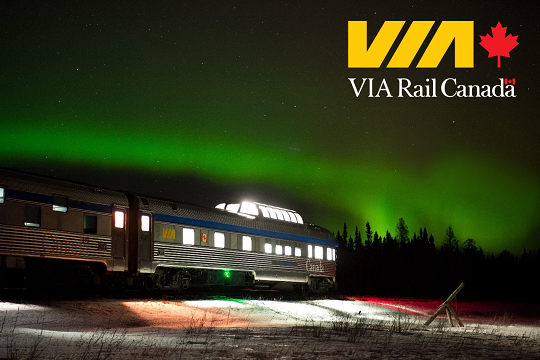 Welcome aboard Federal Retirees!
As Canada's national rail service, VIA Rail is committed to providing Canadians with a safe, efficient, affordable and ecological way to travel—in both official languages.
VIA Rail operates intercity, regional and transcontinental trains linking over 400 communities across Canada. There is no better way to experience the unique grandeur of Canada! Explore Western Canada in the comfort of your own private cabin, head to northern Ontario to meet our emblematic polar bears, discover the East Coast and all its charm and beauty, traveling by train is a truly unique experience.
VIA Rail has been awarded five Safety Awards and three Environment Awards by the Railway Association of Canada since 2007. They also offer an environment where everyone can travel autonomously and confidently. To ensure the greatest ease and comfort of travel, VIA Rail also provides special assistance services. Here's what they can do for you.
Connecting people from city to city and coast to coast, they continuously strive to offer a memorable and comfortable travel experience. Explore their destinations and itineraries!
Association members receive a 12.5 per cent discount when using discount code 810962 (Escape fare and Prestige Class excluded), including seniors fares. Association members can extend the savings to up to three other passengers travelling on the same itinerary. Members must be able to provide proof of membership when boarding in order to take advantage of the discount (Association membership card, official letter from national office, payment receipt for annual membership, etc).
For more information on our services and destinations, please visit www.viarail.ca or call toll-free at 1-888-VIA-RAIL.