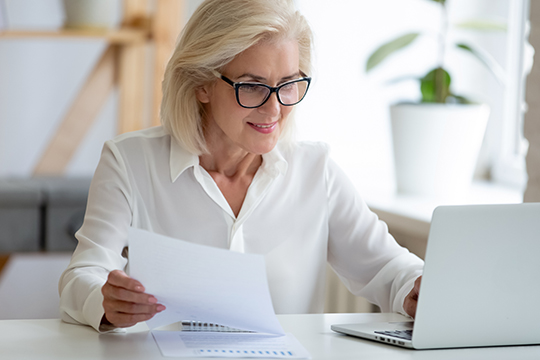 Prepare for your retirement with an engaging two-day course from Federal Retirees.
 
Please note that these two events have been cancelled due to unforeseen circumstances. Don't hesitate to reach out to us if you have any questions. We appreciate your understanding.
Demystify retirement with a two-day virtual pre-retirement course from the National Association of Federal Retirees in collaboration with certified pension presenters Melody Walz and François Poudrier together with Tradex and GERAS Centre for Aging Research. A virtual course is taking place from Nov. 7 to 8, and an in-person course is coming up in Ottawa from Dec. 12 to 13.
I'd like to register for the virtual session in November.
I'd like to register for the in-person session in December.
The virtual course will take place from Nov. 7 to 8 and will run from 9 a.m. to 4 p.m. (ET) on both days. The in-person course will take place in Ottawa from Dec. 12 to 13 and will also run from 9 a.m. to 4 p.m. (ET) on both days. These events are designed to prepare federal employees to transition from work to retirement. Some of the topics covered include your public service pension plan, financial planning, estate planning and living your best life in retirement. The special introductory attendance fee includes course materials, a 20-minute appointment with your session's certified pension presenter to gain additional insight into the process of transitioning from federal public service employee to pensioner and a financial assessment with Tradex. The fee for the virtual course is $100. The fee for the in-person course is $120, which includes lunch.
Don't forget to share this invitation with any current federal employees or recent retirees you know because the cost of a one-year membership with the Association is included for all course participants who are not yet members! Each membership supports our work to protect pensions and benefits for federal employees and retirees and gives you access to useful information and great savings too.
 
Our collaborators
Tradex is an "at cost" financial services company established in 1960 and one of the Association's preferred partners. Tradex aims to provide current and former public servants, Canadian Forces, RCMP members and their families, trustworthy, professional financial advice and high-quality mutual funds and other investments at a lower cost.
The GERAS Centre for Aging Research is part of Hamilton Health Sciences and affiliated with McMaster University. Its mission is to make life better for older adults by bringing the best research to the frontlines of care as quickly as possible. The GERAS team are leaders in geriatric research, innovation and learning for the benefit of our community and the world.
Melody Walz has more than 25 years of experience in federal pay, pension and insurance benefits. She began providing pension seminars in 1989 and has delivered more than 140 sessions to date. Walz is a certified presenter with the Pension Centre, which has been a mandatory requirement by Public Services Procurement Canada since 2006.
François Poudrier has been providing financial and retirement planning seminars for over 15 years. He is one of a very exclusive group of expert individuals that are "Public Service Pension Plan Certified" by the Government of Canada Pension Centre. Poudrier takes an educational approach to find solutions for individuals and families.
Visit the event listings for the November session or the December session for all the details and to register to attend.