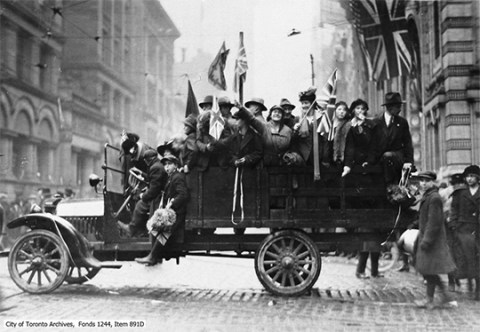 Armistice Day celebrations in 1918, Bay and King Streets, Toronto.
Every year, November 5 to 11 is Veterans' Week, an opportunity for Canadians to honour the extraordinary efforts and sacrifices of our veterans. Remembrance Day, November 11, marks the final day of Veterans' Week and recalls the end of hostilities during the First World War on that date in 1918. At the eleventh hour of the eleventh day of the eleventh month, Canadians gather wherever they are and observe a moment of silence to remember those who have fallen in the line of duty and to recognize their service to our country.
Remembrance Day 2018 marks the 100th anniversary of the signing of the Armistice, which came into force at 11 a.m. Paris time on November 11, 1918.
Participate in Local Events and Ceremonies
In the lead-up to Veterans' Week and Remembrance Day, Canadians across the country organize all sorts of events and ceremonies to teach others about Canadian military history, promote remembrance, raise awareness of veterans' issues and honour their sacrifices. 
Visit the Veterans Affairs Canada Calendar of Events to learn more about activities in your area.
Poppies and the Royal Canadian Legion
From the last Friday in October through to Remembrance Day, Canadians from coast to coast to coast proudly wear poppies as a show of support for Canada's veterans and a visual reminder of the sacrifices they have made for us. The Royal Canadian Legion conducts the popular Poppy Campaign, which directly supports Canadian veterans and their families. As Remembrance Day approaches, the Legion accepts donations to the Poppy Fund at Legion tables and poppy boxes across the country.
Veterans Affairs Canada Resources
Veterans Affairs Canada has made a multitude of resources available to those who would like to learn more about Canadian military history and the importance of remembrance including the Heroes Remember video collection, a set of interviews and personal insights from Canadian veterans.
Spread the Word
We owe it to our veterans to speak about them, to share their stories, to honour their sacrifices and to keep their memories alive.
We hope you will participate in Veterans' Week on social media by liking and sharing our posts on Facebook and Twitter, following the Canada Remembers feed on Facebook or joining the conversation on Twitter with the hashtag #CanadaRemembers.