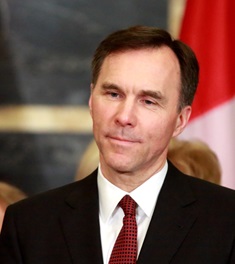 Federal Finance Minister Bill Morneau
Federal Retirees believes yesterday's agreement between federal and provincial finance ministers on moderate Canada Pension Plan expansion signals better retirement income security for many Canadians.
"This is quite historic – the Canada Pension Plan is fifty years old and this is its first real increase," says Federal Retirees' President Jean-Guy Soulière. "It's going to be very important to many young Canadians' retirement security, just as the CPP has been for other generations, since it began in 1966."
The agreement in principle would see moderate universal increases phased in from 2019 to 2025, with progressively higher premiums for employees and employers, estimated as a 1 percent increase to current premiums by 2025. Ultimately, that will translate to as much as $4,300 more from CPP for an average Canadian worker come retirement.
"Better retirement income security means tomorrow's seniors will continue to contribute in meaningful ways to our economy," notes Simon Coakeley, Federal Retirees' Chief Executive Officer. "It also means less of a strain on fully publicly or tax funded programs, such as Old Age Security and the Guaranteed Income Supplement, helping to save those programs for those who truly do need them."
The deal is expected to offset negative impacts for low income earners by increasing the federal Working Income Tax Benefit. The increased employee portion of CPP premiums would also be tax deductible.
The mandate to expand wasn't unanimous, however. Manitoba's new government needs additional time to review the agreement, and has not signed on. Quebec will conduct its own expansion program for its sister plan, the Quebec Pension Plan, and may exempt increased premiums for low income earners.
Details will be finalized at the Council of the Federation meeting, which begins July 20 in Whitehorse.
"We're looking forward to working with our provincial, territorial and federal governments in ironing out details and implementing this in a way that is right for members of Federal Retirees and for Canadians," adds Soulière. "And we're hopeful that this signals good things to come for retirement income security for today's seniors, too."