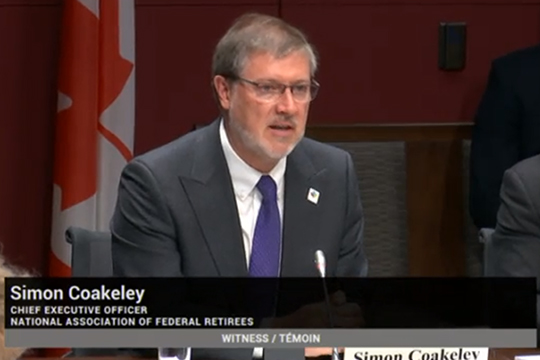 Today, National Association of Federal Retirees (Federal Retirees) CEO Simon Coakeley addressed the Senate Finance Committee on the implementation of certain provisions of Bill C-97, the Budget Implementation Act.
The provisions Coakeley discussed would modify the treatment of employees who are required to reimburse a salary overpayment to their employer due to a system, administrative or clerical error – it will, in essence, allow the employee to repay to their employer only the net amount of the overpayment.
This is of particular interest to our members as, since early 2016, federal public servants, including retirees, have been affected by the failures of the Phoenix Pay System – including the requirement to repay gross sums that have been overpaid, as opposed to net sums.
This means that even if the retiree or employee set aside the extra funds they were paid through no fault of their own, they would then be forced to repay the sums that had been accorded in their name to the Canada Revenue Agency, Canada Pension Plan and Employment Insurance premiums. In many cases, these sums have grown to thousands of dollars. It would then be the employee's responsibility to recover their missing funds from those organizations.
"The Phoenix Pay System has been a constant source of stress for our members. In a survey of 3,000 of our recently retired members, 42% reported having a pay issue relating to Phoenix," stated Mr. Coakeley during the session. "From payments that did not stop once they reached retirement, to thousands of dollars still owed to retirees for earned severance or vacation pay – many of our members have experienced financial duress and psychological stress as a result Phoenix's failings, often due to substantial gross repayment amounts."
Federal Retirees pointed to the urgency of this matter. Some federal employees and retirees have been living under the shadow of Phoenix and related financial pressures for over three years. The Government of Canada must ensure employees and retirees can make use of the treatment proposed in Part 1 (n) of Bill C-97, Budget Implementation Act No. 1, 2019 immediately. Further, it is the government's responsibility to proactively contact Phoenix-affected retirees and employees who can benefit from the new framework.
You can watch Federal Retirees' remarks here.