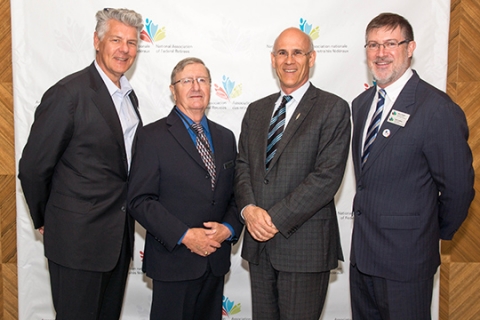 From left to right: Andrew McGillivary, Director of Communications and Marketing; Jean-Guy Soulière, President; Michael Wernick, Clerk of the Privy Council of Canada; Simon Coakeley, CEO.
 

Ottawa, June 14, 2017 — Michael Wernick, the Clerk of the Privy Council, Secretary to Cabinet and Head of the Public Service of Canada delivered the keynote address entitled "Continuity and Change in the Federal Public Service" to the Annual Members Meeting (AMM) of the National Association of Federal Retirees today in Ottawa.
"It's a great honour to have the top public servant in the country make time to come and address our delegates," said Jean-Guy Soulière National President of Federal Retirees." It certainly makes our AMM and celebration of Canada's 150th anniversary even more special." 
Mr. Wernick brought greetings on behalf of the Government of Canada and thanked Federal Retirees for their on-going support. The Clerk recognized Federal Retirees' mentorship initiative with the Treasury Board Secretariat. "This mentoring partnership is an example of true collaboration and partnership. It shows that being a public servant is not a job, it's a mentality. It is a passion."


The Mentorship Partnership is one of Federal Retirees' signature events for Celebrating Canada's 150th anniversary. The original objective was to identify 150 potential mentors from within Federal Retirees' membership to pass along their legacy of learning and experience to the next generation of public servants. The enthusiasm from our members has enabled us to almost double that number with some 289 member profiles now posted on the GC Collaboration platform! 
---
Read the Remarks by the Clerk to the National Association of Federal Retirees