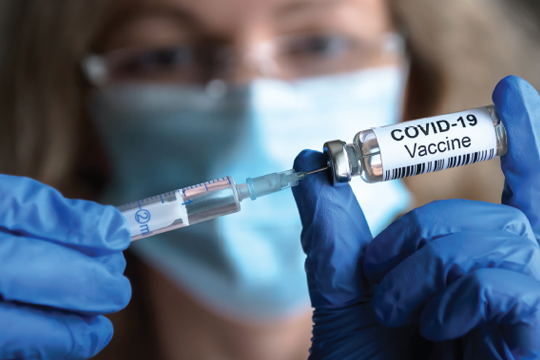 The National Advisory Committee on Immunization is behind recommendations on policies related to vaccine distribution.
 
In an ideal world, everyone would have access to a COVID-19 vaccine at the same time. But we know there is a staggered supply of vaccines, and some groups are at higher risk, so some populations must be vaccinated earlier than others.
The National Advisory Committee on Immunization (NACI) makes evidence-based recommendations on the use of authorized vaccines in Canada. It also recommends immunization program factors that inform provincial/territorial decision-making as those governments are ultimately responsible for their own areas' vaccine rollouts.
NACI has published guidance on prioritizing key populations for early vaccination, recommendations on the use of COVID-19 vaccines, as well as COVID-19 research priorities. Its guidance is based on the latest evidence available and is updated as the evidence evolves.
In February 2021, NACI published guidance on the prioritization of key populations for COVID-19 immunization. Information about the key populations and vaccine sequencing can be found on our website: federalretirees. ca/vaccinerollout.
 
Vaccine rollout policy
What's the logic behind who's getting vaccinated and when? Given the circumstances we've seen during the  COVID-19 pandemic, there's an obvious need to ensure vaccine rollout is evidence-informed, equitable, ethical and efficient. The who and when decisions are based on several factors, such as the burden of disease and vaccine characteristics. NACI provides a summary of evidence and rationale for each recommendation.
A population-based risk-benefit analysis considered the risks of exposure, transmission to others, severe illness and death, and the safety and efficacy of the vaccines in key populations. 
There are Canadians who are at higher risk for severe illness and outcomes because of biological factors such as advanced age and pre-existing medical conditions. Social factors such as low socio-economic status and belonging to a racialized group also increase risk for severe disease and outcomes.
We are all at risk of potentially contracting COVID-19, but some are at higher risk of exposure because of their workplace, the inability to physically distance as well as access to health care. NACI emphasizes that key populations are not mutually exclusive and may overlap.
Recommendations are also based on the vaccine supply, taking into account the number of available vaccines, the number and timing of available doses and how many doses are required, as well as the pandemic conditions when the vaccines are available.
In developing its recommendations, NACI also reviews factors such as ethics, equity, feasibility and acceptability. It applied a published, peer-reviewed Ethical, Equity, Feasibility and Acceptability Framework and evidence-informed tools to systematically assess and integrate these considerations into its recommendations.
For instance, it reviewed the evidence to identify inequities associated with COVID-19 as well as the contributing factors, and the intersections, and it provided program guidance to reduce inequities and improve access. It also considered the feasibility of implementing recommendations and their acceptability to the Canadian public and providers.
There are three recommendations NACI has made to guide ethical decision-making and the implementation of immunization programs across all key populations:
Equity: Efforts should be made to increase access to immunization services to reduce health inequities without further stigmatization or discrimination, and to engage systematically marginalized populations and racialized populations in immunization program planning.
Feasibility: Jurisdictions should ensure close and rapid monitoring of safety, effectiveness and coverage of different COVID-19 vaccines in different key populations, as well as effective and efficient immunization of populations in remote and isolated communities.
Acceptability: Efforts should be made to improve knowledge about the benefits of vaccines in general and of COVID-19 vaccines specifically, address misinformation and communicate transparently about COVID-19 vaccine allocation decisions.
 
The provinces are in charge
The provinces and territories are in the midst of an unprecedented vaccine rollout. Because of its unique federalism and division of power between levels of government, Canada doesn't have a single vaccination rollout strategy.
Provincial and territorial plans follow NACI guidance, but the evolving pandemic and regional differences require flexibility. Vaccine strategies vary across the country because, simply put, populations, logistics and the pandemic itself vary from region to region. That requires some differences in who gets a vaccine and when. 
Provinces are still encouraged to align with NACI's recommendations as much as possible, while considering their local situations to ensure the best possible distribution of the COVID-19 vaccines. 
Check with your local health authority for the latest updates on the immunization plan in your region. Federal Retirees continues to monitor the vaccine rollout across the country. Visit our website for updates.
This article appeared in the summer 2021 issue of our in-house magazine, Sage. While you're here, why not download the full issue and peruse our back issues too?