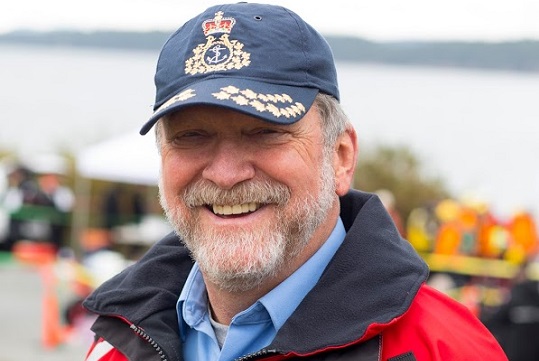 2022 APEX Career Contribution award winner, Roger Girouard.
 
Congratulations to Roger Girouard, winner of the 2022 APEX Career Contribution award sponsored by Federal Retirees. Girouard served for more than 40 years in the Royal Canadian Navy and the Coast Guard of Canada. His impressive career of increasingly responsible positions and commands both at sea and ashore exemplifies leadership excellence, a strong commitment to team-building and is a testament to personal sacrifice by placing service before self.
A Montreal native, Girouard joined the Royal Canadian Navy in 1973. More than 34 years later, he retired as Commander of Maritime Forces Pacific. He then taught at Victoria's Royal Road University from 2007 to 2013 before joining the Canadian Coast Guard in May of 2013. In 2021, he retired from the coast guard as assistant commissioner of the western regional team.
Previous National Association of Federal Retirees APEX award winners:
2021 – Abby Hoffman, assistant deputy minister, Health Canada
2020 – Caroll Sukich, director, Winnipeg Tax Centre, Canada Revenue Agency
2019 – Bruce Hirst, assistant deputy minister, corporate services/chief financial officer, Communications Security Establishment Canada
2018 – Steve Verheul, assistant deputy minister, trade agreements and negotiations, Global Affairs Canada