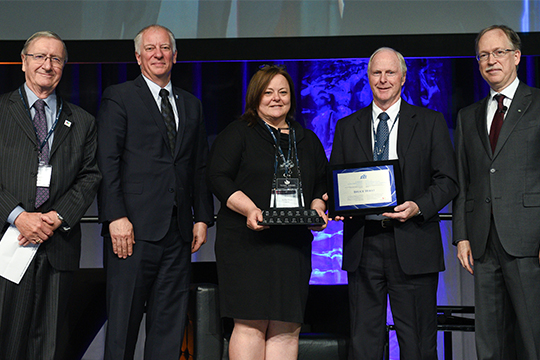 From left, Federal Retirees president Jean-Guy Soulière, APEX chair Michael Whittaker, Communications Security Establishment (CSE) chief Shelly Bruce, APEX Career Contribution Award recipient Bruce Hirst and Ian Shugart, clerk of the Privy Council and head of the public service of Canada

The National Association of Federal Retirees (Federal Retirees) was proud to sponsor the Association of Public Service Executives' (APEX) 2019 Career Contribution Award. The award was presented by Federal Retirees CEO and former APEX chair Simon Coakeley at the APEX Awards banquet on May 28, during the 2019 Leadership Symposium and Awards of Excellence.
The award is a fitting gesture of recognition for the Association as its members have likewise made important contributions to Canada through their careers in the federal public service, the Canadian Armed Forces and the RCMP. "This is a great way to recognize and celebrate the importance of public service excellence from one generation to another," said Federal Retirees president, Jean-Guy Soulière.
This year's recipient of the APEX Career Contribution Award is Bruce Hirst, former assistant deputy minister, corporate services/chief financial officer for Communications Security Establishment Canada. The Association congratulates Hirst for his outstanding dedication to serving Canada and Canadians throughout a stellar public service career. From early days in the Canadian Navy to serving at the Treasury Board of Canada Secretariat, Natural Resources Canada, Foreign Affairs and several other departments, his contributions to the federal public service and to Canadians were continuously impressive.