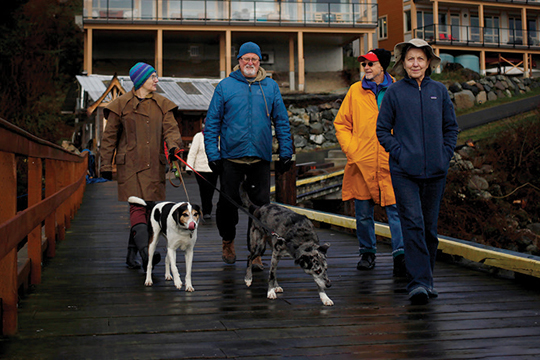 Residents of Harbourside cohousing seniors' complex on the waterfront in Sooke, B.C., walk along their private dock. From left, Marisa Collins, John Boquist, Frank Antonsen and Adrienne Booth with dogs, Chester and Zeke. Credit: Chad Hipolito
 
Scrolling through Catherine Johns' Facebook page is like watching a woman in perpetual motion.
Here, she is canoeing furiously down Ontario's Madawaska River, intent on avoiding the rocky shore as she blasts through white water. There, she's grinning at the camera as she bobs in a kayak surrounded by like-minded friends on Georgian Bay. Elsewhere, her profile page is littered with evidence of a life well-lived: sailing on Lake Ontario, camping on Clark Island, hiking in the Gaspé, cross-country skiing along Ottawa's greenbelt.
At 64, her life is such a blur, it is little wonder she retired from the Office of the Auditor General six years ago. How else would she find time to fit in all her hobbies?
Yet, as full as her life is — and as packed with her outdoor equipment as her house is in Ottawa's treelined Glebe neighbourhood — Catherine admits there is something missing.
"I live alone and if I fell down the stairs, no one would know," she says. "In normal, non- COVID times, I usually go to an aquafit class first thing every morning. But now, if I don't show up, no one will be concerned. I'd have to miss several classes over a few weeks before anyone noticed."
Grim? Overly pessimistic? Not entirely. For the first time in Canada's history, one-person households are the most common type of living arrangement, accounting for four million people, says Statistics Canada.
Those numbers are only going to increase. The agency notes that the proportion of Canadians over the age of 65 is expected to rise to 20 per cent of the population by 2024. Yet, with long-term care facilities under scrutiny following thousands of COVID-related deaths in 2020, an increasing number of solo retirees want to age at home. They just don't want to do it alone.
 
Cohousing in Canada
The solution could be bofællesskab or cohousing. The concept originated in the 1970s in Denmark and Sweden (where the latter's word — kollektivhus — sounds like it could be an IKEA wardrobe) but was introduced to North America in the 1980s.
The idea is simple, but its execution can be complex. Cohousing communities typically comprise 15 to 33 self-contained households, but with common facilities, such as a shared kitchen, dining room and yard or patio. In British Columbia, where cohousing has taken off, the Harbourside community in Sooke has 31 attached homes, each featuring space-saving designs for more compact living. There, what residents lose in a downsize, they gain with affordable, strata-titled ownership (a Western Canadian term for a condominium corporation), a resort-style common house and even boat mooring. As unique as that sounds, it is not. The non-profit Canadian Cohousing Network, formed in 1992, has stitched together a surprisingly robust network of communities across Canada that "share resources and make the process of creating a community easier and more economical," they say.
That, too, was the goal of Terra Firma, a multi-generational cohousing community in downtown Ottawa that came to life in the 1990s, when 10 people pooled their resources to purchase two sets of three rundown rowhouses. The units were renovated, and a slice of land between them infilled with a three-storey community building featuring a kitchen that seats 40, lounge area and spare room for visiting family members. Fences were torn down and replaced with connected decks, a leafy communal backyard and storage sheds. Run like a condo board, except that every resident has an equal voice, the community ranges in age from 50 to 82, with a few dependents currently in the mix.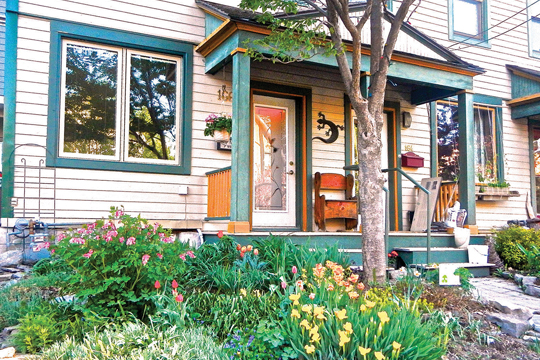 Terra Firma came about when 10 people pooled their resources to buy two sets of three rundown rowhouses, renovated the units and built a three-storey community building with a kitchen, lounge area, and spare room for visiting family members.
 
For retired public servant Marlene Newfeld and her husband, Bob, both in their 70s, buying into Terra Firma back in 1997 just made sense.
"Originally, about 100 people came to the meetings when we put out the word, and over the years, different groups have tried to replicate what we did. We searched for the right property and when it became available, we jumped on it. It's a very different way of living, but it really encourages social interaction," she says.
Suzanne Gagnon, a systems leadership consultant and Marlene's neighbour at Terra Firma agrees, adding that the appeal of cohousing is universal amongst retirees she has coached on the subject.
"Most are single, older, healthy and don't want to be warehoused in an aged-care facility. They want social support relationships, whether it's for gardening, watching movies or grabbing a coffee. They want to be more in control of the structure around them. They want to share meals, cook for others."
Although Terra Firma is ideally located and established, other groups trying the buy-and-renovate approach have faltered. For Johns, who had investigated one such group in Ottawa, establishing costs and finding the perfect property were the main issues.
"The group was looking at buying existing buildings to retrofit, with outdoor space. They searched for years. At one point, they proposed an option and gave the rent rates, but I'm living cheaper than that."
 
The Golden Girls solution
The other option is shared housing, or the Golden Girls solution, based on the 1980s TV sitcom starring Bea Arthur, Betty White, Estelle Getty and Rue McClanahan. As in the show, individuals live together to split costs, including home care and food. But that is where the similarity ends.
Modern shared housing, unlike renting out a room, typically means renovating or building a multi-person home, in which everyone has their own bedroom, sitting area and bathroom. The rest of the house is shared and, in the case of the kitchen and dining area, can be booked for personal use, such as an afternoon of Christmas baking. A house manager either lives in the home or is a regular visitor to oversee maintenance, residents' well-being and to resolve disputes.
One such shared house in Bracebridge, Ont., was developed by Shelley Raymond and her company, Solterra, to initially house her father after she watched her mother struggle in a long-term care facility.
"My mother was in there for five years. They had five personal care workers for every 15 people and it was just impossible," she says.
In shared housing, she says, potential residents are chosen through a selection process looking at best fit — some don't want smokers, others take pets. Conflict resolution is handled through mediation, starting with reporting the issue to the house manager and ending with imposing provincial guidelines if a resolution isn't found. Residency agreements can include something akin to a competency clause as well as shared home care costs. "If someone is struggling with their health, our staff will start supporting them to the next step, if there is one," she notes.
It's more affordable, too. A small condo in Bracebridge rents for $1,500 a month compared to $630 to $895 a month for rooms in this shared house.
Finances aside, cohousing and shared housing offer a way to live communally rather than in isolation, and that in itself can help battle elder abuse, loneliness and depression amongst seniors, says Gwen Kavanagh, a shared-housing advocate from Barrie, Ont., where shared housing was pioneered.
"Cohousing means people get a say in how they live. You can sell your portion, you can list it on MLS or rent it," Kavanagh says.
And although there is still resistance in some areas — insurance companies have been known to apply commercial rather than residential rates, for example — she says those issues will disappear as the movement gains traction.
"We have to stop warehousing our seniors," she says bluntly. "If we can find a way for seniors to live on their own, it's better for their health and it'll solve a lot of headaches for the government, too."
For a list of existing cohousing communities and those under construction or to learn more, visit https://cohousing.ca
This article appeared in the spring 2021 issue of our in-house magazine, Sage. While you're here, why not download the full issue and peruse our back issues too?