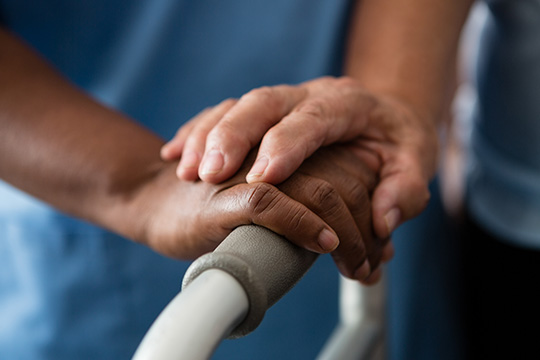 On Nov. 22, Federal Retirees attended "Making Seniors' Care Matter: Ensuring quality and accessible care for seniors across Canada," a conference presented by the Canadian Health Coalition and the Research Center in Social Innovation and Transformation at Saint Paul University in Ottawa. The event brought together health-care workers, community organizations, researchers and many others from across Canada to share their knowledge on older adult care policy and advocacy. The key themes of the conference centred on promoting equity in older adult care, improving working conditions for care workers, and improving access, quality and safety in older adult care.
On the topic of promoting equity in older adult care, the inequities faced by ethnocultural, Indigenous, and LGBTQI2S older adults seeking and receiving care in long-term care settings were examined. Several common challenges faced by these groups emerged, including the lack of information about services that meet their specific needs, the availability and affordability of culturally and linguistically appropriate long-term care spaces as well as barriers to entry for these services, in particular, the longer than average wait times to access this specialized care. For LGBTQI2S older adults specifically, the personal beliefs of caregivers have an impact on the level of care received in long-term care settings. Overall, the discussion stressed that, while commonalities exist in the challenges faced by older adults accessing and receiving care, additional obstacles exist for ethnocultural, Indigenous and LGBTQI2S older adults.
Presentations about the changing landscape of care work over time and across different countries explored care workers' perspectives. In particular, presenters discussed the impact of the privatization of long-term care services in British Columbia and Alberta and the adverse effect it has had on the working conditions for local care workers. Global policy approaches taken to improve the experiences of care workers were also examined with a focus on countries like Germany, Japan and South Korea that have implemented universal long-term care insurance systems. Discussions highlighted the need for better capital planning and investment in long-term care, better protections for care workers and greater accountability for providers of long-term care services, especially for-profit providers. 
On improving access, quality and safety in older adult care, innovative approaches to enhance the quality of care received by older adults were outlined. The opportunity to leverage health-care workers to help ease the strains on the health-care system was explored, with a look at how expanding the scope of practice of nurses in Nova Scotia could be used to improve primary care services in the region. Researchers explored the work currently being done to reduce the use of medications to treat older adults in long-term care. In particular, they noted the positive impact of programs to reduce and eliminate the use of antipsychotics in treating patients with dementia in long-term care. These programs have been successful because they concentrate on individualized (or patient-centred) approaches to treating certain behaviours rather than relying on antipsychotics by default. In adopting innovative approaches, there are opportunities for significant improvements in care and quality of life for older adults as well as the potential for huge savings in health-care spending.
The panel presentation that closed the conference focused on the need for a national health workforce strategy and a national seniors strategy. A national health workforce strategy would help ensure that Canada's health care sector builds the capacity to meet the needs of future patients by optimizing its health human resources, which includes augmenting the sector's ability to recruit and retain staff as well as advance the knowledge and skills of its staff. A national seniors strategy would provide a coordinated response involving all levels of government, to meet the growing and evolving needs of Canada's aging population and ensure that older adults can remain engaged, productive and healthy members of society. Implementing these strategies could help address many of the pressing issues facing older adults, care workers and caregivers, including enhancing the quality of care for older adults; improving financial and working conditions for both care workers and informal caregivers; helping address older adults' concerns around finances and health care; and ensuring cities, communities and health-care systems are optimally designed and resourced to allow older adults to age where they want. 
The final presentation and discussion emphasized that, moving forward, focusing efforts on increasing government support for affordable housing (including housing within the health-care system), integrated care, prescription access and affordability, as well as on developing a policy approach that better acknowledges and supports care workers and informal caregivers, will net the results Canadians need and expect for older adults, their families and those involved in health-care delivery.