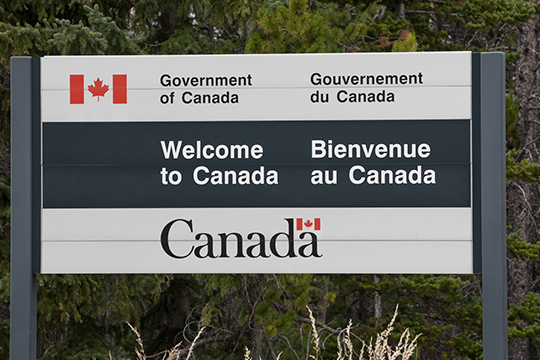 The government has announced new testing and quarantine rules for international travellers.
 
Please note that important updates have been made to this article since it was first published. It was last updated on Feb. 12, 2021.
On Feb. 9, Prime Minister Trudeau announced during his morning media briefing that non-essential travellers entering at land borders will soon need to provide proof of a negative COVID-19 test.
"As of Feb. 15, when you return to Canada through a land border, you'll need to show a 72-hour PCR test, just like air travel," Trudeau said.
This news comes as part of a series of new travel measures the Government of Canada is putting in place to slow the spread of COVID-19. Just a few weeks ago, on Jan. 29, the government announced new restrictions on international air travel in a news release from Transport Canada. As of Jan. 31, all flights from Canada to Mexico and the Caribbean have been suspended until April 30, 2021. In addition, on Feb. 3, the restrictions funnelling incoming international flights into one of four airports were expanded to include flights from the United States, Mexico, Central America, the Caribbean and South America. Scheduled commercial passenger flights from these destinations are now also being directed to the Montreal-Trudeau International Airport, Toronto Pearson International Airport, Calgary International Airport or the Vancouver International Airport.
The government has also announced new testing and quarantine rules for air travellers, which will come into effect Feb. 22. In addition to proof of a negative laboratory molecular test result for COVID-19 taken within 72 hours of their departure, international travellers arriving in Canada will be required to pay for and undergo a molecular COVID-19 test and to remain quarantined at their own expense for three days in a government-approved hotel pending the receipt of negative test results. Travellers will then be permitted to continue their travel to their destination and complete the balance of the 14-day quarantine while complying with public health requirements. Travellers will be able to book their government-authorized stay starting Feb. 18.
Additionally, as of Feb. 22, all travellers — whether arriving by land or air — will be required to submit their travel and contact information, including their quarantine plan, electronically via ArriveCAN before crossing the border or boarding a flight. The ArriveCAN app is available for iOS, Android and online.
For the latest updates about travel, quarantine and borders, visit the Government of Canada's COVID-19 travel page.
To learn more about COVID-19 testing requirements for travellers entering Canada including the types of tests that are accepted, visit the Government of Canada COVID-19 testing for travellers information page.