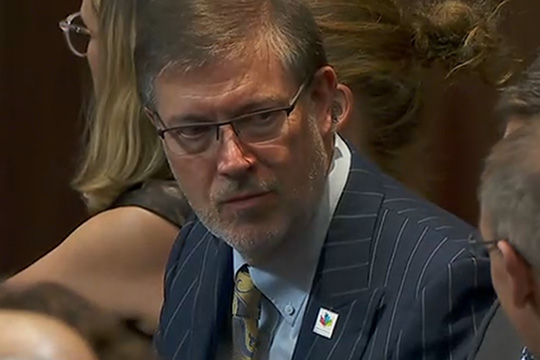 Simon Coakeley, CEO of the National Association of Federal Retirees, is shown here among audience members in CPAC coverage of the speech from the throne to open the 43rd Parliament. Retrieved from https://youtu.be/J7WRWNVaGKk.  
On Dec. 5, Her Excellency the Right Honourable Julie Payette, Governor General of Canada, delivered the speech from the throne to officially open the first session of the 43rd Parliament of Canada. The National Association of Federal Retirees was invited to attend this momentous occasion alongside other dignitaries and special guests – a first for the Association.
"It was an honour to represent Federal Retirees at this important event," said Simon Coakeley, chief executive officer. "It was a privilege to meet and shake the hand of Her Excellency, and to hear the priorities of this new government firsthand."
The invitation to attend the speech from the throne closely followed a phone call with the newly named minister of seniors, Deb Schulte (MP for King-Vaughan, Ontario). Within days of her appointment to cabinet, the minister requested to speak with National Association of Federal Retirees. Coakeley along with the Association president, Jean-Guy Soulière, and director of advocacy, Sayward Montague, participated in this conversation.
"We are pleased that this new government and the new minister of seniors have reached out to our Association during these important early days of their mandate," said Soulière. "These actions signal the strength of our membership and the work we have done to ensure their needs are heard and considered by the government. We are looking forward to continuing this amicable working relationship with the minister and this government."
In this fall's federal election, the National Association of Federal Retirees outlined four key priorities for the new government to address – a national seniors strategy, retirement income security, support for veterans and their families, and pharmacare. Director of advocacy, Sayward Montague, was watching carefully for references to these areas in the throne speech.
Seniors, in general, received a passing mention in the speech, as did pensions and retirement income security: "It [the government] will strengthen the pensions that so many seniors rely on…"
 
On veterans:
"In the last mandate, the Government invested more than $10 billion to deliver better outcomes for Canada's veterans. And in this new Parliament, the Government will build on that work by improving mental health care supports and helping ensure that every homeless veteran has a place to call home."
 
On pharmacare:
"Too often, Canadians who fall sick suffer twice: once from becoming ill, and again from financial hardship caused by the cost of their medications. Given this reality, pharmacare is the key missing piece of universal health care in this country. The government will take steps to introduce and implement national pharmacare so that Canadians have the drug coverage they need."
Watch the throne speech and download the full text here.
"I am pleased to see that all four of these priorities were, at least, mentioned in the speech," said Montague. "Traditionally, speeches from the throne provide a general direction without much detail – and that's what we saw here. We are looking forward to seeing the cabinet's mandate letters soon to get a better sense of the government's intentions."
As Parliament resumes for a brief period before rising again for the holidays, the National Association of Federal Retirees continues to monitor progress on our four key election priorities. A full analysis of cabinet mandate letters will be made available shortly following their release.
Before MPs turn in for the holidays, we want to make one last effort to ensure that these priorities are not just mentioned, but actioned. Can we count on you to help send MPs our holiday wish list? Learn more here.