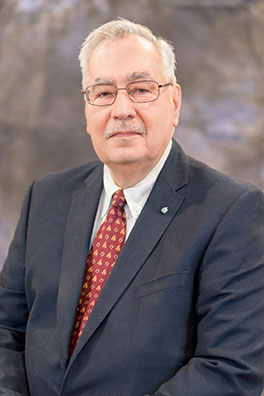 With heavy hearts, the President and Board of Directors of the National Association of Federal Retirees announce the passing of Joseph (Joe) Sanderson, Director, District of the Prairies and NWT. Joe passed away suddenly on March 30 while in Ottawa where he had travelled to attend quarterly Board meetings. 

"I knew Joe Sanderson for 12 years and I am very grateful to have benefited from his wise counsel and many years of experience as a volunteer in the service of others," said Federal Retirees President Jean-Guy Soulière. "Joe's contributions have been numerous and that is why Board Members were concerned that Joe had decided not to run for re-election.  I know that he was very proud when the Board asked him, last November 11, to be our representative at the Remembrance Day ceremonies in Ottawa."

Born and raised in Winnipeg, Joe Sanderson spent most of his working life as a social worker with the Department of Indian and Northern Affairs. He was also active with the Professional Institute of the Public Service, serving as a steward, a member of the Social Work Group Executive and chair of the Santé-Health Group bargaining team. Joe joined the Association after his retirement in 2001 and began serving on the executive of the Winnipeg and District Branch in 2006. Joe was a member of the National Board of Directors since 2008. He wanted to ensure that existing benefits are protected and, where possible, enhanced and extended. 

Although he also had military service and volunteered with the Royal Canadian Legion, Joe represented the public service wing of the National Association by laying a wreath on our behalf at the newly refurbished National War Memorial in Ottawa on November 11, 2016. 

Joe is survived by his wife June, one son and one daughter as well as two grandsons. He was 71 years old. Funeral Service to be held on April 11, 2017 at 2 p.m. at the Klassen Funeral Home 1897 Henderson Highway, Winnipeg, MB.